Fully vaccinated people arriving from designated states will shortly be exempted from hotel quarantine and allowed to quarantine at home.
The move was announced this evening by Minister for Health Stephen Donnelly.
He said: "The Government decision last week was for a rapid review to be conducted. I have now received advice from the Acting Chief Medical Officer, which I have accepted.
"Legal regulations will now be required to exempt fully vaccinated people from Mandatory Hotel Quarantine and allow them complete home quarantine.
"These regulations will be drafted and signed in the coming days."
It was also announced this evening that the online booking portal for the mandatory hotel quarantine system will reopen later this evening, with bookings to resume from Saturday.
Mr Donnelly said the Tifco Hotel Group, which operates the mandatory quarantine system, has expanded the capacity.
There will be an additional 305 rooms, two days ahead of schedule. This will bring the capacity by Saturday 17 April to 959 rooms.
By Friday 23 April, capacity will increase to 1,189 rooms and by Monday 26 April capacity will increase to 1,607 rooms.
Speaking to RTÉ's Prime Time later, Mr Donnelly said he is conscious people are coming into the state fully vaccinated and that regulations will be put in place tomorrow for vaccine exemptions.
He said he is aware of cases like the couple going to Ukraine in relation to surrogacy reasons and is working with the Department to look at cases like that.
Mr Donnelly said they will keep hotel quarantine under review "all the time".
He also said that another exemption came in tonight for sports for elite and professional athletes.
Mr Donnelly said there is a very important part of this which is their governing bodies can put in place equivalent situations.

---
Read more
Italians feel 'discriminated' by 'excessive' hotel quarantine list
---
Meanwhile, Minister for Transport Eamon Ryan has said that approximately 100 people who arrived in Ireland last week from a high-risk country did not have a mandatory hotel quarantine booking.
This was out of 12,000 arrivals into the State over the same period.
Mr Ryan said that roughly 50 of those passengers were coming from a "transfer country", around 30 were passengers who arrived without a PCR test and approximately 20 had arrived directly from a high-risk country without a booking.
He said that the Department of Health is looking at plans to deal with scenarios where quarantine hotels reach capacity.
However, he said that passenger numbers are very low and he hoped such a situation would not arise.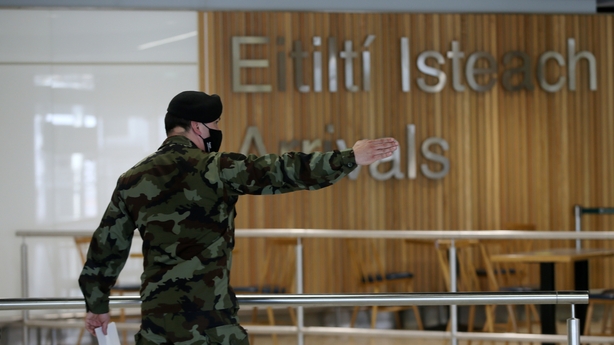 Mr Ryan said that five flights from the US arrived in Ireland yesterday, with just 12 passengers on board.
A spokesman for Dublin Airport said while routes from some countries that have been added to the list today have been busier since the announcement, routes from other countries added to the list have been quieter.
He said flights arriving at Dublin Airport yesterday were more than 60% empty.
It is understood that of the five flights arriving into Dublin from the US between 5am and 9am this morning, around 12 people are entering the country, with an even smaller number transiting to other countries.
One flight had no passengers on board.
All passengers coming from Category 2 countries will be required to check into designated hotels for up to 12 nights at a cost of almost €2,000 per person.
It emerged at this evening's NPHET briefing that 19 cases of Covid-19 have been picked up in hotel quarantine.
There are 18 cases among residents and one from staff. Four of these cases are possible variants of concern.