The Irish Medical Council has expressed "great concern" at revelations in a report by RTÉ Investigates that clinical information was shared with the Department of Health without patient's knowledge or consent.
The details were revealed following protected disclosures made by a civil servant at the Department who discovered sensitive material had been gathered and shared about children with autism who were involved in dormant legal actions taken against the State.
The Department of Health said sharing of such information was "normal practice" when State agencies were joined in litigation and that an external review found its procedures to be lawful and appropriate.
IMC President Dr Rita Doyle said confidentiality and consent were central to the relationship between doctors and patients.
"Patients and their families should not have to worry about their private and personal information being disclosed without their consent. There are very limited circumstances when a doctor can disclose information without consent," Dr Doyle said.
"Doctors must prioritise their patient's wellbeing at all times, be aware of their ethical duty and responsibilities under the law in relation to confidentiality," she added.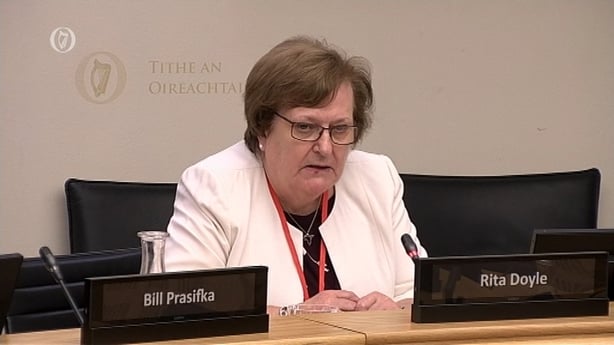 Letters sent by the Department of Health to clinicians caring for the affected children have been seen by RTÉ Investigates.
These include specific requests for the doctors not to inform parents or their solicitors about the requests for information on the dormant cases.
IMC's Director of Professional Competence, Ethics and Research Jantze Cotter the organisation has a Guide to Professional Conduct and Ethics which all doctors are expected to follow and which deals with issues such as disclosure of patient information where consent is not given.
"When a doctor discloses information as required by law or in the public interest, they should inform patients of the disclosure, unless this would cause them serious harm, or would undermine the purpose of the disclosure," she said.
"Doctors also have a duty to ensure compliance with all laws and regulations pertaining to their practice, including data protection," Ms Cotter added.
The Health Service Executive said it would not knowingly breach doctor patient confidentiality without the consent of individuals.
Its chief executive told Morning Ireland that information should only be shared where there is a legal basis to do so.
"From our perspective nothing can be right about sharing information inappropriately," Mr Reid said.
He said the HSE would not be sharing any information inappropriately and from their understanding anything that was shared was on a legal basis and was not breaking patient confidentiality.
---
Watch on RTÉ Player:
RTÉ Investigates: The Department, The Data & The Disclosure
---
Ernest Cantillon, a solicitor who acts for a number of the families who were affected by the disclosures in the RTÉ Investigates' report, said State agencies would be liable if there was any unlawful breach of patient confidentiality.
"The fact that the clinician is employed by a State agency [the HSE] does not entitle the clinician to breach that duty of confidentiality and if, without consent of the child's parent, the clinician breaches the child's confidentiality the clinician is acting unlawfully and in breach of their ethical guidelines," he said.
"If the State defendants sought for the duty of confidentiality to be breached they too would be acting unlawfully. If this was done in the context of litigation it would be an abuse of process," he added.
The Department of Education has said it is examining relevant procedures and practices in light of the issues raised on the RTÉ Investigates programme.