Minister for Health Stephen Donnelly has said that walk-in PCR Covid testing, without a referral, will be introduced this week in areas around Ireland where Covid-19 rates are high.
"The public health strategy is target the virus, suppress the virus, use walk-in PCR testing, deploy antigen testing," he said.
The Taoiseach also said that rapid testing "may come into play as a strategic approach to areas of high incidence".
Micheál Martin said the Health Minister was working with the National Public Health Emergency Team (NPHET) to have a more localised response to areas of high outbreaks and this included antigen testing.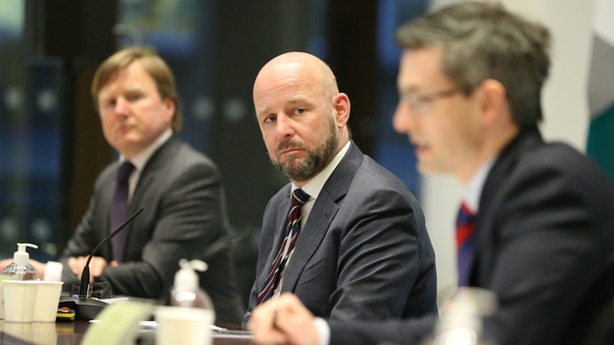 NPHET has told the Government that the situation with Covid-19 remains "particularly fragile".
In its latest advice published this evening, NPHET said there had been recent stalling of progress that had been ongoing since the beginning of the year.
It said that disease incidence and test positivity have plateaued at a high level in recent days.
It noted that the number of confirmed cases in hospital and ICU remains above the highest levels seen in the second wave.
NPHET also said that the indicators of population mobility had risen over recent days.
It described the situation as precarious, especially in light of the more transmissible variant.
The National Public Health Emergency Team said it will continue its deliberations ahead of the planned review of public health measures by Government on 5 April.
The letter was sent to Minister for Health Stephen Donnelly on 18 March.
Meanwhile, the Department of Health today reported 24 further Covid-19-related deaths and 371 new cases of the disease.
Twelve of the deaths reported today occurred in March, 10 in February and two in January.
The median age of those who died was 82 years and the age range was 49 -100 years. The total number of Covid-related deaths here now stands at 4,610.
Of the 371 new cases announced today; 183 are men and 187 are women, with 75% under 45 years of age. The median age is 30 years old.
151 of the cases are in Dublin, 31 in Offaly, 27 in Donegal, 25 in Galway, 21 in Meath and the remaining 116 cases are spread across 16 other counties.
As of 8am today, 357 Covid-19 patients are being treated in hospital, 76 of whom are in ICU - which is a reduction of five from yesterday.
There has been 25 additional hospitalisations in the past 24 hours.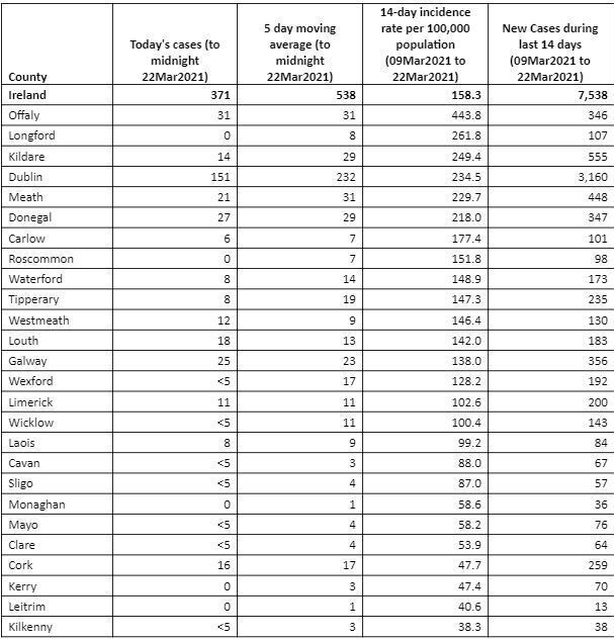 In Northern Ireland, the Department of Health there has reported two further deaths of patients who previously tested positive for Covid-19. Another 174 confirmed cases of the virus were recorded in the last 24-hours.
This morning there were 159 Covid-positive confirmed patients in hospital, 14 of whom were in ICU.
The average 7-day infection rate per 100,000 people for Northern Ireland is now 55.7.
The area with the highest rate remains Mid Ulster on 81.3, while the lowest remains Fermanagh & Omagh on 30.0.
It comes as a National Day of Reflection was marked across the UK today with MLAs in Stormont pausing for a moment's silence this afternoon.
In the Republic, details of the mandatory hotel quarantine system have been announced.
Mr Donnelly said the mandatory hotel quarantine system should help deter foreign travel into the country.
From Friday morning, anyone travelling into Ireland from 33 designated states must pre-book and pre-pay their accommodation.
At a technical briefing about the new system this afternoon, it was revealed that there will be clinical staff in each hotel and people will be assessed on arrival and contacted at least daily.
They will also be asked to fill out a questionnaire every three days to check their mental health.
Meanwhile, speaking before an Oireachtas Committee today, Minister for Education Norma Foley said that outbreaks of Covid-19 in schools have remained "at a very low level".
She said that close contact testing showed a positivity rate of 2.4% compared to over 10% in the wider community.