As of this evening, there have been 26 bookings under the new mandatory hotel quarantine system.
Six of the bookings are for check-in in March, 15 are for April and five are for May.
The mandatory quarantine system is for 14 days and will come into force this Friday, with the booking portal going live this morning.
The rules will also apply to any passenger who arrives into the State without the required negative PCR test for Covid-19.
The cost for an incoming passenger coming from one of 33 designated states is €1,875 for 12 nights.
The day rate for those passengers will be €150.
Minister for Health Stephen Donnelly has said that mandatory quarantine may be extended if a passenger tests positive while in quarantine.
However, the State will cover the extra cost in such circumstances where the normal period is extended.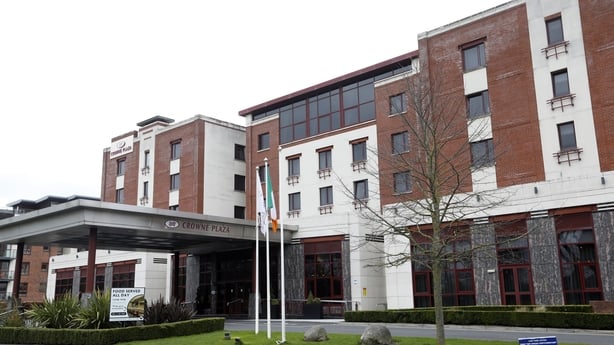 Speaking at a briefing on the new Climate Change Bill today, Taoiseach Micheál Martin said Ireland is the first country in the EU to introduce a system of this kind.
"We are the first in the European Union to do this," he said.
Mr Martin said it is designed in the first instance to act as a "significant deterrent" for people to travel here and part of a suite of measures already introduced.
The Department of Health has been given a technical briefing on the system and Minister Donnelly said that bookings on the quarantine system have already been made.
We need your consent to load this rte-player contentWe use rte-player to manage extra content that can set cookies on your device and collect data about your activity. Please review their details and accept them to load the content.Manage Preferences
Health Service Executive Assistant National Director Kevin Kelleher said that if a person tests positive in quarantine, the period could be extended for 10 days.
They would need to be five days free from symptoms at that point and may need a PCR test at the end.
Dr Kelleher said there would be clinical staff in each hotel. People would be assessed on arrival and contacted at least daily. He said they would be asked to fill out a questionnaire every three days to check their mental health.
People in quarantine must stay in their room except for exercise. The Department of Health said that people in quarantine will have a key as it is required for the light system in their room.
Some people may be exempted from quarantine for time-sensitive medical reasons. This would be unavoidable and imperative and certified by a doctor, for example a terminal illness.
Brigadier Brendan McGuinness said that the Defence Forces is there to support various agencies of Government and other parties. He said the role of the Defence Forces is to ensure passenger pathway is safe and secure.
He said that small teams of Defence Forces would be placed at all locations, airports, and sea ports and at the hotels.
Deputy Secretary General at the Department of Justice Oonagh Buckley said Customs staff will work to detect people who may try to bypass the system.
There will be an appeals system operating seven days a week, 24-hours a day for people who feel they should not be in quarantine.
The service provider - Tifco Hotel Group - will provide full board accommodation, along with transportation, security, health and well-being services.
The first facility that will be available to receive arriving passengers is the Crowne Plaza Dublin Airport Hotel in Santry.
However, the Tifco Hotel Group has committed to making as many rooms available as required.
The new quarantine rules come into affect from 4am on Friday and anyone who does not comply can be fined up to €2,000 or face a prison sentence of up to one month.
There are exemptions, including for those travelling for time-sensitive medical reasons.
Aircrew, maritime crew are also exempt along with members of An Garda Síochána or Defence Forces who are travelling in the course of their duty.
Drivers of heavy goods vehicles or diplomats and certain other categories of persons entitled to privileges and immunities in the State will also be exempt from hotel quarantine.
All passengers are advised to check the list of designated states before travelling to Ireland as the list will be subject to change at short notice
Once a person has completed their mandatory hotel quarantine, they will receive a letter of completion and can leave the facility.
A person can leave quarantine early if a test taken after 10 days is negative.
---
---
As it's announced that mandatory hotel quarantine in Ireland will come into force this Friday, Minister for Health Stephen Donnelly speaks to RTÉ's @MorningIreland | https://t.co/LcaxKQzb6p https://t.co/mSOY6ttXHk

— RTÉ News (@rtenews) March 23, 2021
The Department of Health said that when it comes to transportation, the Defence Forces will oversee the process, but members will escort the bus rather than drive it.
The Minister for Health said the Defence Forces will be the State liaison officers for the passengers, but day-to-day care will be provided by the hotel group.
Speaking on RTÉ's Morning Ireland, Mr Donnelly said the Defence Forces will not be involved in the everyday security or care of passengers.
The Tifco Hotel Group will have a licensed security contractor at each facility, but gardaí are said to be "available as a point of escalation in response to any such incidents".
The bill for staying in mandatory hotel #quarantine in Ireland from Friday ?@rtenews? pic.twitter.com/Ounf7JzfLO

— Paul Cunningham (@RTENewsPaulC) March 23, 2021
Mr Donnelly said gardaí will be called in if a traveller decides to leave the hotel before their quarantine is completed.
He said that the default position will be for gardaí to return the person to the hotel, but this will be an operational matter for gardaí.
Minister Donnelly said that if a traveller wants to leave their hotel room for some fresh air, they will be escorted by someone from the hotel.
He said once travellers have a negative PCR test, they will be allowed to leave their room up to three times a day for fresh air.
The minister said that a PCR test will be administered on the day they arrive and travellers should have a result by the next day.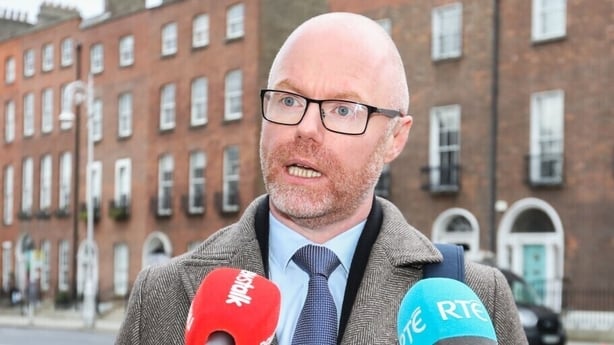 He said that there will be private security in the hotel, but there should not be too much interaction between staff and travellers.
The minister also outlined the process that any affected passengers will experience.
He said they will be told to remain on the plane after it lands and will be met by the border management unit in a separate area in the airport.
Once they have completed the necessary paperwork, they will then be brought by officials to collect their bags before they are taken to a hotel.
Minister Donnelly said that those passengers who arrive from a country that is not a Category 2 country without a negative PCR test will be allowed to home quarantine once they have had a clear PCR result.
He said the purpose of quarantine is to act as a deterrent and that England found an 80% reduction in incoming travel in the first week of introducing quarantine.
Social Democrats co-leader Róisín Shortall said that the State must have a key role in the operation of the quarantine system, overseeing security, ventilation, access to health services, and Covid-19 testing at the hotels.
Speaking on the same programme, she said that the role of the Defence Forces needs to include the training and supervision of the security contractors who are operating at the hotels.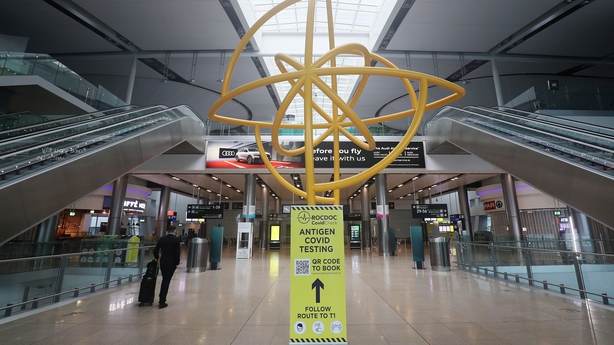 She said that the Department of Health must ensure those quarantining have access to a GP or health services onsite and to onsite testing.
Ms Shortall added that ventilation is another issue that needs to be managed to ensure that hotels themselves do not become places that facilitate the transmission of the virus.
She said the new system is "far from a solution to the issue of travel", given the danger of importing new strains of the virus and it should have happened nine months ago.
The Dublin North-West TD said that many incoming travellers are still coming into Ireland for non-essential reasons and will not be affected by new arrangements.
Meanwhile, People Before Profit TD Paul Murphy branded the Government's mandatory hotel quarantine as "really useless" because he estimates it will only tackle 10% of incoming passengers engaging in non- essential travel.
He said the Government needs to "give people hope" by really going after the virus, otherwise the public faces a "nightmare scenario" of existing restrictions not working and numbers going higher.
There are 33 countries, mainly in Africa and South America, on the Government's Category 2 list of "high risk" countries.
Brazil and South Africa were the first two nations designated as high risk on 5 February, with 18 states added to the list on 12 February.
They were: Angola, Austria, Botswana, Burundi, Cape Verde, Democratic Republic of the Congo, Lesotho, Malawi, Eswatini, Mauritius, Mozambique, Namibia, Rwanda, Seychelles, Tanzania, United Arab Emirates, Zambia, and Zimbabwe.
Argentina, Bolivia, Chile, Colombia, Ecuador, French Guiana, Guyana, Panama, Paraguay, Peru, Suriname, Uruguay and Venezuela were added to the list at the end of February.
Mr Donnelly said the reason the UK is not on the list of 33 countries is because the variant first detected in the UK is already transmitting in Ireland.
Garda organisations in call over vaccines
Meanwhile, the Garda Representative Association has said its members need to be vaccinated after the most vulnerable people have been vaccinated, as they continue to be placed in high-risk situations on the frontline, including potential exposure to infection at mandatory quarantine hotels.
Speaking on RTÉ's Morning Ireland, GRA Vice president Brendan O'Connor said gardaí feel let down as they have "played an essential role to date" in policing the pandemic.
He said that while gardaí will have a limited role in policing mandatory quarantine hotels, garda members at airport immigration are the first point of contact for those arriving into the country.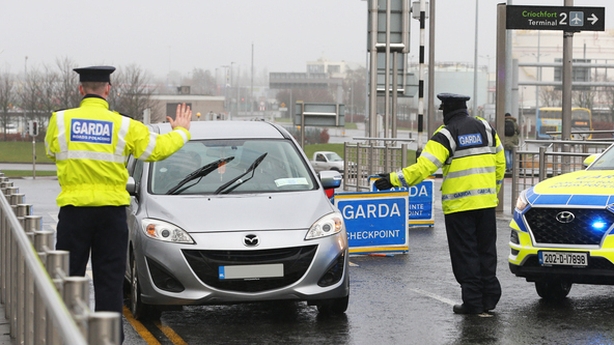 Mr O'Connor said the people placed in quarantine are considered high-risk so any intervention at the hotels will lead to gardaí being dispatched without vaccines.
He said: "We have to be given vaccinations to protect the people we interact with and the gardaí themselves."
Mr O'Connor said that members of the force are in many high-risk scenarios and have not been vaccinated unlike other frontline colleagues.
Separately, the General Secretary of the Association of Garda Sergeants and Inspectors has warned that
members of the force could potentially become Covid-19 super-spreaders and it may become unsustainable for them to police the pandemic without being vaccinated.
Speaking on RTÉ's Today with Claire Byrne, Antoinette Cunningham said it was getting more "risky, challenging and dangerous" to police the pandemic.
She added that the role gardaí will play in responding to any call-outs to mandatory quarantine hotels will further expose them to risk.
Ms Cunningham said members had not received guidance on the garda role in policing the hotels.
She said a risk assessment of their roles is urgently needed to give clarity about how necessary vaccinations are.
Additional reporting Fergal Bowers, Paul Cunningham