"It's an ugly illness. It brings on ugly things and it just brings darkness into your life."
Róisín Doyle, 20, a first-year student at NUI Galway has struggled with anorexia and bulimia for five years.
"An eating disorder is something that wants you all to itself. It doesn't want you to enjoy life," Róisín explained.
March 1 to March 7 is Eating Disorders Awareness Week, which aims to draw awareness to the seriousness and complexity of eating disorders.
According to the HSE, in Ireland, over 188,000 people will have experienced an eating disorder at some point in their lives.
An article in the Irish Medical Journal earlier this year noted there was a 66% increase in admissions with eating disorders in 2020 compared to 2019.
The authors said that anxiety relating to the pandemic, the interplay of social and economic factors and the impact of restrictions were among the factors to likely play a role in the increase.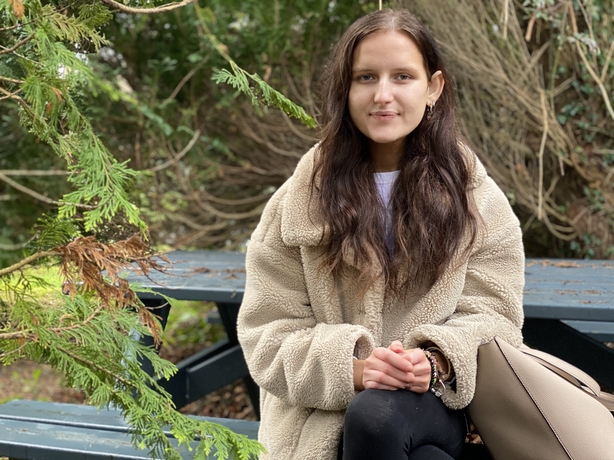 "Waking up during a pandemic and being like, well, 'I don't have college to go to today. College is online. Why should I have something to eat?' That's where your head goes during a pandemic with an eating disorder," Róisín explained.
Róisín contacted RTÉ News because she wanted to highlight the "ugliness" of eating disorders and give an insight into "the reality of life with this cruel disease".
"It's definitely not nice not wanting to smile anymore because of the damage that has been done to my teeth. I was hospitalised during the summer with issues in regards to my liver. Obviously, there's hair loss, not having a menstrual cycle. There are seizures and fainting. Yeah, not nice," she explained.
Barry Murphy is Communications Officer with Bodywhys, The Eating Disorders Association of Ireland. He has seen a significant increase in access to their services during 2020 as the pandemic has "really intensified the whole experience across thoughts, behaviour and feelings".
"With an eating disorder, you will see a severe impact on a person's relationship with food, their body and their weight and ultimately it's a coping mechanism.
"I've been working for Bodywhys for eight and half years. I've never seen such a level of need for support and services in people's lives. Not only was it immediate last March but it has completely sustained through the whole crisis," Barry said.
"People are unfortunately presenting more unwell to hospital and therefore at greater clinical risk and in a more crisis state. So, the hospitalisation of 66% increase is not surprising, sadly," he explained.
"The other thing people have really struggled with is communication. So people living at home, living with a partner or a spouse, living family and trying to manage expectations that you have to be better, that you have to be well. We also saw a particular concern around relapse and recovery very much coming to the fore because of the pandemic," he added.
The increase in the admission of men with eating disorders was considerably higher in 2020 to any previous year. This can lead to a "double stigma", according to Barry.
"The difficulty for men is that they have to deal with what we would say is a double stigma so firstly the stigma of having an eating disorder and then the stigma of being a man with an eating disorder. It just doesn't fit with what people know," he explained.
Bodywhys says early intervention, help and support is really important.
"It's about breaking that cycle. Firstly, you have to acknowledge there is an eating disorder in your life. That's really difficult. And then it's about trying to make that appointment with a GP and getting that support. Early intervention is really important in terms of getting medical support and treatment," Barry advised.
If you are experiencing an eating disorder, Bodywhys provides free online support groups and services to anyone experiencing an eating disorder.
Bodywhys also provides support to family members who may have a relative who is experiencing an eating disorder.
"If you are a family member, you don't have to be an expert on eating disorders to help your family member. That's why in 2014 we set up the PiLaR Programme. It's about helping parents, carers, spouses, grandparents, to give them the coping mechanisms to take into their lives to respond to the eating disorder their relative has," said Barry.
For Róisín Doyle, she first began struggling with an eating disorder following the death of her granny.
"I was distracted by the physical feeling of hunger and I think that's how I coped with the grief," she explained.
Róisín is receiving ongoing treatment for her eating disorder.
"No number on the scale is going to give you the peace of mind that you want. You will literally destroy your whole body for the peace of mind that you're never going to get from a number on a scale, ever.
"What I'd say to people, if you're not happy with the way you look, it's an internal job not an external one," Róisín said.
If you have been affected by any of the issues raised in this story, visit rte.ie/helplines.
Bodywhys provide free online support groups and services to anyone experiencing an eating disorder. Their helpline number is (01) 210 7906 and email support is also available: alex@bodywhys.ie