Just 47 fines were issued for dog fouling across the country last year, despite most local authorities reporting an increase in canine litter since the onset of the coronavirus pandemic.
Social media users have complained of bags of faeces being left suspended from railings and tree branches.
The extent of the perennial but escalating problem was highlighted by politicians at council meetings in at least 13 different counties within the past month alone.
However, according to figures compiled by RTÉ's Today with Claire Byrne, around half of the country's local authorities failed to issue a single fine for dog fouling in 2020 as they struggle to reprimand those who refuse to clean up their animal's mess.
Almost one in three dog poo fines over the last four years have never been paid.
It is an offence under the Litter Pollution Act 1997 for someone to allow their dog to foul a public place.
Pet owners who fail to clean up after their animals face on-the-spot fines of €150, rising to €3,000 for those convicted of not paying the original penalty.
Based on figures supplied by 28 of the 31 local authorities, seven councils have not successfully fined a dog owner in over four years.
Offaly, Kilkenny, Tipperary, Leitrim and Carlow County Councils did not issue a single dog poo fine in 2017, 2018, 2019 or 2020.
Two others - Westmeath and South Dublin County Councils - issued six fines between them in the same period but never once received payment.
Dún Laoghaire-Rathdown, Galway City and Sligo Councils have only fined one dog owner each since 2016. In all, 241 dog poo fines have been handed down nationwide since the start of 2017.
In 2020, 40% of the 47 Fixed Penalty Notices dished out to pet-owners who did not scoop their dog's "doo-doo" went unpaid. Just three fines have been issued so far this year.
But the low number of recent penalties for dog owners runs contrary to what some feel is a growing mutt mess emergency.
According to local media reports of recent local authority meetings, Waterford City and County Council heard how dog fouling in the county is "out of control", while one councillor in Laois described how "you can't go anywhere now but you're practically walking on poo".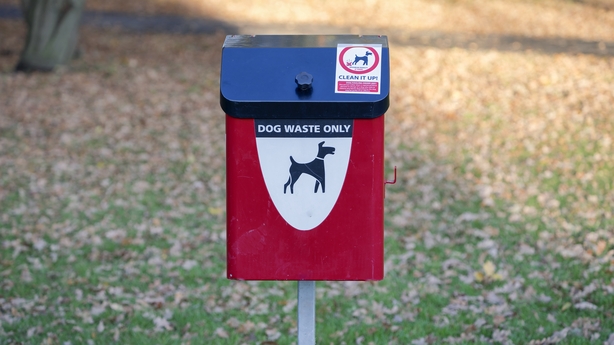 Responding to queries from RTÉ, Clare County Council said it recorded an 85% increase in dog fouling complaints in 2020 while Cavan County Council noted a rise of 54%.
Most local authorities said they find it extremely difficult to issue fines as under the law, litter or dog wardens must witness the canine defecating and its owner walking away from the faeces.
Wardens must also prove the person with the pooch is its owner - and so often have to follow them to their car.
"The practicalities associated with this mean that it is almost impossible to issue fines ... as the vast majority of instances of dog fouling occur early in the morning, early in the evening or late at night outside of the times when litter wardens are on duty," explained a spokesperson for Cork City Council, which has not issued a fine since 2017.
Councils also claim members of the public are reluctant to report dog owners in case they are called to give evidence in court.
"People don't want to give evidence against their neighbours due to wishing to remain on good terms or in some cases due to fear," explained a spokesperson for Meath County Council.
Several local authorities plan to erect extra signage and audio devices in the coming weeks in an attempt to tackle the problem.
Westmeath is running a Golden Ticket scheme where wardens award a "golden ticket" to persons walking their dog who have a bag to clean up or are seen cleaning up after their dog. Ticket holders then qualify for a raffle.
Other councils are looking towards the use of DNA technology which would match excrement to its canine and then identify its owner.
"In the past six months we've had many conversations with many different Irish municipalities," said Jay Rettinger - the Chief Executive of BioPet Laboratories in Tennessee, which operates the PooPrints DNA testing worldwide.
"Irish officials are fed up with the fouling issue," Mr Rettinger said.
While dog waste is largely seen as a litter or environmental issues, it also presents health and safety risks.
Celbridge mother Kris Overfield is appealing for pet owners to clean up after their dogs after her then five-year old son Evan was hospitalised before Christmas with a severe bacterial infection from handling dog poo on his local green.
Evan has since made a full recovery. Prior to his illness he had actually written to gardaí over the prevalence of dog poo in his area over fear it would make his sister sick.
"It's very upsetting to think people are so irresponsible that they would put others into a situation this dangerous. It's disgraceful. Ireland needs a much stronger and heavier approach," said Ms Overfield.