Love was in the air at the White House yesterday.
A Valentine's Day display had been installed on the North Lawn by the US First Lady Jill Biden.
Large pink, white and red hearts carrying messages of love and hope had been planted in the grass.
It was a welcome sight following a busy morning. I had just undergone a Covid test in order to gain access to the White House and my nose was still tingling from the cotton buds that had scraped the inside of my nostrils just a few minutes earlier.
Getting passed security always involves wearing an array of ID badges and accreditation around your neck, but now an additional accessory was also required.
To prove I had undergone a coronavirus test, the Secret Service had given me a fluorescent orange wrist band. Considering the weekend, perhaps pink or red would have been a better choice of colour scheme.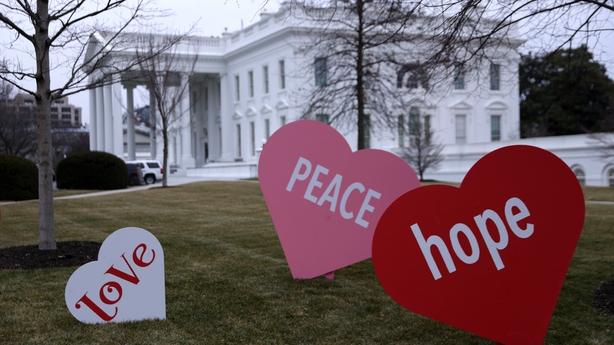 A little earlier, President Biden, the First Lady and their two German shepherds, Champ and Major, had come out to admire the Valentine's Day display.
It was an unscheduled appearance and happened much to the delight of the gathered reporters and photographers.
"Do you have any thoughts on the impeachment trial?" the president was asked by one journalist.
"I am just anxious to see what my Republican friends do and if they stand up," he replied.
"And you are not planning on speaking with any of them on how they should vote?" came the follow up question. "No," Joe Biden said.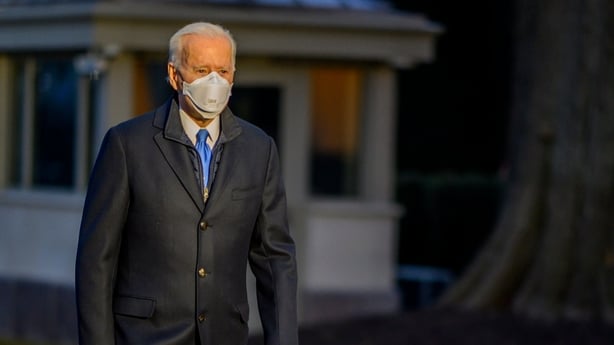 Over on Capitol Hill, the impeachment trial was drawing to a close with Donald Trump's lawyers outlining their defence arguments.
They were allocated two days to make their case but said they would need much less time. In the end, they were done in less than four hours.
Donald Trump's lawyer Michael Van Der Veen began his address by echoing the words of his client when he described the entire impeachment process as a "politically motivated witch hunt".
"The Article of Impeachment now before the Senate is an unjust and blatantly unconstitutional act of political vengeance," he said.
"The Senate should promptly and decisively vote to reject it."
Democrats have accused Donald Trump of inciting his supporters to storm the Capitol Building when he told them to "fight like hell".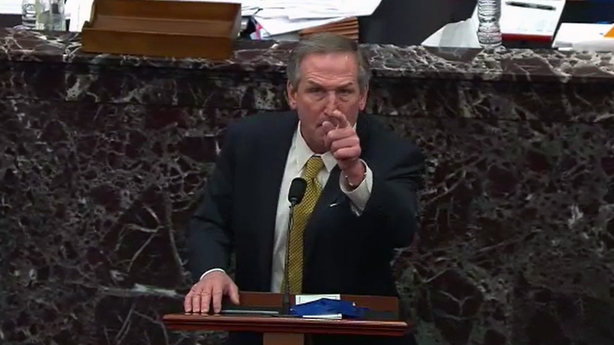 In his presentation, another of Mr Trump's lawyers, David Schoen, used video clips to highlight the fact that lots of Democrats use the word "fight" all the time.
"That same hatred and anger has led House managers to ignore their own words and actions and set a dangerous double-standard. The House managers spoke about rhetoric, about a constant drumbeat of heated language. Well, as I'm sure everyone watching expected, we need to show you some of their own words," he said.
The defence presentations may have been short, but they were also pointed and focused, in stark contrast to their opening statements at the start of the trial.
Their main argument was that the trial was a breach of the constitution because Donald Trump is no longer president and also that his comments to his supporters about election fraud, and telling them to march to the Capitol, are protected under freedom of speech.
Mr Trump had chopped and changed lawyers and found it difficult to find attorneys who would agree with his approach.
His defence team had been hastily assembled shortly before the trial and at times it showed.
One of the lawyers, Bruce Castor, delivered a long, rambling address. He appeared ill-prepared and at one stage praised the other side, the Democrats, for doing such a good job in their opening presentations.
He said that because it was so strong, they had decided to change their strategy and switch the order of speakers.
A vote on whether or not the trial was constitutional saw six Republican senators siding with the Democrats. One of those who broke ranks was Senator Bill Cassidy who said he had voted with the other side because Donald Trump's lawyers had done such a bad job.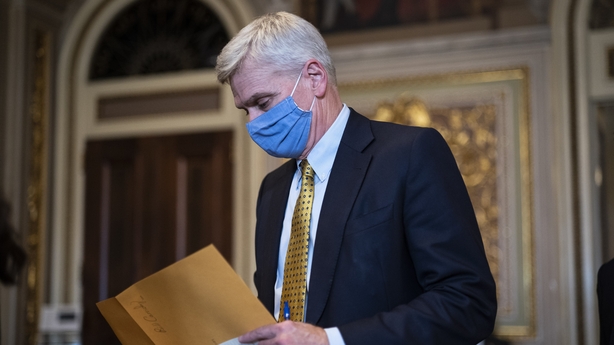 According to US media reports the former president was not happy with the performance of his legal team.
Also unhappy were many Republican senators who have been taking cover under the constitutional argument. It allows them to acquit Donald Trump by blaming a flawed process without having to pass judgment on his behaviour and comments.
Some senior Republicans have said that Mr Trump does bear responsibility for the storming of the Capitol Building and they needed a strong constitutional argument to explain their reasons for finding him not guilty.
A weak defence team didn't help that cause, so no doubt they were pleased to see Mr Trump's lawyers up their game in their closing remarks.
The Democrats' nine impeachment managers, the prosecutors in this trial, opened their case with a dramatic 13-minute video montage of the storming of the Capitol Building. The footage was interspersed with statements and tweets from the former US president.
They also used previously unreleased video recordings to make their case. Senators were shown dramatic bodycam footage of police clashing with violent protesters.
We need your consent to load this YouTube contentWe use YouTube to manage extra content that can set cookies on your device and collect data about your activity. Please review their details and accept them to load the content.Manage Preferences
Audio recordings were also played of panicked police officers describing how they were being overwhelmed and calling for back-up.
CCTV footage showed the then-Vice President Mike Pence and his family being ushered to safety. Senior senators like Mitt Romney and Chuck Schumer could be seen rushing down corridors trying to avoid the approaching mob.
It was chilling to watch but unlikely to change the outcome.
A two-thirds majority of the senate is required to convict Donald Trump which means at least 17 Republicans would have to side with Democrats.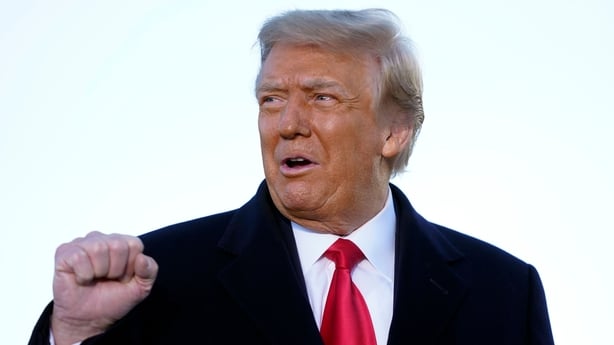 While some minds may have been changed over the course of this trial, Mr Trump is expected to be acquitted.
It will be a clear sign that on this Valentines weekend there is still plenty of love for the former president within his party.