US President Joe Biden has said the US death toll from Covid-19 will probably top 500,000 next month, painting a grim picture of what he said will be a difficult battle.
During a White House event, Mr Biden said the rollout of the vaccine has been a "dismal failure so far."
"Things are going to continue to get worse before they get better," he said.
Mr Biden said international air passengers would be required to quarantine on arrival, consistent with guidance from the Centers for Disease Control.
"In addition to wearing masks, everyone flying to the United States from another country will need to test before they get on that plane, before they depart, and quarantine when they arrive in America," said Mr Biden.
The testing requirement was announced by the previous administration of Donald Trump, but quarantine was only a recommendation.
Earlier his administration announced a detailed Covid-19 plan to boost vaccinations and testing, after he warned during his inaugural speech the pandemic was entering its "deadliest period".
Officials said Mr Biden would immediately sign ten executive orders and other directives to jump start the national strategy.
Experts have said that was sorely missing under his predecessor Donald Trump and today Mr Biden's communications director Kate Bedingfield said the outgoing administration had left little in the way of a vaccination distribution programme.
There was "not a lot of detail," she told CNN, but she added that Mr Biden would sign executive orders that same day to invoke emergency legislation to increase industrial production.
"Just to make sure that we have the material that we need to get these vaccinations into arms around the country," she added.
The Biden administration would be "laser-focused" on that going forward, Ms Bedingfield added, saying it seeks to increase supply, boost distribution and secure the funding to make it all happen.
The US is the world's hardest-hit country with more than 405,000 deaths, and government models suggest the B.1.1.7 variant, first detected in the UK could supercharge the outbreak's trajectory in the coming months.
Mr Biden's presidency will initially be shaped by his response to Covid-19 and the associated economic emergency.
We need your consent to load this rte-player contentWe use rte-player to manage extra content that can set cookies on your device and collect data about your activity. Please review their details and accept them to load the content.Manage Preferences
---
Biden calls for unity on 'day of history and hope'
Biden will be 'true friend of Ireland' - Taoiseach
---
Mr Biden paused in his inaugural address to offer a moment's silent prayer for its victims.
"We need all our strength to persevere through this dark winter. We're entering what may be the toughest and deadliest period of the virus," he said.
The plan has organised goals like restoring the trust of the American people, boosting the vaccination campaign, and mitigating viral spread through aggressive masking and testing, while expanding the public health workforce.
It also seeks to expand emergency relief; safely reopen schools, businesses and travel; protect the most vulnerable and advance racial equity; and restore US global leadership with future pandemic preparedness.
The administration is seeking $1.9 trillion from Congress for its plans, which includes $20 billion for vaccines and $50 billion for testing.
Some of the measures were already announced in recent days, including recommending that the eligibility criteria for vaccine priority groups be widened and simplified in order to increase the rate of shots being injected.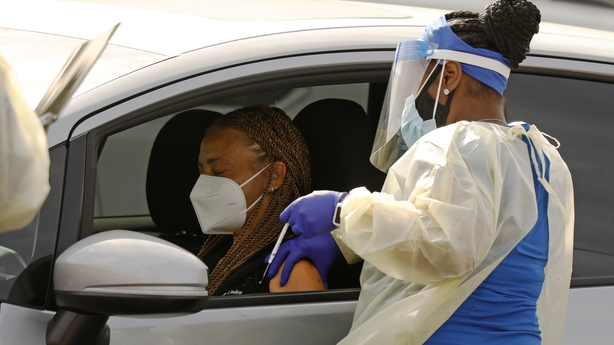 As it stands, the federal government has overseen the allocation of 35.9 million doses to states, of which 16.5 million have been used - or 46%.
The figure is well below targets set by the Trump administration, but the administration rate has been steadily ticking up in recent days.
New White House vaccines coordinator Bechara Choucair restated the administration's intention to bring online thousands of federal vaccination centres, as well as the mobilisation of thousands more workers to help.
These plans would bring the financial and logistical clout of the federal government in the fight against the virus, again, an element that had largely been missing.
The administration will also continue the policy of rolling out vaccine doses for Pfizer and Moderna's two-shot regimes as soon as they become available.
The Trump team had initially set aside the booster as reserve, but later changed course after running low on supply.
The administration also plans to invoke the Defense Production Act to boost supply of personal protective equipment, lab equipment and to maximide vaccine production.
Ms Bedingfield said that would be among the executive orders Mr Biden plans to sign today.
Tim Manning, who will coordinate supply chain issues, told reporters he had identified 12 supply shortfalls where the law could be invoked.
Biden signs executive orders aimed at reversing Trump policies
President Biden signed 17 executive orders to launch his administration, including a decision to rejoin the Paris climate accord and a mask mandate for all federal buildings.
The orders included keeping the US in the World Health Organization, ending the ban on entries from mostly Muslim-majority countries, bolstering environmental protections, and strengthening the fight against Covid-19.
Also among the directives was a halt to construction of the wall on the US-Mexico border, and efforts to expand diversity and equality for minority groups in the federal government.
The orders were aimed at reversing decisions by his predecessor Donald Trump and setting a clear policy path for Mr Biden's new administration, just hours after he was sworn in as president.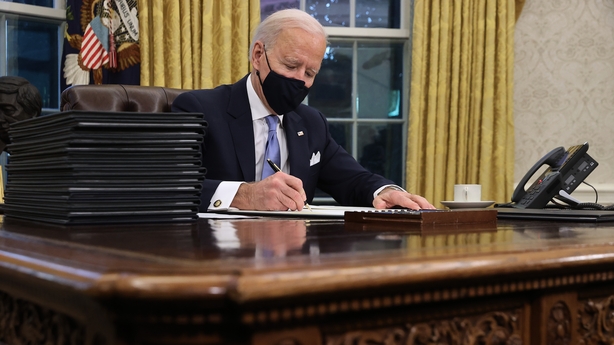 "Some of things we are going to be doing are going to be bold," he said in the Oval Office.
"We are going to combat climate change in a way we have not done so far," Mr Biden said of returning to the Paris agreement, a treaty signed by most nations in 2016 to limit global warming.
His return to the Paris Agreement, which the United States joined when Barack Obama was president and Mr Biden vice president, was lauded by other leaders.
"Welcome back," said French President Emmanuel Macron.
"We are together. We will be stronger to face the challenges of our time. Stronger to build our future. Stronger to protect our planet."
UN Secretary-General Antonio Guterres also welcomed the move, saying it was a large step for the leading producers of global carbon pollution.
"But there is a very long way to go," he said in a statement.
"We look forward to the leadership of United States in accelerating global efforts towards net zero" emissions, he said, calling for "ambitious" new targets for 2030 and expanded climate finance.
Mr Biden's climate envoy John Kerry hailed the move as a boon for "America's credibility and commitment - setting a floor, not a ceiling, for our climate leadership".
Mr Biden issued a sweeping order tackling climate change, including revoking the presidential permit granted to the contentious Keystone XL oil pipeline.
The Day One plans were just the start of a flurry of executive actions Mr Biden would take soon after entering office, said his press secretary Jen Psaki.
"In the coming days and weeks, we will be announcing additional executive actions that confront these challenges and deliver on the president-elect's promises to the American people," Ms Psaki said.
Tune in for the first press briefing of the Biden-Harris Administration with Press Secretary Jen Psaki. https://t.co/psa19eCLQa

— The White House (@WhiteHouse) January 20, 2021
Further actions would include revoking the ban on military service by transgender Americans, and reversing a policy that blocks US funding for programs overseas linked to abortion.
On the economic front, Mr Biden asked the US Centers for Disease Control and Prevention to extend a moratorium on evictions until the end of March, and the Department of Education to suspend student loan payments until the end of September.