There have been eight more Covid-related deaths and 2,121 new cases of the virus reported to the Department of Health.
The death toll now stands at 2,616 with a cumulative total of 174,843 infections.
There have been 338 deaths associated with the disease so far in January compared to 171 in December and 163 in November.
There are 200 people with coronavirus in ICU, a rise of five since yesterday. There are 1,975 Covid-19 patients in hospitals with 102 additional hospitalisations in the past 24 hours.
The five-day moving average of #Covid19 cases in Ireland is 3,149. The median age of cases in the past 14 days is 39 and the mean age is 41. There have been 338 deaths in Ireland this month associated with Covid | https://t.co/0nmIyzdRVd pic.twitter.com/XOs6fB2d8l

— RTÉ News (@rtenews) January 18, 2021
Chief Medical Officer Dr Tony Holohan said: "This third wave of the pandemic has seen higher level of hospitalisations across all age groups. There are now more sick people in hospital than at any time in the course of this pandemic.
"The risk that this disease poses to the individual who is infected has not changed. What has changed is that we are experiencing a much greater level of community transmission.
"As a result we are seeing higher numbers of people with severe illness who require hospitalisation or admission to intensive care and higher numbers of mortality.
"Please continue to stay at home and drive down this infection in our community."
He said progress had been made in the past three weeks but "not nearly as much as we need to make". He said the country's 14-day incidence rate was now the highest in Europe.
In the nearly three weeks since the current strict #Covid19 restrictions were brought in, "We've made progress" but not as much as we need to, and "we can't take our foot off the gas now" @CMOIreland says | https://t.co/0nmIyzdRVd pic.twitter.com/ubVjfpSg73

— RTÉ News (@rtenews) January 18, 2021
---
---
Dr Holohan said if people limit themselves "down as much as possible to the very basic elements of essential activity only, we can drive this infection rate down faster than we've been doing so far".
Health Service Executive Acute Hospitals Group Lead Dr Vida Hamilton said: "We are now one week operating in critical surge capacity, the first time we have had to rely on this during the pandemic.
"Our staff escalation plan is in operation and we are very grateful for the non-critical care staff who are supporting the delivery of these critical services. Patients across the health service are very sick.
"The message from your healthcare workers is to please stay at home and continue to interrupt the spread of Covid-19."
Dr Hamilton said all oxygen supplies across all hospitals are in what she termed the "green zone". There were dedicated pathways for patients with and without Covid.
"It is challenging to prevent outbreaks in hospitals but we have processes in place to minimise them," she said.
Asked if serial testing in hospitals should be brought in - as previously recommended by the National Public Health Emergency - Team Dr Holohan said it would be considered when there was more room in the testing capacity and cases had reduced.
"Right now, the level of infection is so high in the community, we are telling everyone to regard themselves as a close contact. Stay at home and restrict your movements."
We need your consent to load this rte-player contentWe use rte-player to manage extra content that can set cookies on your device and collect data about your activity. Please review their details and accept them to load the content.Manage Preferences
Asked about the issue of unused doses at the end of a day and how they are distributed, Dr Holohan told a press briefing that there are guidelines in place.
He said it was important that those in leadership positions both follow and are seen to uphold the highest standards in vaccine prioritisation.
Asked about the issue of leftover #Covid19 vaccines and how they are distributed, @CMOIreland Dr Tony Holohan says there are guidelines in place and it is important those in leadership positions both follow and are seen to uphold the highest standards in vaccine prioritisation pic.twitter.com/xHoiRBCits

— RTÉ News (@rtenews) January 18, 2021
Suspected vaccine side-effects
Health Products Regulatory Authority, CEO Dr Lorraine Nolan said: "Up to 11 January, the HPRA received a total of 81 reports of suspected side effects associated with the Pfizer/BioNTech vaccine.
"All reports were generally consistent with those typically observed with other vaccines and included events of a mild to moderate nature which resolved or were resolving at the time of reporting.
"Among those most frequently reported were abdominal pain, nausea, fatigue, joint pain and pains in the arms, some experience of dizziness, headache, itching and a rash – all consistent with the known and anticipated side effects as emerged during the clinical trials."
Dr Nolan added: "While the relatively mild effects described are of course uncomfortable for those who experience them, they do pass quickly and generally do not require any medical treatment.
"Safety monitoring of all medicines, including vaccines, is central to the remit of the HPRA and we intend to publish a regular update of the number and nature of reports regarding suspected side effects with Covid-19 vaccines, as the vaccination roll-out continues."
The national 14-day incidence rate per 100,000 population is 1,404.7. This compares to a rate of 1,378.7 this day last week and 582.8 on Monday, 4 January.
Counties with the highest infection rates include Monaghan (2,749.8), Louth (2,210.5) and Waterford (1,995.2). Counties with the least number of Covid-19 infections are Leitrim (549.2), Longford (680.2) and Westmeath (681.5).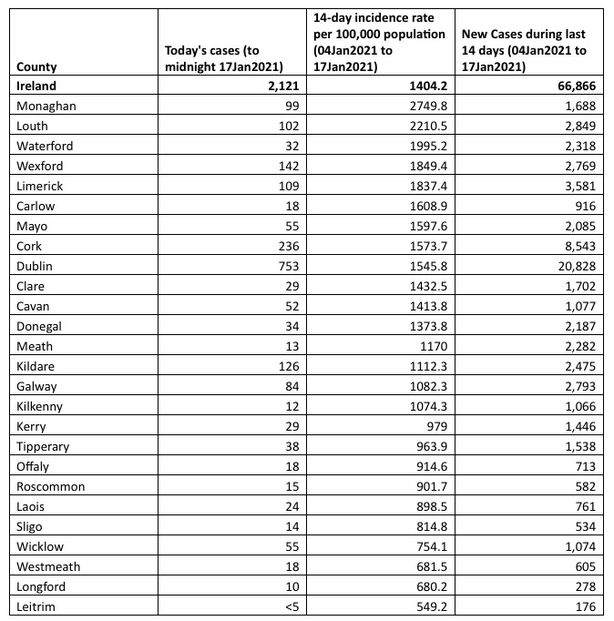 Of the cases notified today, 992 are men and 1,117 are women. Over half (58%) are under 45 years of age.
There were 753 cases reported in Dublin, 236 in Cork, 142 in Wexford, 126 in Kildare, 109 in Limerick and the remaining 755 cases are spread across all other counties.
'No zero-risk environments'
Deputy Chief Medical Officer Dr Ronan Glynn was asked about the possible reopening of schools for children with special needs and if it was a safe environment for teachers and special needs assistants.
He replied that there are "no zero-risk environments when it comes to Covid-19" and it was about balancing risks. Closure of schools should be a last resort, he told journalists.
Deputy CMO Dr @ronan_glynn says there are no zero-risk environments when it comes to #Covid19, and it is about balancing risks. He says it is clear that closure of schools should be a last resort | https://t.co/0nmIyzdRVd pic.twitter.com/uCWBjBrEHN

— RTÉ News (@rtenews) January 18, 2021
Dr Glynn also praised community efforts during the pandemic. "Our survey data indicates that 60% of people report contacting older relatives and friends to ensure they are okay.
"Providing support and reassurance to older and more vulnerable members of society is an important part of our collective response to this pandemic. Our sense of community and support for each other must remain a key part of our armoury against Covid-19."
On the subject of travel, the Chief Medical Officer said we are going to see the variant that originated in England become a dominant strain because of its transmission advantage and there was "little prospect of us putting in containment measures to stop that".
Dr Holohan told the media briefing it was "probably not" the case that travel measures can completely halt the spread of viruses that already have a high transmission rate.
But, he said, they can substantially slow the rate while as many people are vaccinated as possible.
The CMO said Ireland is doing a high level of genome sequencing compared to other countries, and have identified three of the so-called South African variants.
He said the HSE put in place "very effective" contact tracing arrangements in terms of those cases, to ensure there was not onward transmission in this country.
Dr Holohan said there is no evidence to date of onward transmission in Ireland of the South African variant and the Brazilian variant has not been identified in this country.
In Northern Ireland, a further 19 people with coronavirus have died and another 640 individuals tested positive for the virus.
The figures were released as Deputy First Minister Michelle O'Neill told the Assembly that no resolution has been reached between Stormont leaders and the Irish Government over the sharing of passenger data.
Meanwhile, a new report has found that Covid-19 is having a severe and disproportionate impact on vulnerable children.
The latest report by the Child Care Law Reporting Project has found instances of severe neglect as well as addiction and domestic violence.
Also today, the Health Service Executive said it issued guidance on 12 January on the sequencing of vaccinations of frontline healthcare staff and what to do if there were vaccines that might expire.
The guidance was issued four days after the events at Dublin's Coombe Hospital on 8 January, where 16 family members of staff were given the vaccine.
Earlier, the Minister for Finance said the distribution of vaccines to family members of staff at the Coombe should not have happened and this is why the Minister for Health responded promptly to the issue.
Speaking on RTÉ's Today with Claire Byrne, Paschal Donohoe said public health policies and systems for vaccinations are accelerating and over 75,000 people were vaccinated last week, including 1,800 GPs at the weekend.
He said the Government is doing all it can to ensure a fair and effective prioritisation roll-out of the vaccine and will be guided by the National Immunisation Advisory Council in relation to who and what groups should be vaccinated.
Mr Donohoe said the Government's decision to reopen shops and hospitality before Christmas has "played a role in where we are now". However, it had not allowed for the new Covid-19 variant in the country.
He said the Government made the decision in the context of the economy having been closed for "many, many weeks" along with the fact that many people had been out of work and amid concerns for their mental well-being.
Mr Donohoe said that he accepts responsibility as a member of Government, but the priority now must be on reducing the spread of this "terrible disease".