There are now 1,043 Covid-19 patients in hospital, the Health Service Executive's Chief Executive has said.
Speaking at a briefing this afternoon, Paul Reid also said that 95 of the patients are in intensive care units.
Earlier, he had described the number of people in hospital as "a sad milestone that nobody wanted to happen".
The number of people hospitalised with Covid-19 has risen to 1,043. The number in ICU remains at 95. | Follow live updates: https://t.co/HSc5nUIxbB pic.twitter.com/4aI4Taq6GA

— RTÉ News (@rtenews) January 7, 2021
There are 20 adult and 11 paediatric ICU beds available in the system.
Speaking at a HSE media briefing in Dublin, Mr Reid said: "In the last 24 hours we have reached a milestone that has to be call to arms to the public to support the health service in the coming weeks and months."
The hospitals with the highest numbers of Covid-19 patients are Beaumont in Dublin with 86, including ten in ICU; University Hospital Limerick is treating 78 patients with the virus, with six patients in ICU, while there are 71 people with Covid-19 at University Hospital Galway, with six in ICU. 
Latest figures also show there are three confirmed cases of Covid-19 at Children's Health Ireland, Crumlin, with one in Temple Street.
The Tánaiste has said the most "optimistic" projections suggest that 1,500 people will be admitted to hospital for Covid-19 at any one time.
Leo Varadkar told RTÉ's News at One that Ireland's figures could be as high as three times that if we matched that which has happened in the UK, but he said this peak differs to any other in that Ireland is "better prepared".
Mr Varadkar said he is confident that all private hospitals that made their intensive care unit capacity available to the public system in previous waves will do so in the third wave.
---
Read more:
Latest coronavirus stories
Covid-19 National Summary
---
Speaking to those who make decisions about private hospitals, Mr Varadkar said: "They understand medical ethics, and their staff are going to want you to make your ICU capacity available to us.
"Every single private hospital came on board back in the first wave. In those hospitals are doctors, nurses, therapists, people who have dedicated their lives to saving lives. And on the boards of those hospitals, there are people who dedicated their lives to health care and saving lives.
"I'm absolutely confident that they will all make their facilities available."
On the vaccination programme, Mr Varadkar reiterated that the target for inoculations this week is 35,000 people, rising to 40,000 next week. He said figures will be published weekly.
Mr Varadkar said there has been a slow start all around Europe to the vaccination programme, but he said it will be "better in the medium run, as Ireland will have reliability of supply by being part of the EU".
Minister for Health Stephen Donnelly said the Government expects to receive 110,000 doses of the Moderna Covid-19 vaccine by the end of the first quarter of this year.
Speaking on RTÉ's Morning Ireland, Mr Donnelly said that alongside the 360,000 doses of the Pfizer/BioNtech vaccine expected by the same time, the Government expects to have 470,000 vaccine doses by the end of March.
He said it is also hoped there will be further doses added to this once other vaccines, such as the Oxford/AstraZeneca and the Johnson & Johnson vaccines, become authorised for use in the EU.
"By the end of February, all nursing home residents and staff will be vaccinated, and the plan is that all frontline healthcare workers will [be] as well," says Minister for Health Stephen Donnelly pic.twitter.com/ONtq2Xl3Lq

— RTÉ News (@rtenews) January 7, 2021
Mr Donnelly said Government and health officials have received additional information that the Covid-19 variant first identified in the UK is now at a "significant level" in all parts of the country.
He said that in previous times, we would be expecting a rapid reduction in cases by this weekend, however the new variant makes it harder to model when cases will now peak.
Mr Donnelly said the approach at the moment remains urging people to stay at home, reduce their contacts, and then in time that will lead to a reduction in those in hospital.
Asked what the plan was to deal with rising cases in ICU, Mr Donnelly said the plan was "to not run out of beds".
He said they have a base active 285 beds, which can go up to 360 when into surge, before getting into arrangements with private hospitals for a further 50 beds.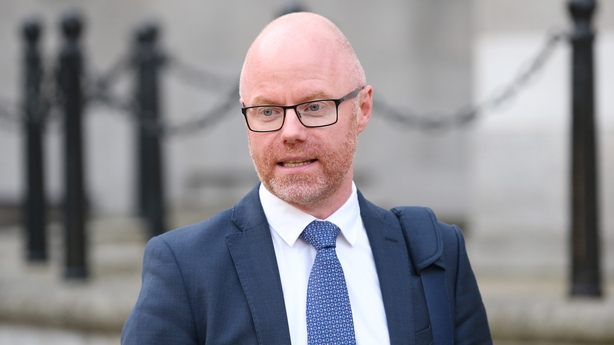 On schools, he said the unambiguous advice from the National Public Health Emergency Team is that schools are safe, but what is not safe at the moment is the wider scale of people, over one million, mobilising and travelling to and from school twice a day.
He said it is the Minister for Education's "absolute intention" to go ahead with the Leaving Certificate in the traditional way, and wants to ensure that what happened last year does not happen this year.
Minister for Health Stephen Donnelly discusses the plan to have Leaving Cert students attend school three days a week pic.twitter.com/H8BMdfqByg

— RTÉ News (@rtenews) January 7, 2021
The President of the Royal College of Physicians in Ireland said there is currently a steady stream of people infected with Covid-19 entering intensive care.
Professor Mary Horgan, who is also a member of NPHET, stressed it is important that people should stay at home now.
To date, there have been a total of 121,154 confirmed Covid-19 cases and 2,299 coronavirus-related deaths in Ireland.