The head of the Health Service Executive has said that 15,314 first doses of the Covid-19 vaccine have been administered from the 81,900 doses that have been delivered.
Chief Executive Paul Reid said the programme is on track to have 35,000 doses delivered by the end of the week.
Mr Reid said that inoculations had been given across the seven hospital groups at 35 locations.
He also said that an agreement with private hospitals to use their facilities to help ease the pressure caused by the coronavirus on the public hospital system is being finalised.
Mr Reid urged all of them to "put on their green jersey at a time of national need" and that "not to do so would be incomprehensible".
He said the private hospital groups that have signed up to the "safety net" so far are Blackrock, Hermitage, Galway and Charter Medical in Mullingar and more hospital groups are expected to sign up today.
The Mater Private said this evening that it would "allocate part of its existing capacity to the HSE" to help deal with the crisis.
Speaking at a media briefing in Dublin, the HSE CEO said the health service is facing a "very difficult situation and an extraordinary national crisis".
Latest figures show that 1,043 people are in hospital with 96 of the patients in intensive care units.
There are 20 adult and 11 paediatric ICU beds available in the system. A total of 425 general beds are unoccupied.
Mr Reid said: "In the last 24 hours, we have reached a milestone that has to be call to arms to the public to support the health service in the coming weeks and months."
He said the growth in hospitalisations due to Covid-19 has been "a massive shock to the hospital system".
HSE Chief Clinical Officer Dr Colm Henry said a pessimistic projection would suggest that 2,500 people would  be in hospital with Covid-19 by mid-January, with 400 patients in ICU.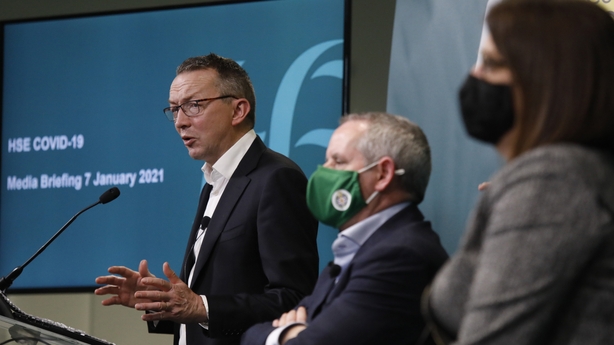 He said this surge is appearing to behave similar to the first one in terms of its impact on older people and vulnerable groups.
Mr Reid said that vaccinations are being carried out at 25 long-term care locations this week and will continue over the weekend.
Dr Henry said it would continue to administer the Pfizer/BioNTech vaccine on a two-dose schedule within 21 days.
He said evidence shows that immunity from the vaccine begins 12 days after being vaccinated.
The reproduction number of the coronavirus is estimated to be "higher than two" and the growth rate is about 13%.
HSE Chief Clinical Officer Colm Henry says the figures show a growth rate of 13%, with an R number of over 2. 'There is early evidence emerging that the new variant played a role in the rapid increase since Christmas.' | Follow live updates: https://t.co/HSc5nUIxbB pic.twitter.com/nA01JHJ5ZI

— RTÉ News (@rtenews) January 7, 2021
Dr Henry added that there is "early evidence emerging that the new variant played a role in the rapid increase in cases since Christmas".
He also reiterated the importance of adhering to public health measures as the vaccine rollout is under way.
Mr Reid said that 175,000 swabs had been taken in the community, and the postivity rate was 50% in some centres.
He said that 35,000 tests were completed in a single day during this current wave and he said the system was looking at 52,000 referrals in one day and decisions were taken to reduce the number of people referred with limiting tests for close contacts.
Mr Reid said that 95,000 contact tracing calls were made last week and, on one day this week, contact tracers made over 7,500 calls to contacts of positive cases.
'There's nothing we can say positive about the scenario we are in right now,' says Paul Reid. Decisions that have been made around stopping non-urgent care, along with Government decisions on restrictions, all have impacts, he says. | Follow live updates: https://t.co/HSc5nUIxbB pic.twitter.com/a4EV6bYYMW

— RTÉ News (@rtenews) January 7, 2021
He said the pressure on public hospitals will "continue to grow over the next while, but if we keep doing what we are doing we will turn this around".
There are early signs of a reducing number of cases, a reducing growth rate of the number of cases, and reducing number of contacts that people have, Mr Reid added.
"But we have to get down from four-digit numbers whether that be for case numbers, for hospitalisations. They are numbers that none of us could comprehend some time ago."
Mr Reid said the health service has "adequate stocks" of personal protective equipment and ventilators.
He confirmed that pre-covid the HSE had 900 ventilators, and since the first wave this has doubled to 1,800. 
---
---
HSE Chief Operating Officer Anne O'Connor said there are 101 Covid-19 outbreaks in nursing homes which, she said, has "grown significantly" and "the rate of outbreak is of concern" to the HSE.
She said there are 80 outbreaks "which are of most concern in nursing homes" and they have resulted in 880 staff being unavailable for work, across private and public nursing homes.
The HSE is supporting 1,297 nursing homes, she added. There are 79 outbreaks in hospitals.
Hospitals are also dealing with 259 suspected cases who are being treated as if they have Covid-19.
Ms O'Connor said there has been a significant increase in out-of-hours activity.
The figure of 118,000 for the month of December is "a lot higher than previous months" and many out-of-hours services received the highest number of calls recorded over the New Year's period.
Ms O'Connor added that 1.195 million people had received the flu vaccine up to 5 January, which is a 47% increase on the same period last year.
She said: "We are still not seeing any evidence of flu in our system, which is a really good sign."
Anne O'Connor, Chief Operations Officer HSE, said there is still no evidence of flu this year, which is 'one positive thing in our system today'. | Follow live updates: https://t.co/HSc5nUIxbB pic.twitter.com/EQKdcxGY7F

— RTÉ News (@rtenews) January 7, 2021
Dr Clíona Ní Cheallaigh, a consultant in infectious diseases at St James's Hospital in Dublin, said there are worrying signs there that the situation is returning to what it was like in wave one.
"There are a lot of people who are young and healthy who are in with huge difficulty breathing, so they are on massive amounts of oxygen, trying to get enough air in their lungs," she told the briefing.
"We're also back in a situation in which we are worried about how our hospital will function."
Dr Ní Cheallaigh said the expectation among healthcare workers is that it will get worse before it gets better.