The Government did not seek advice from the National Public Health Emergency Team regarding the reopening of schools for Leaving Certificate students, the Labour Party has claimed.
Labour had been calling for confirmation that NPHET were satisfied with the measure.
Labour Party leader Alan Kelly and the Chief Medical Officer, Dr Tony Holohan, spoke over the phone this evening.
Aodhán Ó Ríordáin, Labour's education spokesperson, has said he cannot see how the return of sixth year students can go ahead next week, given that it was not recommended by NPHET.
It comes after the Cabinet agreed to close schools from next Monday as part of new restrictions to tackle rising Covid-19 infections.
However, Leaving Certificate students will be allowed to attend three days a week and special needs education can remain open with protections in place.
Childcare can remain open for vulnerable children and the children of essential workers.
The measures will run until 31 January at the earliest.
Cabinet has agreed to close schools from next Monday due to rising Covid-19 infections, but Leaving Cert students will be allowed to attend three days a week. | Follow live updates: https://t.co/4lpEx6orsV pic.twitter.com/AeO4FuyU6T

— RTÉ News (@rtenews) January 6, 2021
Teaching will now move online for students, with those studying for the Leaving Certificate taking part in remote learning for their remaining two days of the school week.
It is at schools' own discretion whether Leaving Certificate students attend on consecutive days, or whether the in-school days are spaced over the week.
Details were announced by Taoiseach Micheál Martin and Minister for Education Norma Foley at Government Buildings this afternoon.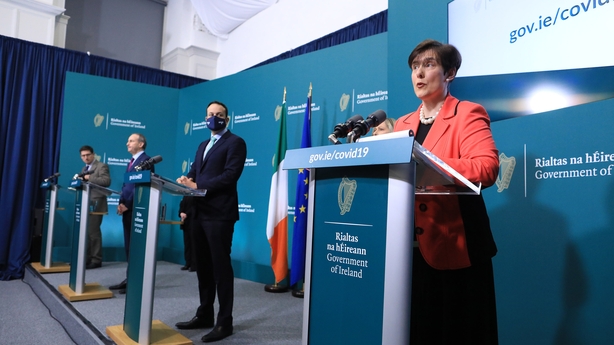 The Taoiseach again reiterated the Government's hope that the Leaving Certificate exams will go ahead in their usual format this summer.
He said Leaving Certificate students deserve the chance to sit normal examinations this year and that the Government will do everything it can to make that happen. 
This year's Leaving Certificate students have already missed out on a significant amount of tuition as a result of the school closures last year.
When asked about the decision to continue to allow Leaving Certificate students to attend schools, when the advice to other students is to stay home, the Taoiseach said there is a big difference between 61,000 Leaving Certificate students attending in a staggered way as opposed to one million, which would be the entire school population of teachers and students. 
The Taoiseach said we know from last year the huge difficulty in developing an alternative to the Leaving Certificate, which he said is hugely important for this generation of students in terms of their life chances, their future planning and future career pathways.
He said we owe it to them to do everything we possibly can to maintain stability in their lives.
While acknowledging that there would be challenges, the Minister for Education praised the "resilience" of the education sector and said she knows that it will not be found wanting in the weeks ahead.
"Schools as controlled environments, are safe places."

Education Minister Norma Foley speaks about the plans for Leaving Cert students. | Read more: https://t.co/4lpEx6orsV pic.twitter.com/75pIw06jSM

— RTÉ News (@rtenews) January 6, 2021
Teaching unions have expressed their concerns about the safety and logistics of the measures and have called for further engagement.
The INTO called the move to reopen special education settings a "rushed and reckless decision".
It said: "The rushed plan as laid out today is reckless and takes unnecessary risks which could easily be avoided.
"In light of public health advice, it is questionable whether attendance at such premises will be other than minimal."
The ASTI said it was concerned that the "decision has been made without full consideration of potential consequences to current public health objectives".
It said it had not been given a "credible level of assurance … that schools will be safe places next week".
TUI President Martin Marjoram said: 'We are gravely concerned by today's developments.
"This premature decision of Government is deeply damaging to the trust and confidence that has allowed us to keep schools open since September, despite the various problems.
"Our members do not have trust and confidence that opening schools to Leaving Certificate students as is proposed can be safely achieved under the current circumstances."
---
---
When asked why they decided that Leaving Cert students would attend school for three days rather than five, Minister Foley said the public health advice they have is that schools are safe environments.
During an interview on RTÉ's Drivetime, Ms Foley said that as a former teacher she would feel safe walking into a classroom with 30 or so 17-18 year olds for three days a week in the current climate. 
She said they are working towards the Leaving Cert being delivered. 
The Kerry TD also said school buses will run as normal.
She said the issue of childcare for all essential and frontline workers will be addressed by Minister for Children Roderic O'Gorman.
Ms Foley also said "a bubble can be formed with another family or individual, or whatever to provide the necessary childcare that might arise, but childcare services will remain open for essential frontline staff". 
When asked if the she sought NPHET's advice about whether the decision to allow 61,000 Leaving Cert students attend school three days a week was safe, Minister Foley said that at their meeting last night with the Chief Medical Officer, Dr Tony Holohan and Professor Philip Nolan, they attested to the safety of the school environment. 
Separately, the Minister for Children has asked crèches and other childcare services to pause or return fees paid to parents who cannot access childcare between for the next three weeks.
In a statement Roderic O'Gorman said that there are extensive financial supports available to the sector including the Employment Wage Subsidy Scheme and the Early Learning and Childcare schemes.
The Department of Children said it met with the sector earlier today and will issue guidance to the sector and to parents tomorrow.
As part of additional measures childcare services, including childminders, can only open for vulnerable children and the children of essential workers.
The ECCE pre-school programme has been postponed until 1 February. 
It was also announced that a household of an essential worker, without an existing childcare arrangement, can form a bubble with another household for the purpose of providing childcare.
Meanwhile GCSE, AS and A-level schools examinations have been cancelled in Northern Ireland due to the pandemic.
The decision was taken by Stormont Education Minister Peter Weir.
Exams due to take place later this month, next month and in May and June will not go ahead.
The decision about state exams mirrors the policy announcement made by the British government earlier this week.