There have been 1,620 new cases of Covid-19 reported by the Department of Health, as well as 12 further deaths.
The Chief Medical Officer has said that close contacts of a confirmed case are now not advised to seek a Covid-19 test.
However, they are still told to restrict their movements for 14 days, and contact their GP immediately if they develop symptoms.
Dr Tony Holohan, @CMOIreland, says for the next period of time close contacts of confirmed #Covid19 cases will not be advised to be tested, but should restrict their movements for 14 days | https://t.co/pO7lVq2dTO pic.twitter.com/iK3dlWw3GO

— RTÉ News (@rtenews) December 31, 2020
Today's Department of Health briefing also heard that an additional 4,000 cases of the virus are in the system yet to be formally reported.
It comes as a letter from Dr Tony Holohan to the Minister for Health expressed concern that Level 5 measures introduced yesterday may not be enough to curb transmission of the virus.
The letter sets out the view of the National Public Health Emergency Team that additional measures may be required if there is continued deterioration.
There are now 490 patients with Covid-19 in hospital. The figure has risen rapidly since Christmas Day, when there were 253 people being treated in hospitals.
Included in the overall total are 42 patients with Covid-19 in intensive care units, which is up from 25 patients on Wednesday night last week.
Of today's cases, 794 are men and 819 are women. 65% are under 45 years of age, with the median age being 34 years old.
498 of the cases are in Dublin, 203 in Limerick, 89 in Galway, 73 in Cork, 67 in Mayo and the remaining 690 cases are spread across all other counties.
There have also been 1,929 more cases of Covid-19 reported by health authorities in Northern Ireland.
Eleven more people who have tested positive for the virus has died.
Up to 4,000 extra cases in system
Prof Philip Nolan said that there are as many as 4,000 positive cases in the system, which have yet to be reported.
He said in recent days over the festive period, there were "very few people" presenting for tests, which meant fewer positive tests coming from labs.
He said they estimate there is "somewhere in the region of 4,000 positive tests" reported in the past 2-3 days which have yet to be formally confirmed as cases.
"Simply put, this system was not designed to report 2/3/4,000 tests per day, and it is going to take several days to confirm all of those cases," he said.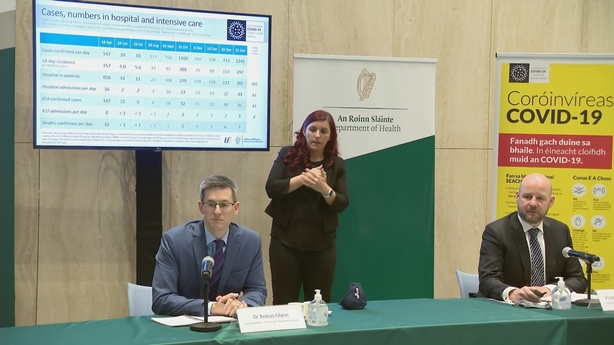 The Chair of NPHET's Modelling Advisory Group has said that the number of admissions to hospital for Covid-19 has tripled in just two weeks.
Prof Philip Nolan said there was an average of 365 people in hospital over the last seven days, with an average of 43 admissions per day.
He said the difference between the seven-day average, and the number of people in hospital today, showed the scale of the situation facing the health service.
Prof Nolan said two weeks ago we were looking at one admission to ICU per day, but now that was up to five per day on average. Yesterday, he said, there were eight admissions to ICU.
In terms of testing, Prof Nolan said demand is very high, with around 14,000 per day.
He told the briefing that the positivity rate is now higher than it was in the October peak during the second wave, and that yesterday 18.3% of tests taken came back positive.
Prof Nolan said "we're in for difficult weeks ahead" as the rate at which the number of people in hospital is rising at a "far more rapid" rate than previously experienced.
He said there was a "concerning increase" in the number of cases being registered in people over the age of 65.
Prof Nolan said all people aged under 18 are "at or below" the population average for cases, with primary school-aged children "significantly lower" than the population average.
He said the R number remains at least 1.6-1.8, while the growth rate stood at 7% to 10%.
Prof Philip Nolan said the bottom line was that even if we suppressed the virus and brought the R number below 1, then a peak of between 700-1,000 people in hospital was expected by mid-January.
He said if we fail to suppress it, then we would face "an intolerable situation" in hospitals.
"The number of cases are so high that we are experiencing delays in reporting them," he said.
"We must suppress transmission. There is no alternative," he said.
All close contacts no longer being tested
Dr Holohan said: "We are once again in the mitigation stage of this pandemic.
"The alarming escalation in the incidence of the virus in the general population gives great cause for concern. This disease is now widespread in our communities and as a result we are asking everyone to behave as if they are a close contact.
"To support the testing system through this surge, we are no longer advising close contacts of confirmed cases to get tested. Testing and tracing is an exercise in containment and we are no longer in a containment phase. However, it is imperative that if you are a close contact of a confirmed case you restrict your movements and contact your GP immediately if you develop symptoms," he said.
"The average number of contacts per case has risen from 2.5 in November to an average in recent days of 6.3. This is very far from where we need to be," said the Chief Medical Officer, urging people to adhere to the new restrictions.
If everybody was referred for testing based on the criteria that existed today, the HSE's Chief Clinical Officer Dr Colm Henry said there would be 52,000 people referred for testing, which is "not sustainable".
---
---
He said the positivity rate being seen in recent days has risen to as high as 18-20%, "with some counties much higher than that".
He noted the lag effect on cases, saying that those people who contract the virus today won't know for two weeks whether they have it, while those who could be hospitalised won't become sick enough to be admitted for as many as 10 days.
He said they have seen a sharp escalation in calls to GPs over Covid-19, as well as testing, while there have been at least 15,000 referrals for Covid-19 for two consecutive days.
Speaking during this evening's Department of Health briefing, Deputy CMO Dr Ronan Glynn said the 14-day incidence of the virus here now stands at 297 per 100,000.
He said the five-day average now stands at 1,279 cases per 100,000 people.
Over the last 14 days, the median age of cases has been 35, while 66% of cases were under the age of 45, with 10% of them over the age of 65.
Meanwhile the Minister for Justice, Helen McEntee, has said the Government has no intention to extend the school closures beyond the first week of January but added they are keeping "everything under review".
Yesterday the Taoiseach announced that schools would remained closed until Monday 11 January. Primary and secondary schools had been due to reopen on Wednesday, 6 January.
Additional reporting Orla O'Donnell, Laura Hogan, George Lee