British Prime Minister Boris Johnson has warned the prospect of agreeing a trade deal with the EU is "looking difficult", as Brussels' chief negotiator Michel Barnier said there are "just a few hours" left in the Brexit talks.
It comes as a UK source told RTÉ that negotiations will continue tomorrow.
Mr Johnson said the onus is on the bloc seeing "sense" and making a compromise or the transition period will end on 31 December without a deal, which he acknowledged would be "difficult" in the short-term.
Mr Johnson reiterated "no sensible government" could agree to a treaty that does not give the nation control of its laws and waters, two major sticking points for Number 10 in the negotiations.
Speaking during a visit to Greater Manchester, Mr Johnson said: "Our door is open, we'll keep talking, but I have to say things are looking difficult.
"There's a gap that needs to be bridged, the UK has done a lot to try and help and we hope that our EU friends will see sense and come to the table with something themselves, because that's really where we are."
Taoiseach Micheál Martin said "very significant difficulties" remain in the Brexit trade deal talks.
The issue was discussed at today's virtual meeting of the North-South Ministerial Council.
Mr Martin said: "If we get a substantive future relationship agreement between the UK and the EU that would make life much, much easier for all of us and particularly would give certainty and clarity to businesses and for workers north and south."
The Taoiseach said a deal would present opportunities for everyone on the island of Ireland.
"Above all, it would give certainty and clarity to businesses on the island of Ireland, for workers on the island of Ireland in terms of their future and without question a deal would reduce very significantly any damage and disruption that would clearly arise from a no deal," he added.
---
---
Stormont First Minister Arlene Foster said: "We all agree that the best way forward is to have an agreement on the future relationship between the United Kingdom and the European Union.
"I think that's very important. That is the one point of unanimity on Brexit I would say, but it's something that I think you can take as very clear."
Deputy First Minister Michelle O'Neill added: "It's obvious to state that we obviously want to see a deal and I welcome the confirmation and clarity around the (Northern Ireland) protocol that's been achieved and hopefully that is positive mood music that leads us into an arrangement that finds a positive outcome, because I don't think anybody wants to see a no-deal scenario."
Tánaiste Leo Varadkar said: "We're all agreed that a free trade agreement between the UK and EU is to our advantage and is in the interests of business and workers and farmers and fishermen north and south.
"So we will be using any influence we have to try to secure that agreement over the next couple of days."
Good meeting of #NSMC today on #Covid #Brexit and important cross border projects like the A5, Ulster Canal and Narrow Water Bridge pic.twitter.com/hxCfeaQuaJ

— Leo Varadkar (@LeoVaradkar) December 18, 2020
Mr Varadkar told a press conference after today's meeting of the North South Ministerial Council that port queues at Holyhead were likely due to stockpiling.
However, the Tánaiste warned that delays were likely on ferry travel between Ireland and Britain regardless of whether a UK/EU trade deal is struck or not.
"I think it's likely that any delays at the ports that are happening at the moment are related to stockpiling, a lot of businesses are going to want to fill their warehouses in advance of there being a deal or no deal as the case may be when it comes to Brexit," he said.
"In terms of disruption in the new year, we're preparing for that. There will be some, of course there will.
"There's going to be new checks, new controls. Of course there will be delays and people will have to get used to new procedures and some people may not have their documents filled in.
"So yes of course there are going to be difficulties in the new year, but we're doing everything we can to reduce them and mitigate against them."
Coastal EU member states outline fishing limits
The EU's chief Brexit negotiator, Michel Barnier, has been in intensive discussions with EU coastal member states on their margins for manoeuvre as the overall fisheries negotiations with the UK enter a critical phase.
Fisheries remain among the final hurdle to an overall future relationship treaty, which sources say could be concluded this weekend.
The negotiations have focused on what access EU vessels will continue to have to British waters, and what quota share European, including Irish, boats will be allowed to catch.
Both sides have largely stuck to long-standing positions.
The EU has suggested that it could forego between 15%-18% of the value of the €650m caught by European fleets in UK waters each year.
Mr Barnier has also suggested that the new arrangements be phased in over a ten-year period.
The UK by contrast is looking for a 60% share of what European boats currently catch and want the new regime to be phased in after three years.
The British government also wants to differentiate between demersal and pelagic stocks with the latter being stripped out of the overall agreement altogether and in future dealt with through an informal forum of coastal states which includes Russia, Iceland, the Faroes and Greenland.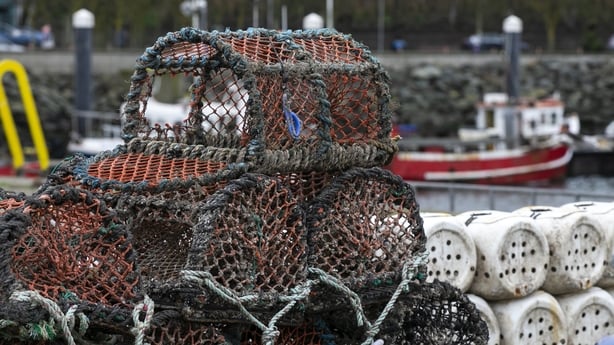 EU sources say that in this scenario, the UK would end up with a vastly bigger share of demersal stocks, such as cod and haddock.
The UK also wants European boats to be excluded from its 6m-12m coastal zone from day one.
It is understood that Mr Barnier is now offering a phase-in period of eight or seven years, down from ten years.
He is also prepared to increase the offer of quota share to the UK to up to 23%.
However, in his discussions with senior advisers from member states this morning Mr Barnier has received significant resistance.
Earlier, Mr Barnier said that "just a few hours" remained for negotiations to reach a new trade deal with Britain, with disagreements over fishing rights clouding the prospects of a deal.
Speaking to the European Parliament, Mr Barnier said the talks have now become "extremely difficult" over agreeing how the EU could retaliate if Britain back-pedalled on production standards to win a competitive edge for its products, or if Britain cut European fishermen off from its fishing waters in the future.
"It's the moment of truth. We have very little time remaining, just a few hours to work through these negotiations in a useful fashion if we want this agreement to enter into force on the first of January," Mr Barnier said.
"There is a chance of getting an agreement but the path to such an agreement is very narrow," he said before excusing himself for what he described as "last attempt" talks with his UK counterpart, David Frost, nearby in Brussels.
"We find ourselves in a very serious and sombre situation."
Saying only hours remain to agree a trade deal between the EU and the UK, Chief EU #Brexit Negotiator @MichelBarnier reiterates a 'narrow' path to such a deal exists. He notes the 31 December deadline was set by Britain. | https://t.co/JjOm0YVVaS pic.twitter.com/5Qa2WBAUbi

— RTÉ News (@rtenews) December 18, 2020
While Mr Barnier said the sides were striving at an agreement, he said the 27-nation bloc would not sign a deal that would undercut its cherished single market of 450 million consumers.
He said the EU needed to be able to impose trade barriers should the UK change its regulations to offer substandard goods on the bloc's market.
For fisheries, he said the bloc also wanted to be free to retaliate by curbing EU market access to UK fish products should Britain squeeze the European ships out of its waters.
"That is where we get to one of the most difficult issues at the moment. Fisheries being part and parcel of the trade relationship," said Mr Barnier, adding he did not know if the talks would yield a deal, or not.
"We have to be prepared for all eventualities."
Yesterday, Mr Johnson said negotiations with the EU are now in a serious situation and an agreement will not be reached unless the EU position changes substantially.
His comments came after a phone call with European Commission President Ursula von der Leyen last night.
In a notable hardening of rhetoric, Mr Johnson issued a lengthy statement, in which he said the UK was making every effort to accommodate what he called reasonable EU requests on the level playing field, but said some fundamental areas remained difficult.
On fisheries, he said the UK would not accept a position where it could not control access to its own waters for an extended period and be faced with fish quotas that hugely disadvantage its own industry.
He said the EU position was simply not reasonable and would have to shift significantly.
Additional reporting Tony Connelly, Sean Whelan, Reuters, AFP