University College Dublin has formally opened its dedicated centre for space-related research.
The centre, Called C-Space, is the country's first dedicated hub for collaborative space research and innovation.
The university described the opening of the centre as an important step in Ireland's journey to develop a strong and sustainable space industry.
It said the centre would focus on key research themes including astrophysics, Earth observation and gamma-ray detectors.
Director of the centre, Professor Lorraine Hanlon, said it would become a key national resource for space expertise and training.
The centre will provide university-based courses, including a masters in Space Science and Technology.
It will also be home to EIRSAT, Ireland's first satellite, and the university says it will be ready for launch next year.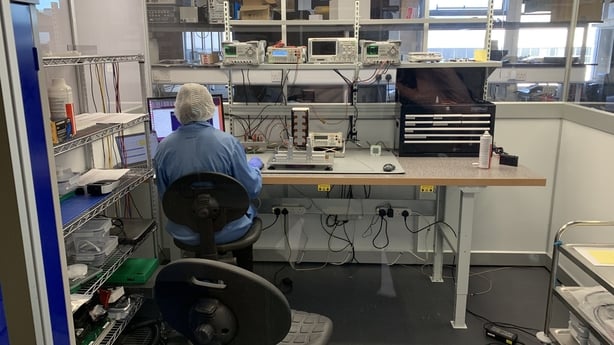 "It isn't about going to the Moon, although that is really cool," the director of the new centre, Professor Lorraine Hanlon, has said.
"Space underpins so much of everyday life," she said.  
"If we really want to embed intelligence systems in our navigation, in our precision agriculture, all of that can come through satellite data. It really is about embedding many different sources of data and space is one those sources.
"We can't imagine doing weather forecasts without satellite information. We're at that same point that we we 40 years ago for meteorology.
"We're at that same point now for Earth observation in the capabilities it will bring us to monitor water quality, crop production, coastal erosion, sea surface winds, soil moisture. All of those thing are being delivered by amazing spacecraft. We need to understand how to use them."
The centre is also home to EIRSAT-1, the first Irish-built satellite.
It is a miniature satellite, similar in size to an average shoebox, with three scientific experiments on board.
The experiments include a gamma-ray detector, which aims to detect gamma-ray bursts, the most energetic explosions in the universe, which occur when some stars die or collide.
One of those working on the project is research assistant Jack Reilly.  
"I think EIRSAT-1 is the most exciting thing to happen in Irish space. It's out first ever satellite and hopefully it won't be the last. When it goes up there it's going to uncover lots of astro-physical phenomena.'
EIRSAT-1 is due to be delivered to the European Space Agency in Belgium late next year and from there it will be launched into space to begin a two-year mission.
The space sector here is growing.
Five years ago it employed around 2,000 people, today that number has climbed to more than double that.
Tom Kelly, from Enterprise Ireland,  has said the sector is "very significant".  
"There are probably in the region of 5,000 people employed in companies in Ireland related to space technologies. On our books we've about 80 companies that are active in engagement with the European Space Agency and withing two year we reckon there'll be 100 companies," he said.