A Dublin city centre café will add four pop-up "dining bubbles" to their outdoor area as they prepare to reopen for table service tomorrow as Covid-19 restrictions ease.
Similar bubble structures have appeared in a number of cities in the US. Some experts there have warned that careless use of them could facilitate transmission of Covid-19. Others have said it is possible for dining in them to be relatively low risk, as long as precautions are taken.
The Tram Café on Wolfe Tone Square, which has approval from DCC for the pods, says it is following all safety guidelines.
"We assume people will come in their own social bubbles," co-owner Dave Fitzpatrick said, adding that they would see the bubbles being a big hit with families.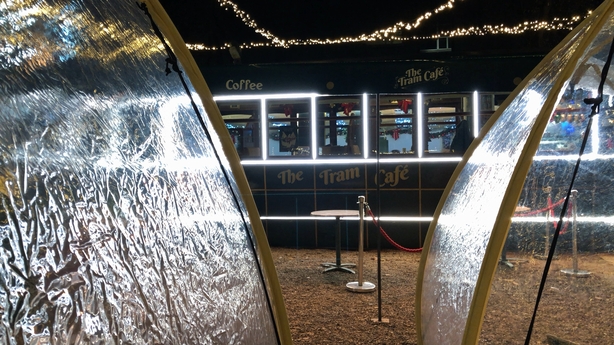 "The bubbles have two doors on them, which can be left opened if they want, and they are also vented," he explained.
"The tables and seats will be sanitised between sittings, as all our tables are, and we will spray and wipe down the sides of them after each sitting."
The café has been operating as a takeaway for the last six weeks of restrictions, which Mr Fitzpatrick said was very difficult.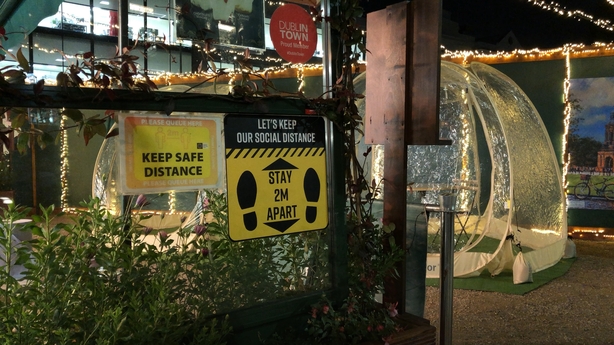 "We operated at a loss for those six weeks, but we knew there was a light at the end of the tunnel – this Friday," he said.
"We're looking forward to it, the staff are looking forward to it, they're excited to come back to work."
The tram was built in Philadelphia, US before being shipped to Lisbon in Portugal. It was retired from service in the 1970s and was then showcased at a transport museum in Wales.
Mr Fitzpatrick found it in a field in Cavan and inspiration struck. He later purchased it and set about refurbishing it to turn it into the café it is today.