There have been seven further coronavirus-related deaths and 206 new cases of the virus notified to the Department of Health in the past 24 hours.
A total of 2,043 people have died with Covid-19 in Ireland and the total number of infections stands at 71,699. This includes the denotification of one previously confirmed case.
The number of patients in ICU with Covid-19 is 35, which is unchanged since yesterday.
There are 248 people in hospital with the disease, with ten additional hospitalisations in the past 24 hours.
Of the cases notified today, 101 are men, 105 are women and 67% are under 45 years of age.
There were 64 cases in Dublin, 23 in Limerick, 20 in Donegal, 18 in Cork, 14 in Louth, 14 in Meath, and the remaining 53 cases were spread across 18 counties.
The 14-day incidence rate per 100,000 population of the virus is now at 98.2. This is the first time it has dropped below 100 since September.
Counties with the highest rates include Donegal (216.1), Louth (199.4), Limerick (181.6) and Kilkenny (126). The ones with the lowest rates are Leitrim (31.2), Wexford (32.7), Kerry (50.8) and Galway (51.2).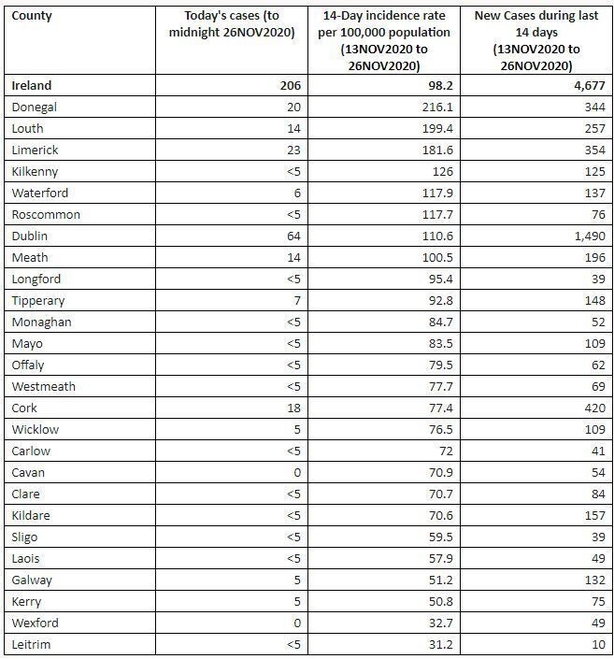 Earlier today, the Cabinet approved a plan that will see all retail outlets, hairdressers, museums, libraries and gyms open next Tuesday, 1 December.
People will also be able to attend religious services and resume sport training again when the country returns to Level 3 restrictions.
Just got the latest Covid figures and am delighted to share that for the first time in quite a while our 14 day incidence rate per 100k has fallen below 100 (98). And our 7 day is 40, suggesting our cases are still falling. 👏👏👏

— Stephen Donnelly (@DonnellyStephen) November 27, 2020
Meanwhile, hospitals in Northern Ireland recorded their highest number of Covid-19-related deaths in the week to 20 November.
Almost 60% of fatalities were in hospitals with a third in care homes.
A further 12 people have died with Covid-19 in Northern Ireland, bringing the death toll to 974.
There were 391 new cases in the past 24 hours, with the cumulative number of infections now standing at 51,059.
Also today, it was revealed that 2,384 students and staff underwent testing for Covid-19 at 147 schools around the country last week, with 31 people, or 1.3% of the total, found to have the virus.
The data is contained in the first weekly 'Covid-19 schools mass testing report' published on the website of the Health Protection Surveillance Centre.
A new survey on remote working has found that 57% of respondents have worn their pyjama bottoms while working remotely at least occasionally, with 31% saying they do most of the time or always.
---