The Government is considering fines of less than €300 for people gathering outside to drink alcohol, under proposals going to Cabinet.
Minister for Health Stephen Donnelly will bring a memo to Government to introduce new regulations that will aim to prevent crowds congregating on streets to drink.
After lengthy discussions across Government, new measures to prevent people gathering close to pubs selling takeaway drinks are likely to be introduced.
It follows footage on social media at the weekend of large numbers of people who gathered in both Dublin and Cork city to socialise and drink on the streets.
There is a strong view in Government that what happened in a few cities cannot be allowed to happen again.
There are already fines of €300 in place for customers who drink within 100 metres of a pub, and also a fine for the licence holder of €1,500.
Cabinet discussions around new fines are expected to focus on figures of less than €300.
While the exact policy response will have to be finalised by Cabinet, there appears to be a majority view that the decision cannot be delayed.
However, it is expected that decision will now fall short of a full ban on all pubs selling takeaways. 
Instead, fines look set to be introduced for those who gather in groups to drink alcohol.
This follows concerns from a number of politicians within the Government parties who believed such a ban on takeaway drinks would be a disproportionate response, particularly in rural areas.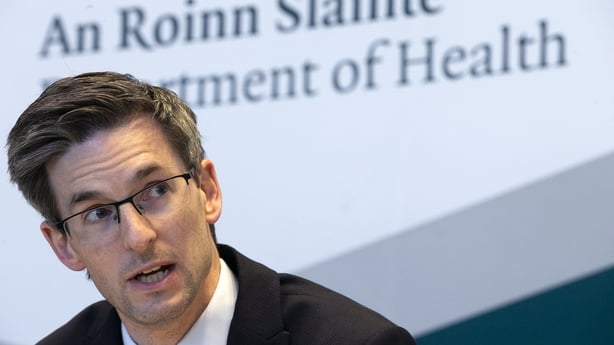 ---
---
Deputy Chief Medical Officer Dr Ronan Glynn said the behaviour seen in Dublin last weekend was "frustrating", particularly so for the millions of other people who are doing the right thing.
Speaking at a Department of Health briefing on Covid-19, Dr Glynn said such behaviour was also particularly frustrating for business owners, healthcare workers, and older people.
He said older people and those with medical conditions, who have been isolating for months, would find it disheartening to see examples of such behaviour, adding that they were just examples.
Dr Glynn urged people to note that while it was disheartening, people should not get distracted by it, and remember there is a significant majority out there who are doing the right thing.
The Deputy CMO said: "I don't have specific evidence that people getting together to drink on the streets has led to a cluster but the more that people do that, the more likely it is to happen.
.@ronan_glynn says he doesn't have specific evidence which shows that people getting together on the street to drink has led to a Covid cluster. However he says the more people do that, the more likely it is that it would lead to cases and clusters | https://t.co/LRWAdClo1A pic.twitter.com/GFfBJwFWZA

— RTÉ News (@rtenews) November 16, 2020
"If we see that behaviour repeated, we will see more clusters."
Dr Glynn was asked if it would be safer for people to congregate in pubs.
He said: "While publicans may contend that pubs are controlled environments, the reality is that alcohol and physical distancing do not go together."
He said people could meet others for a drink who may have no symptoms of the virus and then bring it home with them.
Asked if he could envisage pubs reopening any time this year, Dr Glynn said: "Tonight is not about speculating about what might or might not happen."
Banning home delivery of pints is not something NPHET has considered, he told the press briefing.
While the final decision about banning takeaway drinks from pubs will be taken by Cabinet tomorrow, there appears to be broad agreement about introducing this new restriction ahead of the meeting.
Up until now, pubs have been allowed to sell takeaway alcoholic drinks under all levels of the Government's Living with Covid-19 plan.
However, some vintners' groups have said they have never pressed for the measure to be included.
Last summer, the Licensed Vintners' Association wrote to the Government requesting that drinking on the streets should be banned.
The Vintners' Federation of Ireland has warned that publicans have no interest in opening "just for two weeks over Christmas" before having to close again.
We need your consent to load this rte-player contentWe use rte-player to manage extra content that can set cookies on your device and collect data about your activity. Please review their details and accept them to load the content.Manage Preferences
Kerry independent TD Michael Healy-Rae said he does not agree with the "kneejerk" reaction of the Cabinet to pass legislation banning the sale of takeaway drinks.
Speaking on RTÉ's Drivetime, he said it was an "over-reaction" and he hoped the Cabinet "has the ability to see common sense and realise it's a wrong decision at this time".
Mr Healy-Rae said: "This is Ireland, it is not Moscow, we have to have a situation whereby we want to protect people's health, but at the same time, we cannot bring in new legislation for every event that will happen at different locations throughout the country."
Earlier, one Dublin publican claimed that if pubs were allowed to reopen, people could socialise in a safe and controlled environment with reduced numbers and this would stop people drinking on the streets.
The Dáil bar in Leinster House is among the hostelries that have remained closed since March.
Alan Campbell of the Bankers Bar on Trinity Street said that while An Garda Síochána did a great job in moving people around in Dublin at the weekend, it is "an impossible task".
He told RTÉ's Today with Claire Byrne that gardaí could more easily enforce numbers if people were seated in pubs. Reopening them "can be done" safely and he said publicans have proved they can run businesses carefully and successfully.
Mr Campbell said if pubs are not allowed to reopen, the situation will worsen and people will gather in houses.
"It would be much better if it is in a controlled environment like a pub, restaurant or hotel," he said.
Mr Campbell said that wet pubs have been closed for eight months now in Dublin and when pubs serving food were open for 12 weeks over the summer, it had no major impact on infection rates.
He said using hand sanitiser, masks and visors, social distancing and controlled seating pubs would not allow a "free for all".
Earlier, a member of the National Public Health Emergency Team warned that people may be "taking their eyes off the ball" with Level 5 restrictions and increased social gatherings on the streets.
Dr Mary Favier, who is a former president of the Irish College of General Practitioners, said support for restrictions is "fraying around the edges" and rising cases of Covid-19 are due to "complacency and fatigue" among the public.
She called for clear communication from the Government, unions and community leaders to keep public support for the restrictions over the next two weeks.
Speaking on RTÉ's Morning Ireland, Dr Favier said there would be problems with pubs reopening based on the current case numbers.
She said while NPHET will look very carefully at how this might be done for Christmas, caution is needed as the virus spreads when people let down their guard.