Champagne Football proved tempting for its beneficiaries. But there is a more powerful addiction. It is often a burden. In the logic profit and loss account it makes no sense. But if you have it, while it may go quiet for a while, it doesn't go away.
I deliberately wore a red tie last Monday. "Trump colours? " asked David, a smiling cameraman, when I reached the office. "No" I replied. "Red for Sligo Rovers."
Sad endings are a bummer. In stressful situations, we sometimes revert to what we learned in the nest. Rather than keep up with what was happening in Sligo's final league match of the season, away to Dundalk, I said the Rosary walking along Ormeau Road to RTÉ's Belfast office on Monday night.
Two clubs from garrison towns outside the Pale: we've travelled in opposite directions over recent years. A decade ago, Sligo were winning a League title, FAI Cups and playing in Europe while Dundalk were struggling.
But then the reverse happened. Dundalk have been the best League of Ireland team for years, they have a fine squad, US investors and even in these pandemic times, European qualification sees them playing Arsenal and Rapid Vienna.
Sligo beat them when they came to the Showgrounds earlier this year. But it seemed unlikely we could master them in Oriel Park. On their synthetic pitch, which they occasionally water so masterfully and where they have insider information on where the ball takes a quirky bounce, Dundalk are gladiators.
On Monday night a Dublin-based friend from childhood, Austin Jennings, had broken my information blackout barrier to relay Sligo had taken an unlikely 10th minute lead.
Working for the 9pm news bulletin was such a welcome distraction. Holding onto a one goal advantage, away from home against a significantly more successful side, almost equates to mission impossible.
Eventually, soon after the match finish time, I plucked up the courage to text my pal.
"Did it finish 1-0?" I dared to ask. "No" came the reply.
In the dark silence that followed so many 'what might have beens' and 'only for' sad episodes from our past history came flooding back.
But then another message to set the heart jumping. "We got a second. A rocket in the 94th minute. Coughlan. It finished 2-0."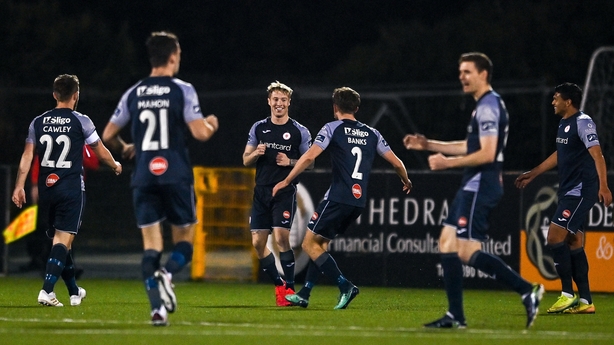 O Bliss. O Joy. O Thank you Father, Son and Holy Ghost. O Thank You, Mr Eastwood.
O Thank You League of Ireland.
Yes, Joe Biden has come over the hill to provide hope for a new, more civilised chapter in world politics. Yes, Harry Kane scored an 88th minute winner against West Brom to keep the Spurs revival alive.
But in this jurisdiction, Sligo Rovers are the deepest, most fragile love and the club's uncanny ability to rouse itself on the battlefield and surprise when all seems lost is the spark that sets a soul on fire.
A good brown envelope story
In the pinch-me minutes after Sligo Rovers' unlikely victory in Dundalk, 'The John Delaney Story' was attracting huge viewing numbers to RTÉ1. Close-up views of chicanery tickle the eyeballs.
But there's a brown envelope story about Liam Buckley that provides an alternative view about some of the foot soldiers in the League of Ireland and sporting organisations like it.
Over a 23 year period "Bucko" has managed Athlone Town, St Patrick's Athletic, Shamrock Rovers and Sporting Fingal. He won the FAI Cup with Shams and Fingal; he won the League during the first of his two spells with Pats.
But that relationship at Inchicore fizzled out during his second, six year term and after it, in October 2018, he came to Sligo Showgrounds.
It may well be his final posting.
Buckley was a tidy striker, really clever and effective even though his is not 6ft. In Ireland, he played with Pats, Shels and Shamrock Rovers (where he scored most of his goals – 67). But his career also took him to France, Belgium, Spain and Canada.
In 1980, he was in the League of Ireland side that lost 1-0 to a Diego Maradona goal at the River Plate Stadium. When he was with Racing Santander, he played against a Barcelona team at the Camp Nou in front of 90,000 spectators when Gary Lineker and Mark Hughes were making their debut.
He was 37, coming to the end of his playing career when he signed for Sligo Rovers in 1997. Injuries were taking their toll and he played only five matches. As the season ended, Buckley quietly approached the club's management and commenced a brief, unexpected conversation.
Because he was injured, he hadn't been able to provide the hoped for performances and goals. On his own initiative, he handed back some of his wages.
Bills are the hungry monster
Finance is the dark shadow forever hovering over League of Ireland clubs. In The Showgrounds we know it as the black hole. As soon as money comes in, it is gone. Bills are the monster with the insatiable appetite.
Before the pandemic arrived, under Liam Buckey's management, we were heading towards a dark place. Four games into the season, zero points and rooted to the bottom of the ten team division with relegation, the football equivalent of the plague, a very real possibility.
Once lockdown was declared, the club's management committee acted decisively. Faster than any other competitor in the league. The Treasurer, David Rowe, is a convincing version of a realist, a qualified accountant and solicitor. Players and staff were laid off as discussions about government and FAI support schemes got underway.
But then a miracle happened. Frustrated that the season was in mothballs and conscious the club had only coins left in the USA Assortment tin, fans intervened. A Go Fund Me page set up by Sligo Rovers supporters raised €85,000.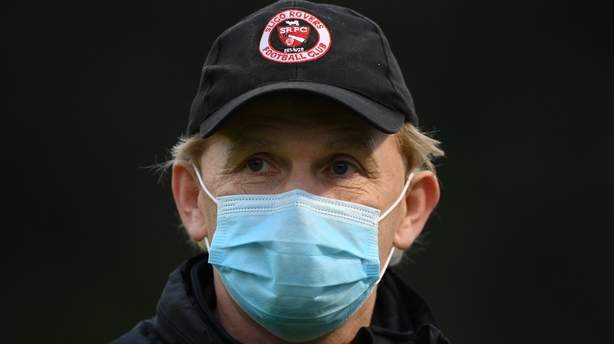 Proportionately, given the size of the club, its geographical location and the league in which it plies its trade, the initiative was remarkable. It not only gave Sligo Rovers the resources to sign a new striker and pay a number of overdue bills, it energised and dusted down the bonds which unite a community.
A big chunk, €2,500, came in early from Westlife member, Mark Feehily. When they were teenagers, Mark, Shane Filan and Kian Egan once played at the half-time interval on a wet Sunday afternoon in The Showgrounds.
That was 1997, the year an injury-prone Liam Buckley was on the playing staff. They were members of a wannabe boyband IOU. Mark Feehily feels an extra connection with The Showgrounds because his brother, Colin, is the club's chief executive.
Technology and the internet allowed the Go Fund Me campaign to draw in money from fans in all corners of the globe, including Australia, China, the United States and the UK. The contributions and the increasing take could be viewed online and that created additional momentum.
One of the noteworthy trends was the flow of transfers tagged to Everton FC supporters.
Seamus Coleman, the Killybegs-born captain of Everton and Ireland, started his career in The Showgrounds. Sky commentators routinely name-check the Sligo Rovers connection and reference the £60,000 bargain deal by Everton. (With add-ons the total was more than double that but by Premier League standards, it was sharp business.)
One of the Everton fans who subscribed to the Go Fund Me page is a grand-daughter of the legendary Dixie Dean. Between 1925 and 1937 he scored 349 goals for Everton in 399 appearances. A remarkable record. There is a statue of him outside Goodison Park.
Aged 32, in 1939, Dixie signed for Sligo Rovers and scored seven goals for the club, including five in a match against Waterford before the outbreak of World War II switched minds to matters more important than football.
That Everton generosity, 81 years after Dixie Dean left Sligo, is evidence of a very special bond with lots of potential. It is typical of the store of affection mined by the Sligo supporters' initiative.
I was his sidekick during some of his drives to raise money for a new stand at the Showgrounds. It was like being in the company of a masterful 1970s door-to-door salesman of encyclopaedias or high quality nylons.
When the season resumed after lockdown, away in Derry, Liam Buckey's side won their first points. Gradually they clawed their way out of the relegation zone.
They entered what Mick Cooke once described as the "mid-table supremacy" zone and in that final game of the season, at Dundalk, they secured fourth place in the League, leaving the club with the very real possibility of qualifying for Europe, provided it or one of the three sides above them in the table wins the FAI Cup.
The secret life of a door-to-door salesmen
Dermot Kelly's day job is as a consultant anaesthetist in Dublin's Eye and Ear and Saint Vincent's hospitals. His passion, indeed his preoccupation when not working, is Sligo Rovers.
He was the club's chairman during the Golden Years a decade ago. He is a Blackrock College boy but during holidays in Castlerea, Co Roscommon in his childhood years, his father introduced him to trips to the Showgrounds and the seeds were sown.
Dr Kelly has a second skills set to match his talents in operating theatres. He thrives as a fund-raiser. I was his sidekick during some of his drives to raise money for a new stand at the Showgrounds. It was like being in the company of a masterful 1970s door-to-door salesman of encyclopaedias or high quality nylons.
During one phase he was hunting down chunks of €2,500. As we prepared to enter the premises of one polished professional man, known for his ability to command substantial fees, my senior partner said "we're going to get two lots here." And we did.
On Dermot Kelly's watch, Sligo signed probably the most influential player in the club's history, Joseph Ndo. He played 21 times for Cameroon, he played for the four main Dublin clubs but it was in Sligo that he transformed a team into League and Cup winners.
If Sligo fell in love with him, it is two-way chemistry. He settled in the village of Riverstown where, 11 years later, he is considered a local.
RTÉ's League of Ireland fans
In RTÉ's newsroom, Samantha Libreri has a spring in her step these days. She and her dad are Shamrock Rovers diehards. In London, Sean Whelan leans that way, too, and can trace it back to the club's Milltown days. Damien O'Meara (despite his Sligo wife), is a Bohs fan. Tony O'Donoghue, a passionate Cork City supporter, is suffering these days because his club have been relegated. Sinead Hussey continues to follow Longford Town and insists better days are around the corner. Des Cahill carries a torch for Bray Wanderers.
Didn't call my first born child after him but should have. Have always been a huge fan of how @RonanFinn21_ conducts himself on and off the pitch. Delighted for him and everyone involved in @ShamrockRovers tonight pic.twitter.com/l4hIeEJFLP

— Samantha Libreri (@SamanthaLibreri) November 4, 2020
The League of Ireland interest goes beyond our unit. Joe Duffy's in-laws are big Bohs fans. John Creedon and his family have been supporting Cork teams for decades.
In slagging jousts with colleagues, when on the defensive after a run of bad results, a tactic that never fails to repel the taunts is "well at least we own our ground".
The fact that The Showgrounds is owned, in a trust representing the people of Sligo, and can never be sold, makes it special. Even if the wolves break down the doors, it can never be sold.
The 12-acre site is in the centre of the town. During the autumn and winter seasons, on match nights the floodlights can be seen for miles. The brightened sky has a magical effect giving a sense of the special.
The effort required to keep such a venture alive needs a constant supply of people to put community beyond themselves. For decades, Tony Quinn has volunteered at the Showgrounds turnstiles on match days. To see the team playing, he travels with his son to every away game.
Mark Cummins is an engineer with Sligo County Council. Every winter, he wears out a pair of shoes going door to door, selling tickets, in Sligo town and county with his father and a group of friends. This year, as usual the annual raffle revenue is needed (and probably spent), but the selling is being done online because of the pandemic.
It's almost 20 years since a handful of supporters launched the idea of fans committing to a €20 per month contribution. Most of the money would go to help keep the club afloat with the balance used for a monthly draw. It now has around 500 members.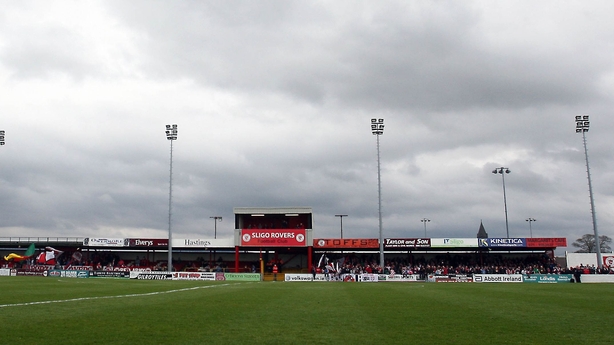 Though in the autumn of their lives, some of the organisers like Peter Henry and Vincent Nally, are still involved. Others like Brendan Byrne, have passed on. To date their work has raised €1.5 million.
A Dublin orthopaedic surgeon who may have never stood in the Showgrounds, Maurice Nelligan (a Dr Dermot Kelly 'signing'), was among the winners of the monthly draw. As is often the tradition, he left his winnings in the kitty.
Tommy Higgins took over as Sligo Rovers chairman this year. He used to play in showbands. It helped that he didn't drink alcohol. He then opened record shops in Sligo and then Galway. Faster than most, he saw opportunities.He had a small stake in Riverdance. He became CEO of Ticketmaster Europe.
What makes a successful retired person like him volunteer to become chairman of a League of Ireland club?It's the draw of home and the familiar; the 'all politics are local' point made by Tip O Neill; the Springsteen belief that we have only one home town.
For a club like Sligo, qualifying for European football gives the chance to take a few minutes away from the scrimping and saving and to dream again. An annual budget of €1m to €1.3 million could be boosted by 20% or more, depending on results.
It gives some flexibility when planning budgets and looking for players. For a manager like Liam Buckley, who has preserved his record of never being in charge of a relegated side, it dangles the carrot of finessing a 40 year career.
Fago, our Keano
In May 2002, I sat opposite Roy Keane in a Manchester hotel, preparing to interview him. He has extraordinary presence. As a child growing up in Sligo, I met someone like him.
Tony Fagan was a messenger boy for Kilcawley's shop. When making deliveries on our road opposite the Markievicz Park, he'd often park his bike and accept the invitation to play a game. He'd make me his goalkeeper in between two jumpers and I'd watch on, redundant, as he'd beat the opposing team on his own.
Before leaving, he would delicately open a white paper bag from his stack of deliveries and give each of us a biscuit.
'Fago' went on to play 590 times for Sligo Rovers. Roy Keane went from Cobh Ramblers to Manchester United and deserved international acclaim. Tony Fagan stayed at home but he had the very same street footballer/favela instincts and raw talent.
Fago stayed fit for a lot of his life by cycling to work in a local factory. He is pension age now but for years has helped out as a carer in a home beside his house, next door to the Showgrounds. On autumn days, he often goes around in shorts and you'd suspect he could still do a job in midfield during a feisty Cup match.
Forty-three years ago Sligo Rovers brought me to, and then over, a life turnstile. In June 1977, I had the choice of taking up my first job in a new provincial newspaper, The Western Journal and postponing final Dublin School of Journalism exams until the autumn.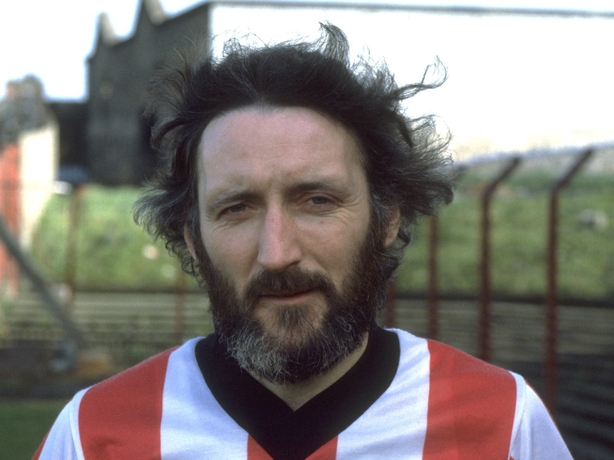 When September came, as a result of winning the League, Sligo Rovers were in the European Cup and were drawn to face Red Star Belgrade. My options were to sit the repeat exams or sell two pages of advertising to Sligo businesses that would finance my trip behind the Iron Curtain to Yugoslavia.
Tony Fagan was as good as the best of the foreign opposition, winger Dragon Dzagic included, that night in Belgrade. I was there to watch him. We went to a night club afterwards. Fago spotted the referee at one of the dimly-lit tables.
In the bubble where worry is never far away
Yes, the romance goes on but there can be no ignoring the black hole that swallows all. In the next few days Sligo Rovers will put the finishing touches to the next phase of its commemorative tiled wall scheme. €100 per tile. A chance to have a permanent spot on the wall behind the main stand.
302 purchases were made for the first scheme, erected earlier this year. Already an anonymous contributor has reserved a tile to honour Joseph Ndo in the new section.
Life is a continuum. As a young Co Leitrim girl, staying with an aunt in Sligo while she went to school, my mother witnessed the crowds heading towards the train station to welcome Dixie Dean.
In the phase of his life when my father had money, he gave Sligo Rovers a car. His final job was as a petrol pump attendant. Circumstances changed but he didn't. To the very end of his life he went, religiously, with a mix of trepidation and excitement, to the Showgrounds.
On a November Sunday in 2009 we brought our two children to Tallaght Stadium and tears were shed in the rain and cold when Fingal (managed by Liam Buckley) came from behind to beat us 2-1 in a Cup Final.
The 'Bit O Red' bond is something that cannot be denied. The lure of seeing Sligo Rovers play on a European stage turned my head at the start of a reporting career more than four decades ago. The giddiness returns, 43 years on, in the final phase of that working life.
The reputation of Champagne and the perks around Champagne Football are overstated.
In our bubble, our little world, our special place, where there are no limos bringing guests to birthday parties and where worry is never far away, we have a lot more.