The Chief Medical Officer has said that people should avoid non-essential travel for the foreseeable future, including the Christmas period.
Dr Tony Holohan was speaking at the Department of Health, which was notified of one coronavirus-related death and 395 new cases of the disease in the past 24 hours.
Dr Holohan told the press briefing that international travel posed a significant risk.
"That is the experience of Europe and our near neighbours and many of the countries with whom we have a close travel relationship. That will be one of the most significant risks to us.
"One of the biggest risks will be the re-importation of the disease through international travel."
When asked if travelling on compassionate grounds, such as a grandchild visiting here from abroad, would be allowed, Dr Holohan said inbound travel from other countries was now a bigger risk because they have higher rates of infection growth than we have.
He said: "We would feel the kind of travel that would normally happen at Christmas time, people coming back to spend time with their loved ones, which we all understand and facilitate, we regard as non-essential for this Christmas. 
Dr Tony Holohan says it is too early to make plans for Christmas, and NPHET is not sure yet whether it will be able to recommend an easing of restrictions when it meets in two weeks' time. But the signs are encouraging, he says. | Read more: https://t.co/UxPOKFIf8S pic.twitter.com/0BQHF6xDpx

— RTÉ News (@rtenews) November 12, 2020
A total of 1,965 people have died with Covid-19 in Ireland. This includes the denotification of one death.
The total number of cases is 66,632, including the denotification of ten previously confirmed cases.
The number of people in ICU is 39, an increase of one compared to yesterday. There are 279 patients with coronavirus in hospitals, with 20 admissions in the past 24 hours.
Of the cases notified today, 132 are in Dublin, 31 in Cork, 27 in Donegal, 27 in Limerick, 27 in Galway and the remaining 151 cases are spread across 18 other counties.
Almost two thirds (65%) are under 45 years of age and include 197 men and 198 women.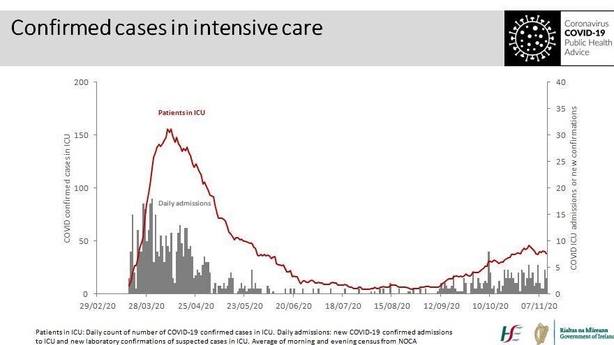 Professor Philip Nolan, chairperson of the National Public Health Emergency Team's Irish Epidemiological Modelling Advisory Group, said the reproduction number of the virus is now estimated to be at 0.6.
He said: "Data suggests that Level 3 measures stabilised case numbers, while Level 5 measures were required to suppress transmission, especially when infection rates are high.
"If we sustain our efforts we can force infection down to very low levels."
Prof Philip Nolan says the reproduction rate of Covid-19 is now about 0.6. If we keep the current measures up for the full six weeks, we are almost certain to see fewer than 100 cases per day by 1 December, he says. | Read more: https://t.co/UxPOKFIf8S pic.twitter.com/c27yUpAUxA

— RTÉ News (@rtenews) November 12, 2020
Prof Nolan said the number of admissions to hospital remains at "around 20" per day. "At best they have stabilised but there has been no significant reduction in these admissions," he said.
Earlier today, Tánaiste Leo Varadkar advised people looking to book flights home for Christmas not to do so at the moment.
Speaking in the Dáil, Mr Varadkar said it was "too soon" for people to book flights returning to Ireland.
Dr Holohan said large family get-togethers or office parties "would not be possible" as we try and get through the festive period in "a safe way".
Prof Nolan said the circumstances with which testing reduces the risk from travel is "very narrow" as a "not detected" result is not a guarantee someone does not have Covid-19.
On travel within this country, Dr Holohan said we must "keep on the path we are on" before recommending any change to the 5km travel limit. 
He said while he was hopeful the situation would continue to improve, it was too early to say if NPHET would be recommending a change to restrictions so people could travel outside their county.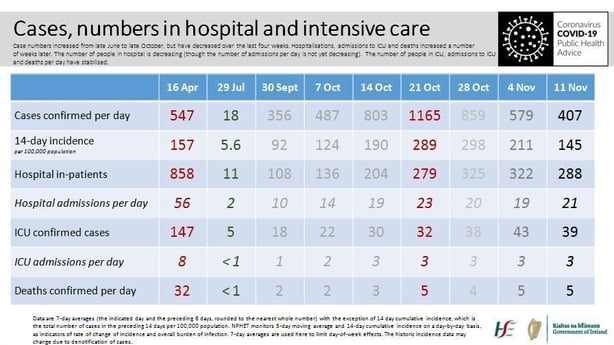 NPHET will give formal consideration to this when it meets on 26 November.
He said: "If there is to be a change to the 5km travel limit, things have to improve. We are hopeful it will continue to improve but we don't know that yet." 
But Dr Holohan warned: "Not every part of the country has experienced the same reductions in disease incidence.
"For example, Donegal's 14- day incidence is at 281 per 100,000, compared to the national average of 135 per 100,000.
"The country as a whole can succeed in suppressing this disease to low levels in the coming weeks.
"We have achieved a great deal of suppression over the Level 5 period, the coming weeks offer us an opportunity to drive transmission down further."
There is still time for improvement to take place in Donegal before a decision will be made on the restrictions in that county or nationwide. 'We have seen a challenge in specific parts of the country'. | Read more: https://t.co/UxPOKFIf8S pic.twitter.com/dmYfgmxPZH

— RTÉ News (@rtenews) November 12, 2020
Asked if Donegal is likely to remain under Level 5 restrictions at the end of the month, Dr Holohan said there was still time for "significant improvements to take place".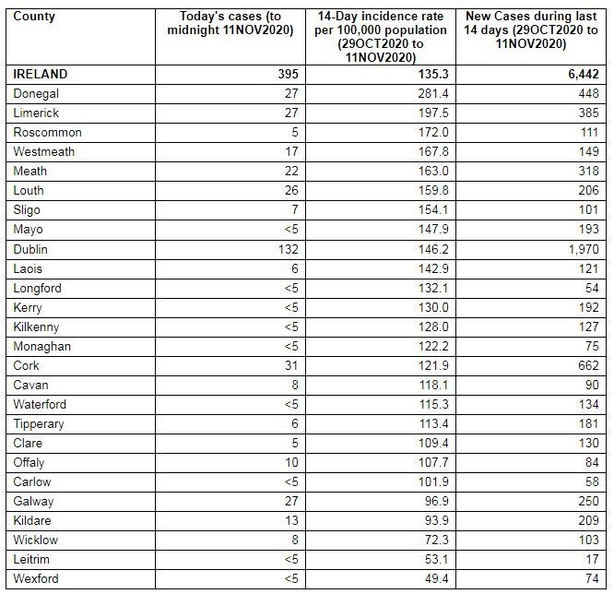 ---
---
Deputy Chief Medical Officer Dr Desmond Hickey said Ireland now has the second-lowest 14-day incidence rate of Covid-19 per 100,000 of population in the EU.
"Ireland has seen a 52% decrease in the 14-day incidence of the disease," he told the press briefing.
HSE Group Lead for Acute Hospitals, Dr Vida Hamilton, said the number of Covid cases is continuing to decrease.
She said: "Our number of cases have plateaued in our critical care units. There were three admissions and three discharges in the past 24 hours and one person sadly died.
"We are seeing an increase in emergency department attendance, which is a positive indication that the public are continuing to access both Covid and non-Covid healthcare."
Dr Vida Hamilton, HSE, says there were three admissions to hospital in the last 24 hours, and three discharges. She says there are people from all age categories who have been admitted to ICU. | Read more: https://t.co/UxPOKFIf8S pic.twitter.com/Od1CuXMDLd

— RTÉ News (@rtenews) November 12, 2020
Two privately operated Covid-19 testing centres opened in Cork and Shannon airports today while the Irish Airline Pilots Association called for the urgent introduction of a mandatory rapid antigen testing regime to reopen the aviation sector.
HSE CEO Paul Reid told a press briefing this afternoon that 78,245 lab tests were completed in the last seven days. About 14,000 contact tracing calls were made.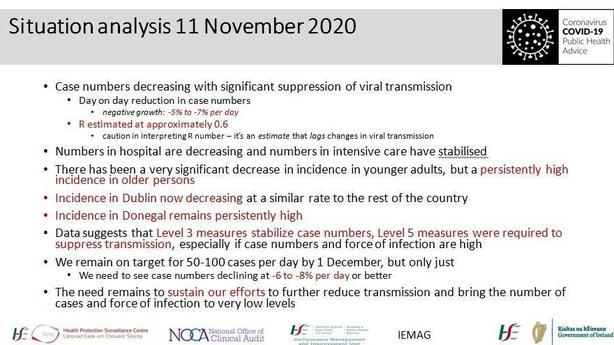 Around 5.4% of the 7,212 new Covid-19 cases identified in the last 14 days - 389 people - have attended hospital with 21 of those admitted to ICU.
Mr Reid said there were ICU admissions across a range of age groups.
Meanwhile, the Department of Health in Northern Ireland announced that a further 15 people with Covid-19 have died. It takes the official death toll there to 825.
It also confirmed an additional 548 cases of the virus. There have now been 45,241 confirmed cases of Covid-19 in Northern Ireland.
The Stormont power-sharing executive met this afternoon to agree a policy on Covid-19 restrictions.