Minister of State for European Affairs Thomas Byrne has said rules will change for those travelling to Ireland from a 'red' region - according to the new EU traffic light travel system - after 29 November, but warned it was "not an open door for travel".
He said passengers who receive a negative PCR Covid-19 test five days after arriving here will no longer have to restrict their movements.
As part of the European Union's new traffic light system, countries and regions are now categorised as green, orange or red depending on Covid-19 risk levels.
The European Centre for Disease Prevention and Control will publish a weekly map determined by the 14-day incidence and positivity rates of the disease.
Speaking on RTÉ's Morning Ireland, Mr Byrne said travel is still not advised and the rule change was not a mechanism to open doors, but to allow safe travel where possible.
He said he does not know how much this will cost, but it is estimated that the private sector will charge between €150 and €200 for the test.
He said HSE resources will not be used for these tests and travellers will have to pick up the cost themselves.
Mr Byrne said a planning exemption will be given to Dublin Airport, which wants to establish a test centre, and other airports including Cork and Shannon, which have also expressed interest in setting up test centres.
He said these guidelines are advisory and there is no legal basis for enforcing them, although the passenger locator form is a legal requirement.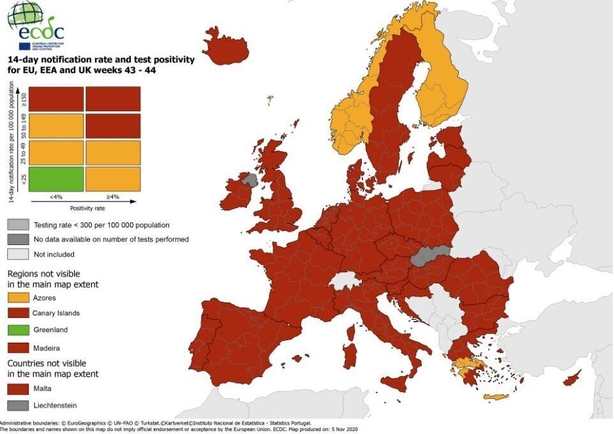 Meanwhile, an Associate Professor in the School of Biochemistry and Immunology at Trinity College Dublin has said we are all "paying the price" for ineffective travel screening and that travel has significantly seeded the current covid situation.
Dr Tomás Ryan told RTÉ's Today With Claire Byrne programme that every country that has managed to significantly suppress or eliminate Covid-19 has done so by properly managing its borders and introducing mandatory quarantine.
Dr Ryan said airport testing will improve things, but no country has yet implemented a testing system that is sufficient to get rid of the need for quarantine.
He said that the return of emigrants at Christmas "poses huge risks". Mandatory quarantine may be strict and unpopular but it works, he said, adding that ten days quarantine should be enough.
Labour transport spokesperson Duncan Smith said while the imminent commencement of Covid testing at Dublin Airport was welcome he has "concerns in relation to the cost of these Covid tests".
If the cost was to be around €100 to €200 per test, he said there would be "many low paid workers and essential workers abroad coming back for Christmas who may not, for economic reasons, be able to afford the price of these tests".
Mr Smith said: "I am calling on the Government to temporarily subvent these tests for the period of December. We need compliance and personal responsibility, but we also require take up of these tests and cost cannot be a barrier."

---
Read more:
Latest coronavirus stories
---
Aer Lingus said it welcomed the further revisions to the testing regime to facilitate the European traffic light system.
It also welcomed the exemption for passengers with an essential function from the requirement to undergo restricted movement or testing.
"We note that this includes critical occupations, students and persons travelling for imperative family or business reasons," the airline said.
It said the fact that passengers arriving from the USA and Canada will be treated in the same way as arrivals from EU red regions is a "positive step" towards facilitating increased safe international travel which is "critical to the Irish economy".
However, Aer Lingus said that it believes antigen testing is needed to facilitate a "meaningful increase in safe international travel".
It said it believes the EU system will enable customers to make travels plans for 2021 "with confidence".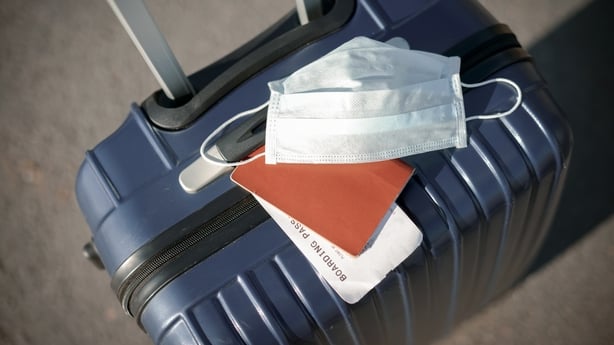 Carin Bryans, president of American Chamber of Commerce Ireland, said the group "strongly welcomed" the Cabinet decision to allow free movement for people travelling from red areas if they obtain a negative PCR test result five days after their arrival.
The move follows the Government's announcement yesterday of an €80m funding package for the aviation sector in recognition of the difficult winter season that lies ahead due to the Covid-19 pandemic.
Earlier today, an Oireachtas committee was told of the devastating impact of the Covid pandemic on Ireland's three regional airports at Donegal, Knock and Kerry. 
The Transport and Communications Networks committee heard that the coronavirus crisis had cut passenger numbers by 90%, forced staff lay-offs and redundancies, and scuppered ambitious marketing plans to increase services and passenger numbers for 2021.
Meanwhile, the chairperson of Sunway Travel said the new traffic light system is a step forward for the travel industry that has suffered badly as a result of the pandemic.
Tanya Airey said her company will continue to allow people to book holidays with a small deposit and they have until  31 May next year to change their mind.