The Health and Safety Authority has carried out 27 inspections in the construction sector since Level 5 restrictions were introduced.
Fourteen of those focused on Covid-19 measures.
However, the number of inspections has been dismissed as "wholly inadequate" by People Before Profit TD Bríd Smith, who called for the HSA to be given more inspectors and greater enforcement measures where sites and employers were found to be in breach of safety protocols.
"14 inspections on building sites since Level 5 restrictions came in is nowhere near the number we need and, tellingly, while we debate imposing fines on individuals there is no such determination to fine employers who are in breach of these regulations," said Ms Smith.
The HSA is the body charged with overseeing implementation of the "Return to Work Safely Protocol" designed to keep Covid-19 at bay in workplaces, and enable them to remain open.
Responding to a Parliamentary Question from Ms Smith, the Tánaiste and Minister for Enterprise Trade and Employment Leo Varadkar confirmed that the inspections revealed that 86% of workplaces had Covid-19 measures in place, 86% had established Covid-19 response plans, while 64% of sites had appointed a Lead Worker Representative.
However, almost half had room for improvement.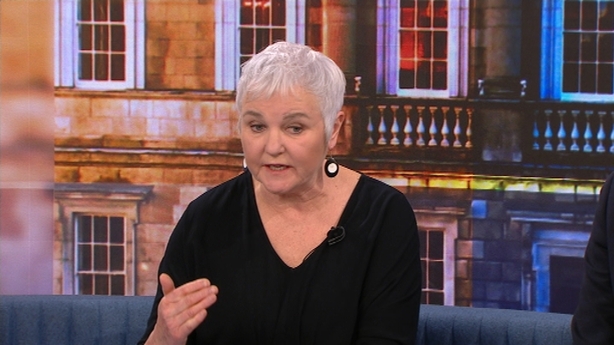 In 43% of cases, the HSA issued a "report of inspection" in relation to the Covid-19 control measures in place, setting out areas where improvements should be made.
The Tánaiste, whose Department oversees the HSA, also confirmed that the agency is following up on 16 complaints over the same period regarding workplaces in other sectors.
The Tánaiste said the findings indicated a high level of compliance with the "Return to Work Safely Protocol".
He described them as "...a positive indication that the majority of employers and employees are taking a responsible and proactive approach to compliance with the Protocol".
However, Bríd Smith dismissed the current level of inspections as " wholly inadequate".
She acknowledged that the number of inspections constituted an improvement on figures in April and May, but insisted the levels of HSA inspections that disclosed "widespread failings" in relation to Covid safety protocols was "extremely worrying".
She said the fact that 43% of inspections found areas that needed improvements after inspections supported anecdotal reports that the industry had high levels of non-compliance with Covid safety measures.
"Additionally, we know from talking to workers that follow up, in terms of tracing after positive Covid cases, is not adequate. The 43% non-compliance in these cases is extremely worrying considering the total number of sites we have in the state," Ms Smith claimed.
CIF says sites 'heavily monitored'
The Construction Industry Federation said its adherence to health guidelines and the CIF's Standard Operating Procedure were "heavily monitored" by the HSA, HSE, other state agencies and CIF members - and stressed that no prohibition notices had been issued against non-compliant building firms.
It said that since the sector had reopened in May, there had been fewer than 40 cases of Covid-19 across Ireland's 1,100 substantial construction sites employing 147,000 employees - meaning that in 99.99% of situations, Covid-19 had been kept off sites.
"The HSA carries out significant levels of inspections and works with companies suggesting improvements based on their expert knowledge and on their assessment that there is no immediate threat to employees," the CIF said in a statement.
"Where there is actual non-compliance, the HSA can initiate a prohibition notice. To our knowledge, prohibition notices have not been made and the HSA's suggested improvements have been adopted, further bolstering the industry's safety."
The CIF stressed that over 220,000 people had undertaken its Covid-19 induction programme, while the Standard Operating Procedure had been downloaded over 20,000 times.