Looking out at the layers of blue sky, sun, and neat squares of farmland below prompts a certain feeling of anticipation as the runway lights get nearer.
We are on board a Boeing 737, or simulator in this case, the closest thing to being on an airplane in 2020.
At the helm are Greta Egan, from Foxrock, in Dublin and Cian O'Shaughnessy, from Clonee, Co Meath.
They are as pleased as the RTÉ crew at being at this altitude.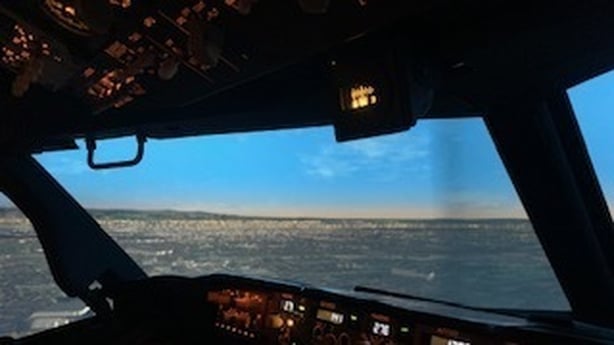 They both expected to be working as pilots by now. Instead, neither of the graduate pilots has had a job interview since February.
Greta Egan has wanted to be in the left-hand captain's seat of a cockpit since she was a child.
"I was on a flight to Italy, and I was allowed go up to the cockpit in the middle of the flight and I'll never forget it. The captain showed me everything, let me ask loads of questions, ever since then I've wanted to be a pilot," she said.
Cian O'Shaughnessy quit his job as an engineer to pursue airline training.
"It's unfortunate that just as I finished and obtained all my qualifications the pandemic hit, and it's been a perfect storm since then," he said.
It is a storm that has left many hundreds of Irish pilots without a job.
Mark Cunningham was a captain with City Jet. In March, he was placed on furlough and in July he was made redundant.
"Since then, I've been looking for a job everywhere from China to Japan."
Relocating to the UK seemed the only option, which is difficult because his family is based in Ireland, nevertheless he feels fortunate.
"Out of my colleagues that were made redundant in Dublin I'm the one that's flying.
"I've been working in the aviation industry since 1998 and I've never seen it as bad as this. There have been ups and downs in the past before, but nothing as catastrophic as this," said Captain Mark Cunningham.
Flight traffic is at levels last seen in the 1980s, according to the Irish Aviation Authority. Fewer planes in the sky means less opportunities for pilots to log flying time, a requirement under aviation regulations.
'Out of the Covid Crisis' report
The European Cockpit Association warned, in its 'Out of the Covid Crisis' report in July, that the significant pilot training backlog and cumulative lack of crews' operational experience because of the extended period of non-flying could "develop into a major safety risk and needs priority attention".
Commercial pilots are only allowed carry passengers if they have "recent experience". That means they must have performed a minimum of three take-offs and landings in that particular aircraft type in the previous 90 days.
This recurrent training can be done in a simulator but the costs to an out of work pilot are prohibitive, even the airlines are only paying for those currently employed.
"The big challenge at the moment is actually keeping those licences valid for the pilots that we have in our employment," according to Donal Young, Director of Flight Operations at Stobart Air.
The airline had been using simulators in Madrid and France to keep their pilots current, but even getting there during Covid-19 restrictions was a difficulty.
Recently the airline had been able to use a new simulator specific to its aircraft at Simtech, in Dublin.
Simtech has a number of flight simulators that are used by trainees and commercial pilots, who usually fly Airbus A320 and Boeing 737.
Fewer pilots have been training of late but Sé Pardy who runs the facility expects to be busy whenever air travel resumes.
"We'll see an increase in the graduate students first of all and there will be the recurrent training for pilots, which is a legal requirement so that airlines can keep their pilots ready to go."
Hundreds of pilots have found themselves reliant on social protection payments.
The Irish Airline Pilots Association represents around 1,200 pilots. More than half have lost their jobs.
"Of the less than half that are still employed, most are earning between a third and quarter of their normal salaries," said Captain Evan Cullen, President of IALPA.
"Many, many pilots are now renegotiating with their mortgage lenders and other financial institutions. There are families who are in very bad shape as regards paying the bills."
To train as a commercial pilot costs over €100,000, it's a significant investment, but one graduate pilots believe will pay off.
"It doesn't seem like there is much change before the end of this year but I remain hopeful," said Cian O'Shaughnessy.
The aviation industry has been through recessions before.
"We're coming down at the moment but it has to come back up eventually," said Greta Egan optimistically.