US President Donald Trump's Supreme Court nominee Judge Amy Coney Barrett has been confirmed by the US Senate.
The vote last night was immediately followed by a swearing-in ceremony at the White House.
Following the death of liberal Justice Ruth Bader Ginsburg, Mr Trump nominated Ms Coney Barrett - a conservative - to fill the life-long vacancy.
Democrats opposed the move, claiming the position should not be filled until after the presidential election.
Last night, one Republican senator, Susan Collins of Maine, sided with Democrats and voted against the confirmation but it was not enough to block the appointment and Judge Coney Barrett was confirmed by 52 votes to 48.
We need your consent to load this rte-player contentWe use rte-player to manage extra content that can set cookies on your device and collect data about your activity. Please review their details and accept them to load the content.Manage Preferences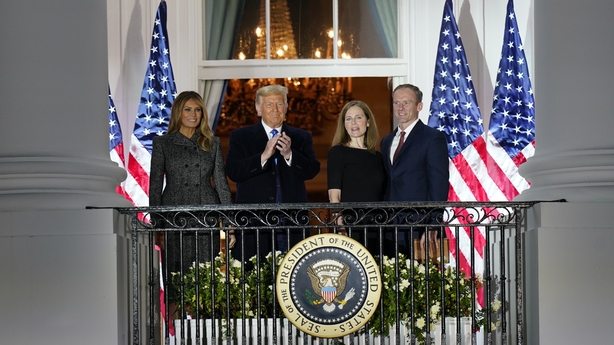 "This is a momentous day for America, for the United States Constitution and for the fair and impartial rule of law," the president, standing alongside Ms Coney Barrett, said before a gathering on the South Lawn of the White House.
---
Read more:
Trump names conservative judge Barrett as Supreme Court pick
Democrats target Supreme Court nominee on Obamacare
Trump's court nominee fends off questions on abortion
---
Democrats have fumed over the process that confirmed a justice so close to a presidential election, and warn that Ms Coney Barrett might vote to overturn the landmark 1973 decision that protects abortion rights, or to gut health care provision for millions of Americans.
But Ms Coney Barrett, who took a constitutional oath at a ceremony last night, said she would keep her personal beliefs and judicial work separate.
"I will do my job without any fear or favour, and... I will do so independently of both the political branches and of my own preferences."
With eight days until the 3 November election, the confirmation marks an undeniable victory for the president to tout as he barnstorms battleground states in a final bid to claw back ground against Democrat Joe Biden.
The confirmation during an election "should be a stark reminder to every American that your vote matters," Mr Biden said in a statement.
The rushed and unprecedented confirmation of Amy Coney Barrett as Associate Justice to the Supreme Court, in the middle of an ongoing election, should be a stark reminder to every American that your vote matters. https://t.co/NwEi4jyMd1

— Joe Biden (@JoeBiden) October 27, 2020
It remains to be seen whether the confirmation can be a game-changer for the Republican president, accused by his rival of abandoning the fight against Covid-19 with polls showing voters overwhelmingly disapprove of his pandemic response.
Mr Trump denied any surrender as he landed in swing state Pennsylvania yesterday for a trio of rallies and insisted, despite a new surge in infections, that the pandemic is in retreat.
"We're absolutely rounding the corner," he said in Allentown.
But the president betrayed his frustration at the health crisis dragging on his reelection hopes, with a tweet complaining about media coverage of "COVID, COVID, COVID, all the way to the Election."
The Fake News Media is riding COVID, COVID, COVID, all the way to the Election. Losers!

— Donald J. Trump (@realDonaldTrump) October 26, 2020
Mr Biden has mounted a far more cautious in-person campaign than Mr Trump due to coronavirus concerns.
But he said he will hit the trail in coming days, beginning today in Georgia, a reliably red state that is suddenly in play, followed by battlegrounds Florida, Iowa and Wisconsin.
"In 8 days, we're going to take our democracy back," tweeted the former vice president, who leads Mr Trump in the polls both nationally and in half a dozen key battlegrounds including Pennsylvania.
As of yesterday, 64 million Americans - wary of the health dangers of crowded polling booths, and energised by a race framed as critical - had cast early ballots, far surpassing the total of 58 million pre-election ballots cast in 2016.
And with data showing Democrats have an edge in terms of early ballots cast, even Republican leaders have begun to recognise that Mr Trump's presidency may be imperiled.
"A lot of what we've done over the last four years will be undone, sooner or later, by the next election," Senate Majority Leader Mitch McConnell said on Sunday.
Additional reporting AFP