The family of Jo Jo Dullard have said they have accepted that something sinister happened the 21-year-old and they want answers.
Jo Jo Dullard went missing from Moone in Co Kildare in 1995.
She was working in Callan in Co Kilkenny and travelled to Dublin on Thursday 9 November, where she spent time in Bruxelles Bar on Harry Street, just off Grafton Street.
She missed the last direct bus home that night, so she got a bus to Naas and then hitched two lifts to get to the village of Moone.
While she was in a phonebox in Moone telling a friend where she was, a car stopped for her and that was the last anyone heard from her.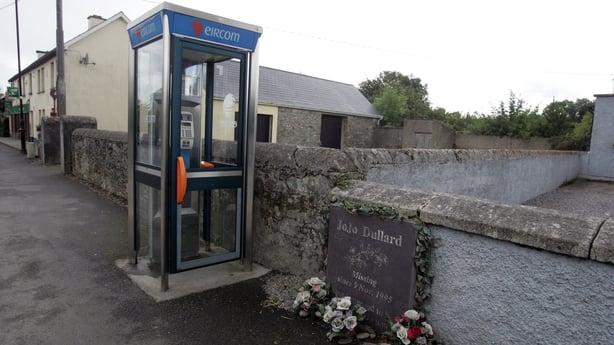 Following a review by the Garda Serious Crime Review Team and the National Bureau of Criminal Investigation, the case has now been upgraded to a murder investigation.
Gardaí believe that serious harm came to Ms Dullard on or around the night of 9 November 1995.
They are appealing to anyone who met or saw her that night, or has any information in relation to her murder and who has not spoken to gardaí to please come forward.
Ms Dullard had her Sanyo stereo cassette player (model MGP21) with her at the time of her disappearance.
Gardaí are asking if anyone saw her cassette player after 9 November 1995, or received such a cassette player from a friend or person that could not tell where they got it from to contact them.
They are also appealing to anyone to come forward who was hitch-hiking in the immediate area around Moone at the end of October 1995 or the start of November 1995, or anyone who may have given a lift to a hitch-hiker around the same time in the Moone area.
---
From the RTÉ Archives
Jo Jo Dullard reported missing
Reward offered over missing women
---
In a statement, gardaí say that Ms Dullard's family has suffered from her disappearance for nearly 25 years now.
"Today marks another traumatic day for Jo Jo's family as her case is publicly confirmed to be now an active murder investigation."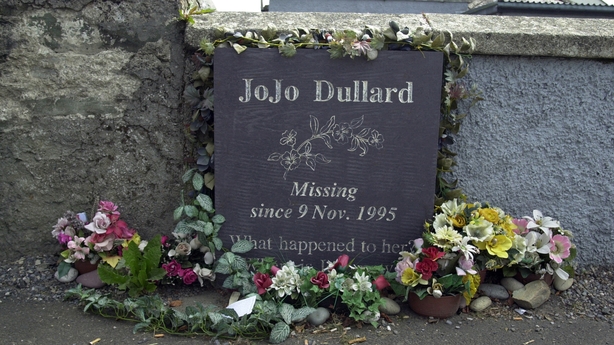 Investigators say they have not discovered any particularly new significant piece of information, but are satisfied Ms Dullard was murdered because they have ruled out all other possibilities.
They say she had ambition, many friends, a loving family and there is no evidence she may have taken her own life or went abroad.
Her sister, Kathleen Bergin, said they have known in their hearts for some time that Jo Jo was not coming back and that some harm had come to her.
She appealed to people with information to come forward and said they would not be judged for waiting so long.
All the family want to do, she said, is bring Jo Jo home and she did not deserve what happened to her that night.
Speaking on RTÉ's News at One, Ms Bergin said not matter how small any piece of information is, it could be the missing link they are looking for.
She said she understands that people may have been very fearful about coming forward in the past, but she hopes they will do so now.
Ms Bergin said that the pain and suffering the family has gone through is unbelievable. 
She said the family has accepted that Jo Jo is not alive, and they know deep down that something sinister happened to her and they want answers. 
Superintendent Martin Walker from Kildare said that while fear may be holding some people back, they have nothing to fear from speaking to gardaí and their circumstances may have changed from 25 years ago.
Detective Superintendent Des McTiernan from the Serious Crime Review Team said the case was now all about finding her and returning her to her family.
Gardaí are appealing to anyone with any information, no matter how small or insignificant they might believe it to be, to contact Kildare Garda Station on 045 527 730 or any Garda station, or anyone who wishes to provide information confidentially should contact the Garda Confidential Line on 1800 666 111.
The case of Jo Jo Dullard and the upgraded investigation will feature tonight on Crimecall on RTÉ One at 9.35pm.