Democratic presidential candidate Joe Biden has outlined how he will work with Irish-America and Ireland if he is elected US president.
According to a statement released by his campaign, the former US vice president will work to advance the Northern Ireland peace process and ensure that there will be no US-UK trade deal if Brexit threatens the Good Friday Agreement.
Mr Biden's campaign also said that he will prioritise creating a roadmap to citizenship for undocumented migrants and work closely with Ireland on the UN Security Council on challenges such as climate change, the coronavirus pandemic and non-proliferation.
The statement released last night highlights Joe Biden's Irish roots and his affection for Ireland as well as his past work on the Northern Ireland peace process and immigration reform.
The Biden campaign has held a number of virtual rallies for Irish-Americans in recent weeks in a bid to secure their votes in next month's election.
The Trump administration has also voiced its support for the Good Friday Agreement in recent weeks.
The US Special Envoy to Northern Ireland Mick Mulvaney said that the entire federal government is agreed that if there is a return to a hard border on the island of Ireland then any potential trade deal with the UK will not go ahead.
Speaking last month during his first official visit as envoy to Dublin, Mr Mulvaney said that the US would do whatever it could to prevent a return to a hard border and to protect the Good Friday Agreement.
Today, Joe Biden heads to North Carolina, where 1.2 million voters have cast their ballots, according to state data.
His running mate, Kamala Harris, will return to the campaign trail tomorrow with a visit to Florida. She has avoided travel for the past few days after an aide came down with Covid-19.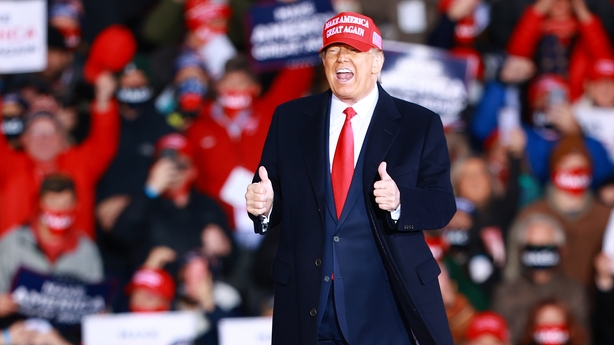 Thus far, 25.83 million people have already cast a ballot in the 3 November presidential election, according to the US Elections Project, shattering records.
Much early voting is due to safety concerns about the pandemic that has killed more than 218,000 Americans and infected 8.1 million others.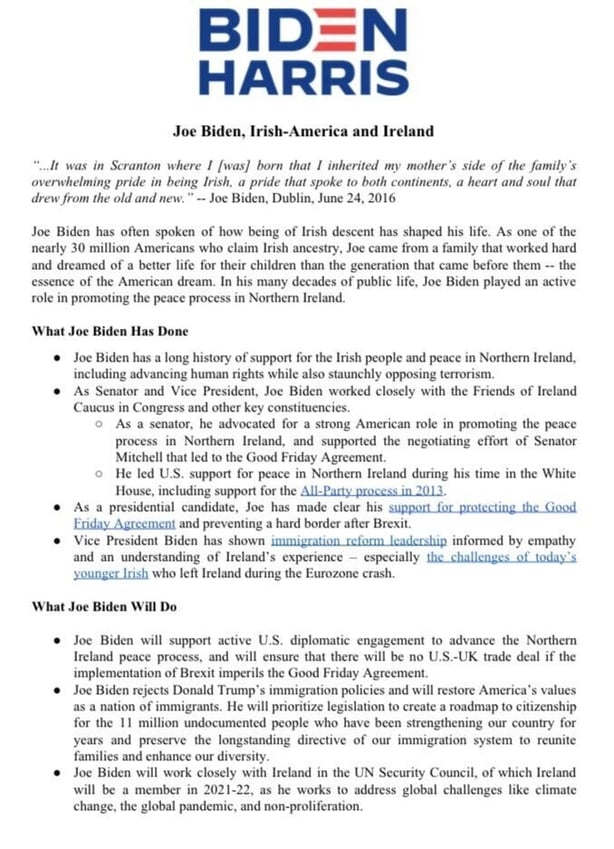 Mr Biden, a former vice president, has hammered Mr Trump for his response to the pandemic. He said in a statement yesterday he planned to unite the country to fight the virus if he wins.
President Trump lags in national and battleground opinion polls and the latest figures from his campaign show he also trails in fundraising as the race intensifies.
He campaigned in Michigan and Wisconsin yesterday, two battleground states he narrowly won in the 2016 election.
Supporters who attended the rallies did not maintain social distance. Some wore masks, some did not.
Overnight, Mr Trump said on Twitter that Joe Biden was "the living embodiment of the corrupt political class that enriched itself while draining the economic life and soul from our country".
He told Americans: "If you vote for me, prosperity will surge, normal life will fully resume, and next year will be one of the greatest years in the history of our country!"