Aaron Brady has been sentenced to life in prison for the capital murder of Detective Garda Adrian Donohoe in January 2013 and must serve the prescribed minimum of 40 years.
He was also sentenced to 14 years for armed robbery.
Brady, from New Road, Crossmaglen in Co Armagh, shot and killed Det Garda Donohoe during the armed robbery of the Lordship Credit Union on 25 January 2013.
His wife Caroline Donohoe told the court that 58 seconds changed her and her children's lives completely, while his parents said it was hard to accept that a good man came across such evil on that awful night.
Mr Justice Michael White said Brady, who is the first person in over 35 years to be jailed for the capital murder of a garda, gave the detective "no chance".
The 29-year-old was part of a gang of armed, volatile and dangerous armed robbers operating along the border.
He lied to the gardaí about where he was on the night of the shooting and got his then 17-year-old girlfriend and her friend to also lie that he was with them at the time.
Shortly afterwards, they retracted these statements.
Brady fled to the US where he boasted that he "had shot a cop" and was "the most feared gangster in Ireland".
Two witnesses, Molly Staunton and Daniel Cahill, testified that he boasted and lamented to them.
Five others did not give evidence, one after his garda interview was put online accusing him of being a tout and a "rat".
Phone evidence also linked Brady to the stolen getaway car used in the robbery and the site where it was burned out and abandoned.
The gang used walkie-talkies that night and all their phones, including Brady's two phones, were simultaneously turned off before and for an hour after the robbery and murder. They all came back on around the same time.
Brady took the stand during what became the longest criminal trial in the history of the State and told the jury that he was loading cubes of laundered diesel waste on to the back of a trailer when the robbery happened.
He insisted he had nothing to do with the robbery and said that he lied to gardaí to cover up his involvement in diesel laundering.
Brady also lied in the witness box and a garda sergeant had to retake the witness stand to disprove a false allegation Brady made against him.
The jury rejected Brady's claim of innocence and found him guilty of the murder of Det Garda Donohoe and of the robbery at the Lordship Credit Union.
He sat in the dock today listening to the impact his crime has had on the garda's family as the victim impact statements were read.
Caroline Donohoe said that she will never recover fully from seeing her husband's remains in the carpark that night.
His parents said "it's hard to accept a good man came across such evil on that awful night", while his five brothers and sisters said Brady will never "comprehend what he has done to our family".
The other detective garda who was in the car with Det Garda Donohoe that night, Joe Ryan, said he "always feels guilty" that it was "him not me" and that "it should have been me".
Mr Justice Michael White said it was shocking the crime was committed by someone so young.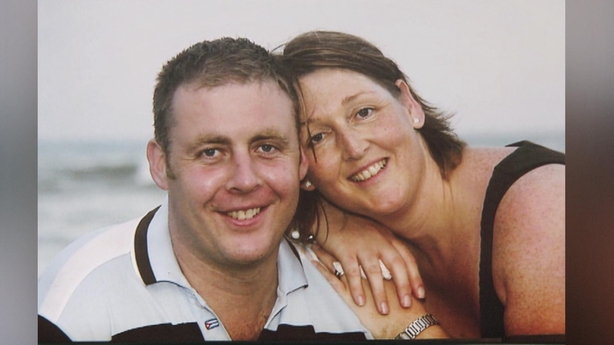 Gardaí have said the sentencing of Brady is "another traumatic step" in the murder investigation for his wife Caroline, children, extended family, friends and work colleagues in Dundalk and in the wider organisation.
In a statement, An Garda Síochána said that Brady "was just one member of a criminal gang on that day. This criminal investigation remains live as the other members of that gang remain to be brought before the courts".
It said that "the commitment and tenacity of the investigation team based at Dundalk Garda Station to bring all suspects to justice remains steadfast".
Garda Commissioner Drew Harris said: "My thoughts and those of the Garda Organisation are once again today with Adrian Donohoe's family. We in An Garda Síochána will continue to support the family, and the friends and colleagues of Adrian.
"An Garda Síochana's resolve to bring all the participants in this crime to justice remains firm and the investigation team at Dundalk will continue to be supported by the resources of the wider organisation".
Gardaí made a fresh appeal to anyone with information in relation to Det Gda Donohoe's murder to contact Dundalk Garda Station on 042-9388400, the Garda Confidential Line on 1800 666 111 or any garda station.
Minister Helen McEntee says Det Garda Adrian Donohoe worked tirelessly in serving his community, and the capital murder of a member of An Garda Síochána is an attack on this State. | https://t.co/rN0t4b32lX pic.twitter.com/KoDAHoSpKk

— RTÉ News (@rtenews) October 14, 2020
The Minister for Justice said she hoped today's life sentence for Brady would provide some solace for the family and friends of Det Garda Donohoe.
Helen McEntee said the detective garda was honourable and hardworking, adding that the attack on him was also an attack on the State.
She said he was a perfect example of what is good in this country. The minister said the case demonstrated the garda commitment to the investigation and that will continue.
In a speech outside court, a spokesperson for the Brady family said: "Does everybody here believe in justice? The Brady family absolutely does.
"Aaron Brady is not without his faults, none of us are, absolutely no one. However evidence that has not been presented thus far, sheds reasonable and strong doubt on the key points of evidence that have contributed to Aaron's conviction for the murder of Adrian Donohoe.
"The Bradys extend their sincerest condolences to the family, friends and colleagues of Adrian Donohoe to try and seek closure and justice on Adrian's murder.
"... Aaron is not your man. There is a line that we hear all the time, often on the news, and it says 'what we know is' … however what do we truly know at any one point in time?
"There was once a place in time where we'd be burned for saying the world was flat and not round.
"However, today we've got family and friends in Australia and America and it's with that, that the Brady family are seeking justice for Aaron because like we know today that the world is not flat, we also know that there is more to something than initially first meets the eye."