NPHET has recommended the highest level of restrictions for the entire country, Level 5, in a letter sent to Government.
It is expected that the three party leaders in Government will seek a meeting with Chief Medical Officer Dr Tony Holohan to discuss the letter.
The recommendation is that the country could be put on Level 5 for up to four weeks.
There is much shock and surprise in Government at the recommendation and a view that no country has taken this approach except Israel, where the situation was worse.
NPHET has recommended the highest level of restrictions for the entire country, Level 5, in a letter sent to Government tonight. It is expected that the three party leaders in Government will seek a meeting with the CMO tomorrow to discuss the letter | https://t.co/S1RwckkCW3 pic.twitter.com/MmorY1WUZE
However, the Cabinet is believed to have rejected the recommendation to move to Level 5 and chosen to place the country under Level 3 restrictions instead.
A lengthy NPHET meeting held to discuss the deteriorating Covid-19 situation took place yesterday, chaired by Dr Holohan.
---
Levels 1-5: Living with Covid plan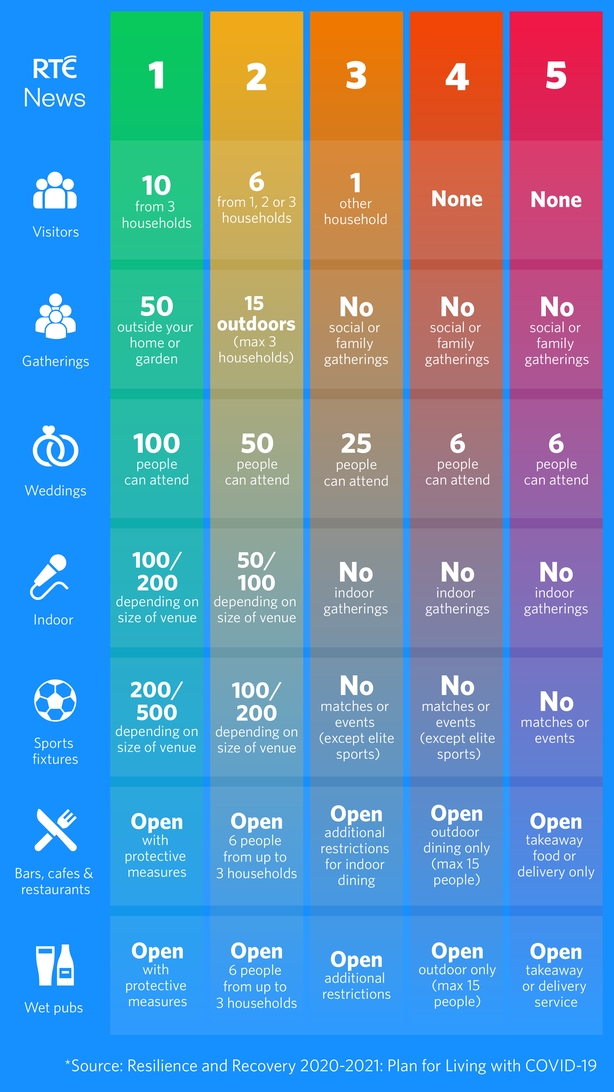 ---
Primary teachers' union the INTO said that should the country be taken to Level 5, it wants an immediate review of the public health landscape for schools.
It said such a review must determine if it is safe for schools to stay open.
General Secretary John Boyle said: "It is imperative that the education stakeholders convene early this week to explore the issues which may need to be dealt with."
After a recommendation by NPHET, a matter would then have to be considered by the Covid-19 oversight group, the Cabinet Sub-Committee and the full Cabinet, which is currently scheduled to meet on Tuesday.
Government sources have described the Covid-19 numbers as very worrying.
NPHET recommendation: @MichealLehane reports on what Level 5 would look like, and the initial reaction to the proposal among politicians tonight | https://t.co/S1RwckkCW3 pic.twitter.com/Z0qqXHav63

— RTÉ News (@rtenews) October 4, 2020
The Department of Health was notified of 364 more cases of Covid-19 and no new deaths yesterday. There has now been a total of 38,032 confirmed cases in Ireland, and 1,810 deaths.
Of the latest cases notified, 195 are men and 168 are women, while 74% of the cases are in people under 45 years of age.
The department said 27% are confirmed to be associated with outbreaks or are close contacts of a confirmed case.
It said that 42 of the new cases have been identified as community transmission.
On the regional breakdown, 100 of the cases are in Dublin, while 55 are in Cork and 31 in Donegal.
There were 24 cases reported in Limerick, 23 in Galway, 17 in Clare, 14 in Sligo, 13 in Roscommon, ten in Kerry, eight in Tipperary, eight in Wicklow, seven in Kildare, six in Kilkenny, six in Offaly, six in Cavan, five in Mayo, five in Meath, with the remaining 27 cases in nine counties.
There's obvious concerns about the trends on #COVID19. But we also know the impacts of severe & regular restrictions in society on the public health, wellbeing, mental health and the economy. Level 5 recommendation to Government has to be considered in this context too. @HSELive

— Paul Reid (@paulreiddublin) October 5, 2020
The number of people with Covid-19 in hospital has increased. As of 8am yesterday, there were 134 people being treated. This is up from 114 the previous day.
The number of people in intensive care with the virus has risen to 22.
Acting Chief Medical Officer Dr Ronan Glynn has strongly advised older and vulnerable people to limit the number of people they meet to a "very small core group".
The warning came after 613 new cases of Covid-19 were reported on Saturday.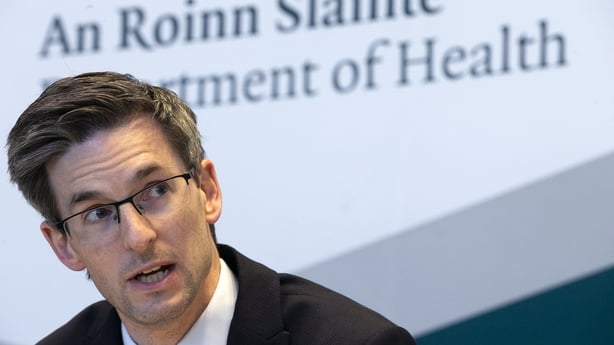 They were the highest daily figures in more than five months. Ten further deaths were also notified on Saturday night, but eight of these occurred before September.
Dr Glynn said the numbers over the past week represent "a significant escalation" in the profile of coronavirus in Ireland.
"For those aged 70 plus, and those who are medically vulnerable to Covid-19, it is strongly recommended that you should limit the number of people you meet to a very small core group of family members, carers or friends, for short periods of time, while remaining physically distant," he advised.
He said that new cases of the virus were recorded in all 26 counties and people in every county should follow the advice to stop the further spread of the virus. 
Yesterday was Dr Glynn's last day as Acting Chief Medical Officer as Dr Holohan returned to work.
Dr Holohan took temporary leave in July for personal family circumstances.
Minister for Health Stephen Donnelly expressed his "sincere thanks" to Dr Glynn for all his work as Acting CMO.
He said: "He stepped into one of the toughest roles in Ireland and did a fantastic job. Looking forward to ongoing work with Dr Glynn and again now with Dr Tony Holohan on his return.
"It will be of huge benefit to us all to have the expertise of Dr Holohan and Dr Glynn as we face into the challenging winter months."
Additional reporting: Laura Hogan, Emma O Kelly