US President Donald Trump has said on Twitter that he is feeling well with the help of the doctors and nurses at the hospital where he is being treated for Covid-19.
"Doctors, Nurses and ALL at the GREAT Walter Reed Medical Center, and others from likewise incredible institutions who have joined them, are AMAZING!!!" Mr Trump said.
He added: "Tremendous progress has been made over the last 6 months infighting this PLAGUE. With their help, I am feeling well!"
White House doctor Sean Conley said today that the US President is "doing well" and has been "fever free" for the last 24 hours, after it was announced he tested positive for the virus yesterday.
"The team and I are extremely happy with the progress the President has made," said Dr Conley.
Dr Sean Conley, physician to Donald Trump, gives an update on his condition, saying that he is 'improving'. | Read more: https://t.co/kFflVXGsV3 pic.twitter.com/beAdVLmnD0

— RTÉ News (@rtenews) October 3, 2020
The doctor, along with a group of other physicians treating the president at Walter Reed National Military Medical Centre, was speaking at a briefing in front of the hospital.
Mr Trump's medical staff said he is not on oxygen or taking hydroxychloroquine.
Dr Conley said Mr Trump has started treatment with Remdesivir, a drug known to help patients recover from the virus.
US President Donald Trump is not on oxygen and is having no trouble walking around, doctors say. | Read more: https://t.co/kFflVXGsV3 pic.twitter.com/MT64j5iOOQ

— RTÉ News (@rtenews) October 3, 2020
Later, a source with knowledge of the US president's condition said his vital signs had been worrying, with the next 48 hours critical in terms of his care. "We're still not on a clear path to a full recovery."
Before leaving the White House last night, the US President posted a short video saying that while he thinks he is doing very well, he was going to hospital to make sure things work out.
He added that First Lady Melania Trump - who also contracted the virus - was "doing very well".
October 2, 2020
Earlier yesterday, he was described as being "fatigued but in good spirits" with mild symptoms following his positive test for the coronavirus.
He was given an experimental treatment of synthetic antibodies.
The White House said that out of an abundance of caution his doctors had recommended that he work from the presidential offices at Walter Reed Medical Centre for the next few days.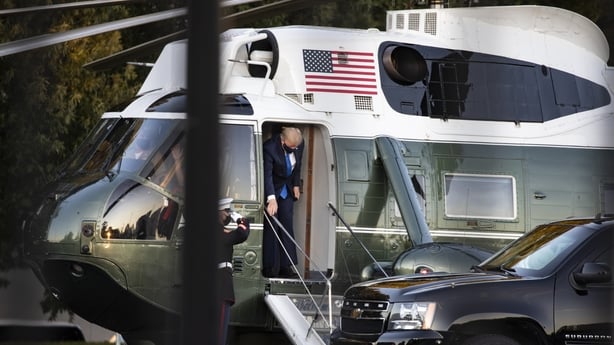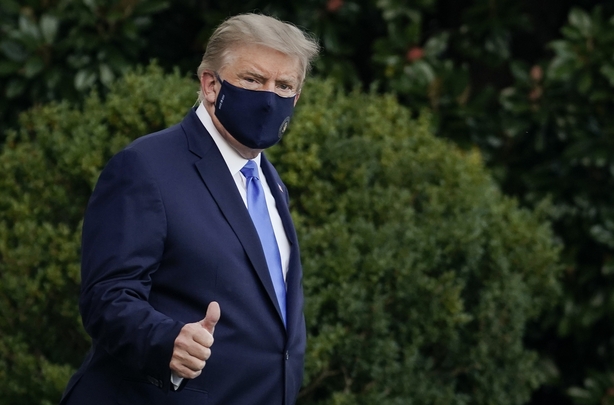 Meanwhile, Mr Trump's former senior adviser Kellyanne Conway has tested positive for the coronavirus.
She was at an event at the White House last week where the president announced Judge Amy Coney Barrett as his Supreme Court nominee.
A number of people who attended the gathering have now tested positive for the virus.
Doctors for @realDonaldTrump say he is doing very well and not requiring supplemental oxygen after he was taken to hospital last night for Covid-19 treatment | https://t.co/bf1rruozqC pic.twitter.com/F90H49OcDv

— RTÉ News (@rtenews) October 3, 2020
The hospitalisation indicated an intense effort to make sure the president's reportedly "mild" symptoms do not deteriorate.
The development also highlighted the uncharted waters for the US election on 3 November, with Mr Trump - who is well behind his Democratic opponent Joe Biden in the polls - having to freeze much of his campaign.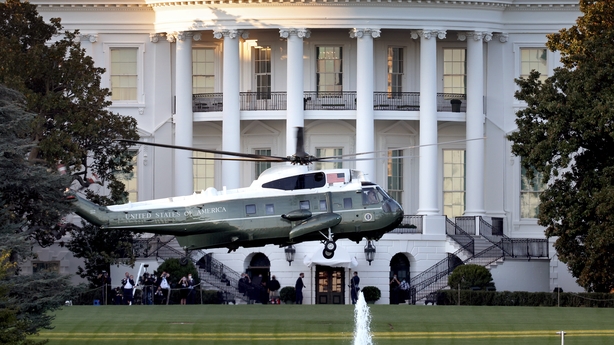 The president's son Donald Trump Jr told Fox News his father was "obviously taking it very seriously, but he's a fighter".
Mr Trump's illness upended the White House race, with Joe Biden suddenly finding himself alone on the campaign trail.
Mr Biden has made Mr Trump's frequent downplaying of the pandemic and mixed messaging on mask-wearing a central campaign theme.
The former vice president, who stood in close proximity to Mr Trump for 90 minutes during their ill-tempered first debate on Tuesday, announced that he and his wife Jill tested negative yesterday.
Mr Biden, 77, travelled to Grand Rapids, Michigan, going ahead with a previously scheduled campaign stop.
The Democratic candidate said he was praying for Mr Trump and his family, and his campaign announced it would take down all negative ads.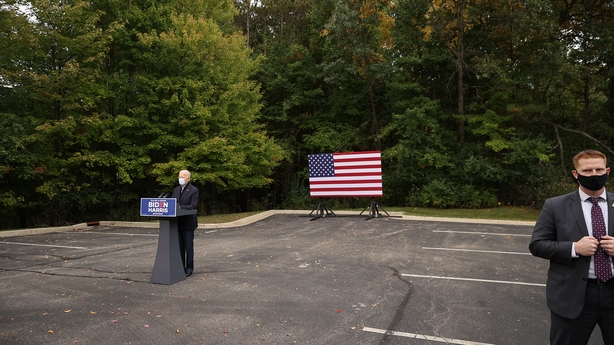 However, Mr Biden also reminded voters that he has pushed consistently for taking seriously the coronavirus, which has killed more than 208,000 Americans, unlike his opponent who has mocked the Democrat for his rigorous use of masks.
"Be patriotic", he told supporters in Michigan through a blue surgical mask. "It's not about being a tough guy. It's about doing your part."
Vice President Mike Pence, who would step in if Mr Trump falls seriously ill, tested negative yesterday, as did Mr Trump's teenage son Barron.
Ivanka Trump and Jared Kushner, the president's daughter and son-in-law who are top White House advisors, also tested negative, as well as Secretary of State Mike Pompeo, Treasury Secretary Steven Mnuchin and Health and Human Services Secretary Alex Azar.
Mr Trump's campaign manager 42-year-old Bill Stepien, also said he had tested positive, US media reported, and was in quarantine with mild symptoms.
World leaders wish US President a speedy recovery
Taoiseach Micheál Martin was among the many leaders from around the world to wish Mr Trump and his wife a "full and speedy recovery" from coronavirus. 
"My best wishes to President Trump and the First Lady," British Prime Minister Boris Johnson tweeted. "Hope they both have a speedy recovery from coronavirus."
Mr Johnson himself spent three nights in intensive care in April after contracting Covid-19.
Chinese President Xi Jinping sent a message to the Trumps today, wishing them a speedy recovery from the coronavirus, Chinese state television reported
In Russia, the Kremlin quoted President Vladimir Putin as saying: "I am convinced that your vitality, good spirits and optimism will help you cope with this dangerous virus."
Wishing @POTUS and @FLOTUS a full & speedy recovery from coronavirus

— Micheál Martin (@MichealMartinTD) October 2, 2020
North Korean leader Kim Jong-un "offered his sympathy to the president and the first lady", the official Korean Central News Agency (KCNA) reported. "He sincerely hopes they will recover as soon as possible."
"Dear Donald, My best wishes to you and Melania as you are now fighting the virus together. Brigitte and I think of you both and express our most friendly support. Stay strong and keep going," French President Emmanuel Macron said in a message in English.
Addressing the first lady as "my dearest Melania", Brigitte Macron added: "Pease accept my warmest wishes for a prompt recovery. I know you both are strong and will prevail."
"I send Donald and Melania Trump all my good wishes," German Chancellor Angela Merkel's spokesman Steffen Seibert tweeted on her behalf.
"I hope that they recover well from their corona infection and will be quite healthy again soon."
UN Secretary-General Antonio Guterres "sends his best wishes to President Trump and First Lady Melania Trump for a quick and complete recovery," his spokesman Stephane Dujarric said.

The World Health Organization chief Tedros Adhanom Ghebreyesus wished the couple "a full and speedy recovery".