Sinn Féin's education spokesperson Donnchadh Ó Laoghaire has said there is a striking lack of clarity around who knew what and when about the errors in the Leaving Certificate calculated grades process.
He told the Dáil there has to be an "absolute guarantee" that every student who missed out on a college place will now get one.
The Cork South Central TD also said there has to be accountability about how the mistakes occurred.
Mr Ó Laoghaire also asked for clarity on the level of experience of the software company involved.
Responding, Minister for Transport Eamon Ryan said the most important thing is the welfare of the students and to ensure they are not disadvantaged.
He said no one was kept in the dark about what had happened and it was an international expert who spotted the error.
Mr Ryan insisted the Government priority was about getting the information right and this took until yesterday.
He said he was informed of the error on Friday and had a detailed discussion on the matter with Taoiseach Micheál Martin and Tánaiste Leo Varadkar on Monday.
Labour leader Alan Kelly asked whether it was too late on 24 August last to change the model of the calculated grades system.
Minister Ryan said the coding error had not been seen at that stage.

---
Minister admits some students may have to defer college place
I'm a Leaving Cert student - What happens now?
Around 6,500 Leaving Cert students affected by grades errors
---
Aontú leader Peadar Tóibín called for clarity about who will "foot the bill" for the Leaving Cert "chaos".
He said: "There will be a cost for this cock up."
Mr Tóibín asked if an outside company "made this mistake" and if the company is "liable for the costs?"
In response, Mr Ryan said it was a matter of "deep regret that occurred" and it was better to "admit it, rectify it and learn from what has happened."
He said: "There may be a legal contractual issue and we will manage after the fact."
Fianna Fáil TD Jennifer Murnane O'Connor asked about the preparations for next year's Leaving Cert.
Minister Ryan said the Government has committed to keeping schools open and there will be exams next June.
Earlier, Solidarity's Mick Barry said the Government must pledge to create up to a 1,000 new colleges places and that the new places must be delivered within days.
In a statement, the Cork North Central TD also said that no student should be penalised or lose out as a result of grade increases for other students.
He criticised the length of time that Taoiseach Micheál Martin and Minister for Education Norma Foley kept the information about the grade calculation errors to themselves.
Govt TDs already getting blow-back from constituents over #LeavingCert2020 calculated grade debacle - one senior deputy tells me people calling his local office are "livid" - esp with Taoiseach for not disclosing error last week @rtenews

— Paul Cunningham (@RTENewsPaulC) October 1, 2020
Professor and Executive Dean at DCU's Institute of Education Anne Looney said there is "a lot of uncertainty for students" over the exams debacle.
Speaking on RTÉ's Morning Ireland she said she understands why the Department of Education withheld the information from students, saying she believes their intention was to wait until they had all the details before telling those impacted.
She said it will take time for the information to be ready to be given as "every single set of results will have to be redone" following the miscalculation of the results.
Prof Looney said she agreed with Minister for Further and Higher Education Simon Harris that around 1,000 extra college places will be needed to deal with this crisis, saying it's a "reasonable estimate."
However, she said she believes that not everyone will be able to start the course they will now be eligible for this year.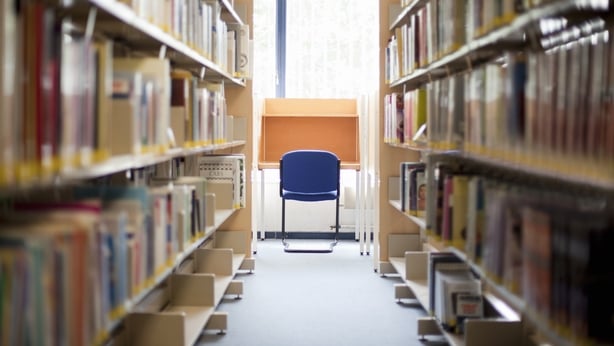 The Irish Universities Association director general said nobody knows how many extra college places are needed at this stage.
Jim Miley said the challenge will be for colleges and universities to match offers with places but he reassured students that everything possible will be done to find the places needed.
He told Morning Ireland that it will be "well into next week and it could be the end of next week" before offers are made.
Mr Miley said he was hopeful that "as many as possible can be slotted it" but added it will be difficult to say until there is a clearer picture of who the eligible students are and what their preferred places are.
He pointed out that some courses are more difficult to allocate extra places to, for example the health sciences that require placements.
Mr Miley also said that some students may have to defer for a year.
---
There is a dedicated helpline and email address to answer queries from students.
The helpline number is 01 8892199, the email address is LC2020@education.gov.ie. The helpline will be open today from 10am-5pm.
---
Additional reporting David Murphy & Maggie Doyle