The Department of Health has been notified of five further deaths and 248 new cases of Covid-19.
The deaths bring the toll up to 1,802.
The number of coronavirus cases now stands at 34,560. The Department has de-notified three cases.
Of today's new cases, 132 are men and 115 are women.
67% are under the age of 45 and 36% are associated with outbreaks or are close contacts of a confirmed case.
104 new cases were reported in Dublin, 37 in Donegal, 36 in Cork, 8 in Kildare, 8 in Westmeath, 6 in Kilkenny, 6 in Laois, 6 in Offaly, 5 in Longford, 5 in Monaghan, 5 in Wexford and the remaining 22 cases are in 11 other counties.
Northern Ireland has reported 319 new Covid-19 cases, bringing the total there to 10,542.
A further person has also died from the virus there, taking the official Department of Health toll to 578.
The seven-day rate of infection per 100,000 in Derry and Strabane is 195.8, up from 58.4 last week.
Belfast has a rate of infection per 100,000 of 107.3.
The rate for the whole of Northern Ireland is 74.2 per 100,000.
Limerick, Waterford getting back under control but concern over Cork
The Covid-19 advisor to the Irish College of General Practitioners has warned there is "a high possibility" Cork could move to Level 3 restrictions as early as next week if people in the county don't take action now to stop the spread of the virus.
Dr Mary Favier, who is also a GP based at Parklands Surgery in Cork, said if the rate of new cases does not change, flatten or go down, then a move from Level 2 to Level 3 is "possible, not probable" as there is still time to intervene.
She said "there is still time" for people in Cork to change what they are doing and she said if people don't, there is "a high possibility we'll join Donegal and Dublin in a Level 3 with all the restrictions that brings".
"We have a moment, it is now, to change what we are doing," she added.
Dr Favier told RTÉ News that while it will be a government decision, she believes a move to Level 3 could happen "as early as next Thursday or Friday" or the week after if the number of cases continues to rise, but she also said "it can be changed".
Dr De Gascun said the recent rise in cases in Limerick and Waterford appear to be getting "back under control".
He said the measures that people in the two counties have taken are having a positive impact.
The 14-day incidence rate per 100,000 and the 7-day incidence rate per 100,000 are among the key indicators examined regularly by NPHET to determine the circulation of the virus.
Dr De Gascun told RTÉ News that the 14-day incidence is quite high in the two counties but he said "the 7-day incidence suggests that actually their burden of disease is reducing".
He said "the measures that the individuals and the members of the population in those counties have taken onboard and have adhered to, looks at this point, as if it may well be bringing things back under control".
However Cillian De Gascun also warned that people in Limerick and Waterford need to keep up their efforts.
Work 'ongoing' to improve testing capacity
Earlier, Mr De Gascun said work is ongoing to bring the country's testing capacity to a level that it needs to be at.
Speaking on RTÉ's Saturday with Katie Hannon, Dr Cillian De Gascun said there was a lot of fixation over a capacity figure over the past number of months, but that the HSE has done huge work from a procurement perspective to ensure there is a resilience and robustness that was not there in March or April.
On his previous comments that 100,000 tests per week would no longer be enough to cope with demands on the system, Dr De Gascun said what happened when the schools went back was that there were more referrals than the 15,000 per day capacity could handle.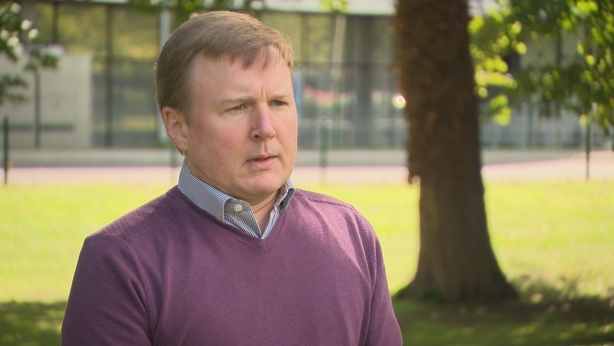 He said this data is fed into the system, and showed that the current capacity was insufficient.
Dr De Gascun said: "We're monitoring a number of metrics looking at GP referrals in the system, the capacity for swabbing in community hubs, and the capacity for testing within the laboratories.
"What happened when the schools went back is that we reached the 100,000, I suppose has been classed as 15,000 per day, and what we saw was there was more referrals coming into the system than that 15,000.
"So that information feeds into the system and that makes you realise that the capacity is not sufficient.
"There is work ongoing to bring that capacity to a level that it needs to be at."
He said nothing is inevitable with regard to restrictions, but they do know there are worrying trends across the country.
He said the seven-day and 14-day incidence rates, and the number of hospitalisations are increasing. If the health service gets into a bad place now, then it will be harder to get out of that bad place in winter.
---
Read more:
Analysis: Pandemic is proving to be a test of humanity
Acting CMO says people can 'turn the tide' of Covid-19
WHO warns virus death toll could surpass two million
---
He said it is really important to get the balance right with regard to restrictions, as people need to have some quality of life amid the measures.
Dr De Gascun said due to the fact that people can transmit the virus while asymptomatic, there are no zero-risk activities.
He said every time new measures are implemented in an area, NPHET expects to see the results over the course of the next two weeks, adding that they are looking to see a stabilisation of Dublin cases soon.
Dr De Gascun said it was difficult to predict when a vaccine may arrive.
He said we need to get through this year on the back of public health messaging, adding that it would be a positive step to have a vaccine available by the winter of 2021.
He added there is no magic bullet coming in the next six months, so people needed to hold firm and adhere to public health advice.
Meanwhile, Professor Philip Nolan, chair of the NPHET Irish Epidemiological Modelling Advisory Group, said it was "possible" that the incidence of Covid-19 has been rising more slowly in recent days.
While it was too early to tell for sure, he said we should take this "as encouragement to maintain and redouble our efforts".
Earlier, the European Centre for Disease Control (ECDC) revealed that Ireland's 14-day incidence of coronavirus per 100,000 had risen to 76.4, up from 74.1 yesterday.
How are we doing? The number of new cases per day remains high. It's possible that incidence is rising more slowly in recent days, but it's too early to tell. If we are starting to suppress the virus again, take this as encouragement to maintain and redouble our efforts. 1/7 pic.twitter.com/GrF3ew0SpE

— Professor Philip Nolan (@President_MU) September 26, 2020
The HSE chief executive Paul Reid took to Twitter today to urge people not to knock the younger generation, but to galvanise them.
"Young people have made this country an even better place to live, in my book. Marriage equality, climate change awareness and much more, all enabled by them," he said.
"Again we put a weight on their shoulders to help us with Covid-19. Let's not knock, but galvanise them once again."
Yesterday, Acting Chief Medical Officer Dr Ronan Glynn has said there is every chance that other areas of the country might move to Level 3 of Covid-19 restrictions, but it was not inevitable.
Dr Glynn has appealed to people in several other counties to pay particular attention to public health advice.
The warning comes as Level 3 restrictions come into force in Donegal, where targeted Garda checkpoints will be in place from today.
Donegal has overtaken Dublin as the area with the highest rate of cases, with the county now at 148.2 cases per 100,000 people.