The "region of Dublin" has now been designated a "risk area" by Germany, due to the recent increase in Covid-19 infections.
This designation means passengers from Dublin landing at any German airport will be required to be tested for Covid-19 and isolate until the result is known.
The risk assessment is based on seven day incidences, with an infection rate above 50 per 100,000 of population triggering a testing requirement.
Ireland's 14-day incidence rate of Covid-19 per 100,000 of the population has increased to 70.7.
The designation of Dublin came following "a joint analysis and decision by the Federal Ministry of Health, the Foreign Office and the Federal Ministry of the Interior, Building and Home Affairs", according to a statement on the Robert Koch Institute's website.
"Persons entering the Federal Republic of Germany, who have spent time in a risk area at any specific period within 14 days prior to entry, are subject to a mandatory Covid-19 test (from 8 August 2020) and may be subject to quarantine under the specific quarantine ordinances issued by the competent federal state (Land)", according to guidance posted on the RKI.de website.
The joint assessment was a two stage process, according to the RKI. The first step involves identifying countries in which the infection rate is higher than 50 per 100,000. The second step involves contact with the German diplomatic services in an affected area and an examination by the Health Ministry of the control measures in place.
Dublin at 136.9 per 100,000 population
The latest data from Ireland's Health Protection Surveillance Centre show, over the past 14 days, that Dublin's incidence rate is now at 136.9 per 100,000 population.
The figures from the Health Protection Surveillance Centre are derived from examining cases of the virus in the two weeks between 8-21 September.
The Acting Chief Medical Officer Dr Ronan Glynn raised concerns about three other counties: Donegal, Waterford and Louth, at the weekend where the rate of the virus is increasing.
HPSC data shows that the 14-day incidence in these counties is now 106.2 for Donegal, 98.1 for Waterford and 97.8 in Louth.
In Dublin, the figures show that all but one area has an incidence rate of well over 100.
Dublin North West remains the highest at 196.9, while Dublin South has a 14-day incidence rate of just 61.
During this two-week period, the HPSC data shows there has been 894 cases of community transmission, where the source of the infection is not known, while a further 414 are still under investigation.
The figures show that between 8-21 September there were 123 cases among children from 0-4 years of age, while there were 304 cases in children between five and 14 years.
94 confirmed Covid-19 cases in hospitals
There has been no significant rise in the number of patients in hospital with Covid-19 overnight, new figures show.
There are 94 confirmed cases of the disease in hospitals, with 16 of these patients in intensive care. Of the 94 cases 60 are in Dublin hospitals, with the remainder receiving care in hospitals in 13 other counties.
It compares with 90 the previous day.
The number of suspected cases is 112, compared with 96 the previous day. Eight of the 112 patients are in ICU. Two weeks ago there was 50 patients in hospital and six in ICU.
Overall, the hospital system has 38 intensive care beds available. There are 275 ICU beds open and staffed.
In Northern Ireland, the Department of Health has reported that there have been 220 new cases of coronavirus confirmed in the past 24-hours, taking the total to 9,761.
There have been 1,078 positive tests during the past 7 days. No further deaths have been recorded so the total remains at 577.
There are 41 coronavirus patients in hospital, an increase of five since yesterday. There are six patients in ICU.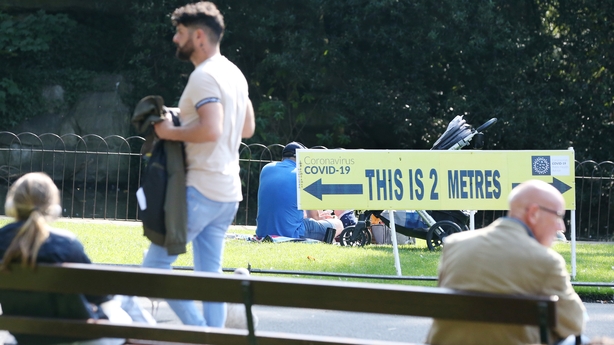 ---
---
Amid concerns from public health officials over the transmission of the virus in household settings, new figures from the Health Protection Surveillance Centre (HPSC) also show that during the week to last Saturday, there were 391 outbreaks in private houses.
This compares to 61 the previous week. There were also 11 new outbreaks, which is defined as two or more cases, involving extended families.
While there were 11 outbreaks associated with school children or staff, the HPSC said transmission of the virus within school settings had not necessarily been established.
The number of workplace outbreaks increased by 18, up to 125.
Three occurred in meat, poultry or fish processing plants, while two occurred in the construction industry.
There were two outbreaks last week relating to pubs, while there were three outbreaks in restaurants or cafes.
A further four nursing home outbreaks were also notified to the HPSC, bringing the total to 287 and there were two additional outbreaks in hospitals.
In total, 470 different outbreaks were reported last week.
'Very concerning' trend in hospitalisations from Covid-19
The chief executive of the Health Service Executive has said the recent trend in hospitalisations from Covid-19 is "very concerning" and "a big early warning system".
Paul Reid yesterday said the number of cases is "still manageable from a hospital perspective" but he said it is "really an urgent time for the public to take appropriate action" and follow the public health guidelines.
Speaking to RTÉ News, he appealed to people to "radically reduce" their number of social contacts.
Mr Reid said the increase in the number of people in hospital and in intensive care units is "symptomatic of what's happening in the community in terms of transmission of the virus".
He said the situation has gone from around 20 hospital cases four weeks ago, to over 90 this week, and from around eight ICU cases to more than double that figure.
Mr Reid said "we can cope right now and we have further surge capacity" but he said public health officials "don't want to see the trend continuing".
"We are at a manageable level now and we are also dealing with all the non-Covid services that weren't dealt with during the lockdown period. We want to continue those services. They are very important too. We want to continue our focus on Covid but we don't want the system to become overwhelmed."
He also said that ICU bed capacity has increased by 25% in public hospitals since the start of the pandemic from 225 beds to 282 beds.
And he said a further investment in capacity will be announced in the HSE's Winter Plan, due to be published this week.
Additional reporting Fergal Bowers, Fergal O'Brien, Laura Hogan