The Government has been accused of failing to legislate to protect workers during a Dáil debate on the Debenhams dispute.
Independent Group TD Joan Collins was proposing a motion calling on the Government to legislate for the proposals of the Duffy-Cahill report, which would have enhanced the rights of employees when a company was insolvent.
The proposals backed by the Irish Congress of Trade Unions and the Debenhams workers' union Mandate would include a levy on employers to create a ring-fenced fund to pay workers any enhanced redundancy entitlements negotiated in pre-insolvency collective agreements.
Ms Collins told the Dáil that if the Duffy-Cahill report had been implemented when it was completed almost five years ago, Debenhams workers would have been able to secure the four weeks per year of service redundancy terms they had agreed with their employer in 2016.
She said the stock currently in Debenhams Irish stores which she valued at €25 million should be ringfenced for workers redundancy terms and described the collapse as a "tactical insolvency" .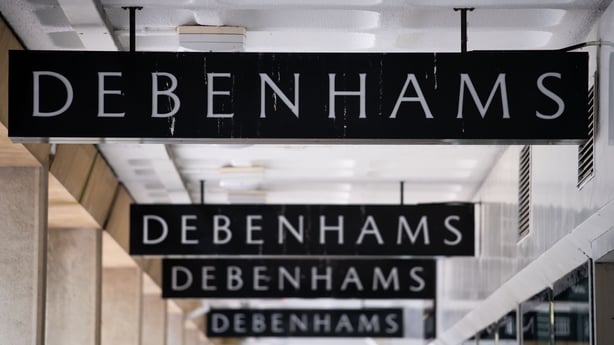 She raised the transfer of Debenhams online function which she estimated as worth €30 million out of Ireland and queried how Debenhams Ireland had become a guarantor for certain loans.
Ms Collins noted that 69,500 employers have availed of the Government's wage subsidy schemes, and that many of those companies would not survive as the schemes are phased out, resulting in further job losses.
Her criticisms were echoed by many opposition TDs, though Independent Noel Grealish raised concerns about imposing an additional levy on employers at this time.
The Minister of State for Employment Affairs and Retail Businesses Damien English noted that Government ministers do not have the power to influence a particular outcome or to direct a party to take a particular course of action in respect of a redundancy situation, particularly where High Court appointed liquidators was in charge, rather than the employer.
He also said it was not possible for a third party to seek to change the orderly distribution of assets and discharge of debts necessitated by the liquidation.
He said there was no reason to believe that any asset was being improperly transferred out of the reach of workers, and noted that there were many other entirely legitimate claims on the Debenhams stock.
However, he said the state would ensure the Debenhams workers got their statutory entitlements.
The Minister for Trade Promotion Robert Troy said the Government intended to review whether current legal provisions surrounding collective redundancies and the liquidation of companies effectively protect the rights of workers.
He said he and Minister English were finalising a "multi-stakeholder forum" to ensure appropriate recommendations were carried forward and put on a statutory footing.
However, he stressed that any additional payments for Debenhams workers could only be secured through negotiations between the unions and the liquidator KPMG.