The points have risen for over two-thirds of degree or Level 8 courses, according to this year's CAO data. This is a very significant increase and is likely to lead to disappointment among many applicants.
However, 52% of Level 8 offers were a student's first preference, down 1% from last year. 80% of Level 8 offers were one of a student's top three preferences, also down 1% from 2019.
There has been an increase in points for 60% of Level 7/6 courses over last year.
90% of Level 7/6 offers were a student's first preference, up 1% from 2019.
Courses in many fields have seen increases.
---
You can check out the points required for entry to all 2020 courses on the CAO website here
---
Courses that lead to defined career paths are among those to see the biggest points rises.
They include courses in the health sciences such as dentistry, physiotherapy, and veterinary medicine.
In Nursing, Trinity College's course is up 36 points to 430, at DCU by 40 points, at UCD by 31 points. Other colleges have seen similar rises.
Physiotherapy courses have seen increases of 24 points in RCSI, Trinity College Dublin, University of Limerick and by 30 points in University College Dublin.
Dentistry at UCC is up 23 points as it is for Dental Science at TCD.
For those hoping to study Veterinary Science at UCD there has been an increase of 22 points and an increase of 37 points in Veterinary Nursing at the same institution over last year. However, Veterinary Bioscience at Institute of Technology, Tralee is down 18 points and Bioveterinary Science in Athlone Institute of Technology is up by 3 points.
Primary teaching courses have risen, with DCU's main course up 26 points and teaching at Maynooth University up by 8.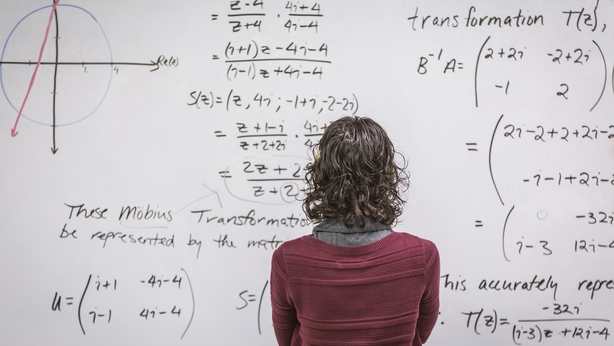 Computer Science at UCC is up 66 points, at TCD up 42 points, and at UCD up 22 points.
Law degree courses are up, again significantly, by 31 points at TCD, 41 points at Maynooth University, and 31 points at UCC.
General Science degree courses have also seen rises. DCU's common entry science course is up by 44 points, at NUI Galway science has risen by 33 points. Science at UCD has risen by 12 points.
Courses in Medicine have all seen an increase in points required over last year with UCC is up 2 points, UCD up 1, Trinity College Dublin is up 5, NUI Galway up 2 and Royal College of Surgeons is up 4 points.
The additional places across the entire third-level sector include 16 in medicine, across University College Cork, NUI Galway and the Royal College of Surgeons. They are among a total of 218 new places across health science courses.
The rise is not as strong in the area of Arts. Some of the main Arts degree courses, such as at NUI Galway and at UCC have seen no change, while the points requirement for UCD's Humanities degree course has dropped by 8 points.
The hit TV series and novel Normal People is perhaps responsible for what is one of the biggest rises of all. Drama and Theatre Studies at Trinity College Dublin has risen by 69 points bringing it to 564 points.
However, for those who wish to follow in the footsteps of Marianne and Connell but may not make that grade, the Trinity Arts experience can still be yours for a modest 342 points. That is, if Ancient and Medieval History and Culture is your thing. Points for that course have plummeted this year, by 57.