The CEO of the Health Service Executive has said there were 13,000 GP referrals for testing received on Monday, which was more than double that of the same day last week.
At a HSE briefing Paul Reid said 21,000 referrals were received within two days, which included a large amount of school children and people in North Dublin. He said they had mobilised testing in this area as a result.
National lead for Testing and Tracing at the HSE, Niamh O' Byrne said testing for children is going to be changing later this week and will make it "an easier experience" for them.
She said a nasal test for children will use the same swab but "does not require one that goes as far into the nose and throat."
She said it will happen from later this week when it is rolled out across the testing centres.
Mr Reid also said the average number of new Covid-19 cases over the last seven days is 151, up from 120 last week.
The number of patients in ICU is 6 while admissions of confirmed cases to hospital has been trending upwards, and was at 50 last night. That is up from 40 last week.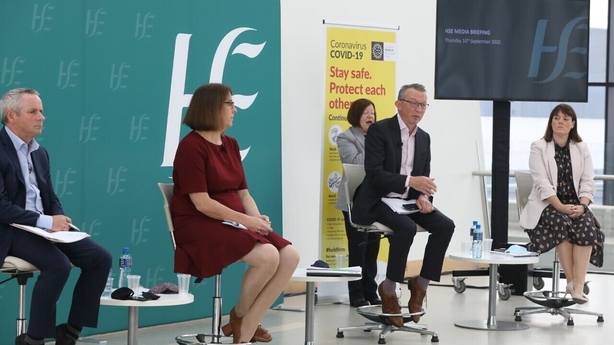 Mr Reid said there has been a significant rise in referrals of children with upper respiratory tract infections.
He also added that cases of the virus among healthcare workers have been rising.
He said he is conscious that the regular updates on Covid-19 can at times cause "undue levels of stress and anxiety".
He said they are seeing a "concerning trend" of people presenting to health services with worrying levels of anxiety and in some cases mental health issues.
He said the key message he wants to send out to people is that we should all live our lives with a strong level of confidence and hope.
He added that fear is "not a sustainable response" to the virus and it does not allow us to take appropriate actions.
"We need to live our lives in a different way."
He said we can do this by living with awareness and huge caution and not a relentless fear.
We need your consent to load this rte-player contentWe use rte-player to manage extra content that can set cookies on your device and collect data about your activity. Please review their details and accept them to load the content.Manage Preferences
---
---
Meanwhile, Trinity College is to set up its own Covid-19 on-campus swabbing centre for students and staff.
The facility will be free of charge and run in collaboration with the HSE.
According to TCD, the centre will be up and running by the end of this month and in time for the beginning of the new semester.
Any student of staff member with symptoms will be referred to the new centre by the college GP.
While the swab will be taken on campus, the sample will be sent to HSE labs for reading.
Trinity says it hopes the facility will reduce the risk of clusters developing in the college community.
The college is also planning to introduce regular screening, on a pilot basis, for those living on campus.
The exact details of that that are still being worked on.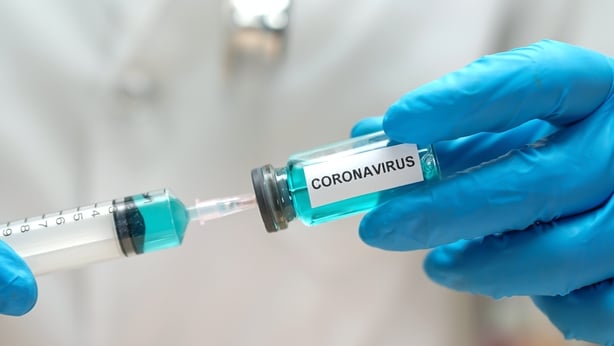 The Laboratory Manager at the National Maternity Hospital has called on the HSE to urgently address the issue of staffing at labs.
Marie Culliton, who is also a council member of the Academy of Clinical Science and Lab Medicine, said there is a shortage of appropriately trained medical scientists to work in labs.
Speaking on RTÉ's Drivetime, she said there was a shortage of medical scientists before the pandemic, and an appropriate career path needs to be marked out in order to recruit more staff with the required skill set.
"You can't run a service without properly trained staff, and you need a service that can keep going through to next summer."
Additional reporting Conor Hunt