A multi-million pound legal action by Belfast boxer Carl Frampton against his former manager Barry McGuigan has started in Belfast.
The former world champion claims he is owed prize money for fights in Northern Ireland, England and the United States.
Lawyers for Barry McGuigan have said all the allegations are categorically denied.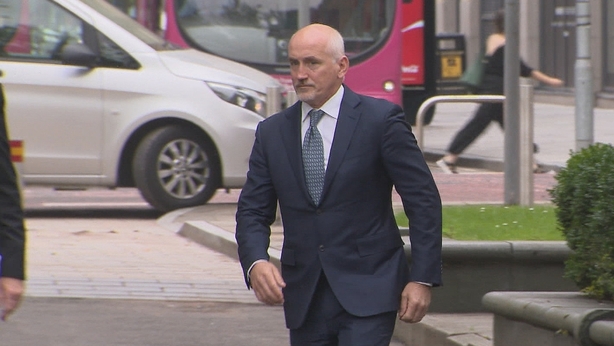 The pair of former world champions, the Clones Cyclone McGuigan, and his protégé, the young Belfast boxer known as the Jackal, were once a boxing dream team.
Today they were on opposite sides in a court room.
Mr Frampton is suing his former manager and a company run by his family, Cyclone Promotions, for alleged failure to pay prize money.
A previous court hearing was told the claim is for unpaid alleged earnings of more than £4m.
Mr Frampton is being sued in a separate legal action by Mr McGuigan for alleged breach of contract.
Both men deny any wrongdoing.
We need your consent to load this rte-player contentWe use rte-player to manage extra content that can set cookies on your device and collect data about your activity. Please review their details and accept them to load the content.Manage Preferences
A lawyer for Mr Frampton told the High Court in Belfast that his client trusted Mr McGuigan to look after his career when he signed a contract for him to become his manager.
He said Mr McGuigan had indicated to Mr Frampton that he regarded him as his fourth son.
Gavin Millar QC told the court the relationship between them began to deteriorate in late 2016, a year before the Belfast boxer officially cut ties with Mr McGuigan.
The lawyer said events had indicated to his client that "his trust was being very much abused."
He described a document signed by his client in 2015 as "pretty much a slave contract".
He claimed Mr McGuigan had repeatedly been in breach of contractual obligations during the period between February 2012 and August 2017.
The lawyer said these included obligations to ensure that Mr Frampton received all due and proper profit and reward, and to protect his best interests.
He claimed there was also a breach of an obligation to transparency as financial arrangements for fights and ticket sales had been kept secret from the Belfast boxer.
He alleged that Barry McGuigan had not acted in good faith and had failed Carl Frampton as his manager and agent.
Speaking before Carl Frampton took the stand to give evidence, a lawyer for Barry McGuigan said the case is about honesty and who is telling the truth.
Liam McCollum QC told the judge: "Our case is that Mr Frampton is most certainly not telling the truth."
Lawyers for Mr McGuigan have previously stressed that all of the allegations will be categorically denied, and accused Mr Frampton of lying about profit arrangements.
In his evidence, Mr Frampton told the court he signed his contracts with Barry McGuigan on trust and had not been advised to seek legal advice.
The case is expected to run for two weeks.