Just under 17% of Leaving Certificate grades calculated by schools will be reduced, according to initial data from the Department of Education.
While this year's calculated grades process is not yet complete, the department said the trends show that the national standardisation has resulted in a low number of grades being reduced, in the vast majority of cases by just one grade.
In a move that will be welcomed by disadvantaged schools, the department has not relied on a school's previous performance in its national standardisation process. This decision was approved by Cabinet today.
Defending the process, the department said the number of grade 1s awarded at Higher Level by schools would have doubled in many subjects, and even tripled in some, compared to previous years if some reductions to grades had not been applied.
They said while some teacher estimates had been over-optimistic, others had underestimated, and this would have led to unfairness for many students had national standardisation not been applied.
They said such "uncontrolled" growth in scores was "not credible in one school year". 
This year's results will still however be significantly higher than those of previous years, but by how much is not as yet known.
Almost 60,000 students are due to receive their Leaving Cert results next Monday. 
The figures released today are for 57,695 students who had applied to sit the traditional the Leaving Certificate programme. They do not include the Leaving Certificate Applied.
We need your consent to load this rte-player contentWe use rte-player to manage extra content that can set cookies on your device and collect data about your activity. Please review their details and accept them to load the content.Manage Preferences
A breakdown of each subject will be available on results day, the Minster said. 
The student portal will be open from next Monday and Minister for Education Norma Foley said practical advice is available through gov.ie and she encouraged students to use the service.
Speaking on RTÉ's Six One programme, Ms Foley said that on that day, students will be able to see the calculated grade they received and the percentage mark they received from their school.
The Minister said that at that point, the student can decide if they wish to appeal. Appeals will open on Monday 14 September.
She said students can avail of another mechanism on 16 November when they can sit their written exam. 
Minister Foley said the better of the two grades that students receive will be the one displayed on their Leaving Certificate.
Asked if the Leaving Cert results will be ready on schedule, Minister for Education @NormaFoleyTD1 says: "Absolutely, 100%. The results will be available on Monday 7 September; the CAO offers on Friday, and the following Monday then the appeals open." | https://t.co/zQCCwBk7wP pic.twitter.com/H0GhqIAJyt

— RTÉ News (@rtenews) September 1, 2020
---
Read more: 
Updates as students begin returning to schools around country
Leaving Cert exams set for evenings and weekends in November
Calculated grades challenge unlikely to be heard this month
---
The UK's experience of Predicted Grade augmented fears that students attending schools in disadvantaged areas could be unfairly penalised here too.
However, aggregate figures released by the Department of Education today indicate that that should not be the case.
The decision to abandon so called 'school profiling' was arrived at following the publication of predicted grades across the UK, which saw the marks of students from deprived backgrounds unfairly downgraded. 
The data here shows that while 16.8% of grades have been downgraded in the national standardisation process that was applied to estimates supplied by schools, the figure for DEIS or disadvantaged schools is lower, at 13.6%. 
While 3.9% of grades awarded by schools were raised by the national standardisation process, the figure is higher (5%) for DEIS schools.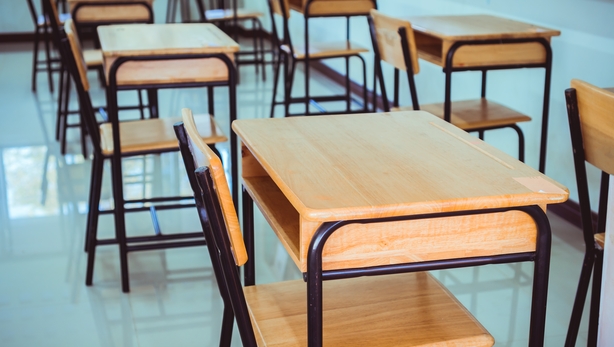 Officials have said that while teachers are adept at rating their students using a local frame of reference, an overarching national frame of reference was needed too.
The Department of Education said t has opted for fairness for this year's students, taking into account the difficulties they have experienced over maintaining equity in results over different years.
Minister Foley said the decision to remove school profiling meant a greater emphasis was being placed on the estimated marks awarded to individual students by their teachers. 
Referring to the UK experience, the Department of Education has said lessons were learned, among them that insufficient attention had been paid there to the differential impact of national standardisation processes on disadvantaged groups.
To begin with, according to the Department of Education, the Irish process differed significantly from that of the UK. Officials say it was more refined and there was more oversight.
However, they said further changes had been made as a result of the UK experience and also as a result of concerns raised in Ireland.
The most significant change has been the decision to drop 'school profiling', which was signed-off on by Cabinet today.
"We listened to all the criticism and then we saw what happened in the UK," according to one official who described removing the use of schools previous results in calculating the performance of this year's students as "the best and fairest thing that we could do".
The news will come as a relief to a school like Our Lady of Mercy Secondary School in Drimnagh.
Along with other DEIS schools, it has been greatly concerned at the prospect of students this year being benchmarked against the results of those of previous years. 
The school is an 'improving' school and it said the introduction of a Transition Year, as well as other measures, led to a strong improvement in results last year and they were expecting similar improvements this year.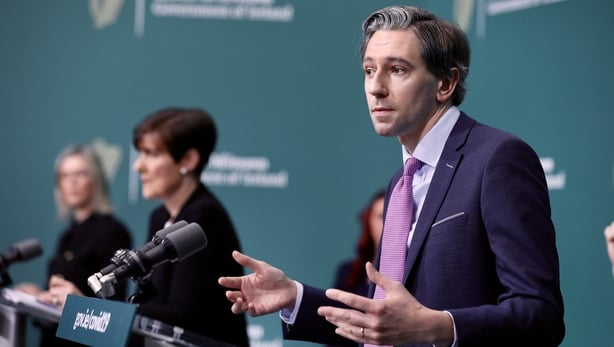 Additional college places
As a further measure to address the concerns of the Class of 2020, an additional 1,250 places are to be created in higher and further education.
The Department of Education said that 340 of these places will be created in high-demand courses across universities and institutes of technology, such has medicine, pharmacy and education.
This is in an attempt to ensure that more students receive their first choice of course.
Minister for Higher and Further Education Simon Harris said the remaining 900 places would be distributed proportionally across the institutions.
He said they would be asked to allocate the additional places to courses where there is high demand.
The ASTI said it would "retain an open mind on how the process has transacted until the results are issued and students and teachers have an opportunity to consider the outcomes".
It added: "We note the detail of today's announcement by Minister Foley; in particular that 79% of grades which students will achieve will align with the estimated marks of their schools.
"We also note that there will be no variation on this point for students who attended DEIS schools.
"While 4% of student's grades will be increased, the ASTI has some concern that 17% of Calculated Grades will be a grade lower than that estimated by their school."
The Irish Second Level Students Union said it welcomed the removal of school profiling from the calculated grades algorithm, saying that it ensures that all students, will get an equal chance at achieving the points they deserve.
Social Democrats TD Gary Gannon has said he was concerned that the national standardisation process does not cater for outliers.
Speaking on RTÉ's Drivetime, Mr Gannon said he believes students from mid ranking schools who perform better that their classmates will be "are still going to be punished by their class cohort".
He also said he is concerned that the ranking given by teachers will be published.
"This puts a huge spotlight on teachers who are often living in the same village or town as students. They were not told this back in April," he said.