US Secretary of State Mike Pompeo praised President Donald Trump's foreign policy record in a Republican National Convention speech that Democrats criticised as a breach of protocol and perhaps the law.
Speaking in a recorded video from a Jerusalem rooftop during an official trip, Mr Pompeo said the president had exposed the "predatory aggression" of the Chinese Communist Party, while defeating Islamic State militants and lowering the threat from North Korea.
Even before he spoke, critics said Mr Pompeo had broken with decades of protocol in using his appointed office for partisan purposes.
The chairman of a Democratic-led US House of Representatives subcommittee announced an investigation into whether Mr Pompeo's appearance broke federal law and regulations.
"The Trump administration and Secretary Pompeo have shown a gross disregard not only of basic ethics, but also a blatant willingness to violate federal law for political gain," Joaquin Castro, head of the House Foreign Affairs Committee's oversight subcommittee, said in a statement.
In a letter to Deputy Secretary of State Stephen Biegun, Mr Castro said Mr Pompeo's appearance was "highly unusual and likely unprecedented", and "may also be illegal".
---
Read More:
Trump claims Democrats plan to 'rig' election
Donald Trump gets Republican nomination at convention
Former Republican politicians back Biden over Trump
---
A State Department official told a pool reporter travelling with Pompeo that the secretary was appearing in his personal capacity and no State Department personnel or resources were involved.
John Bellinger, the top State Department lawyer under former Republican Secretary of State Condoleezza Rice, said the agency had long barred senior political appointees from partisan activity, including attending party conventions, even if they might be permitted under the 1939 Hatch Act limiting the political activities of federal employees.
Mr Pompeo's address also appeared to violate his own instructions restating the department's prohibition on political activities - which applies to official and private time - sent to personnel in a 14 July cable reviewed by Reuters.
In his letter to Mr Biegun, Mr Castro wrote that it was "readily apparent" from documents in his panel's possession that Mr Pompeo's appearance may violate the Hatch Act, federal regulations implementing that law and federal rules.
He asked that Mr Biegun answer a series of questions by no later than 1 September and arrange a briefing for politicians by the same date.
In his remarks to the Republican convention, Mr Pompeo described what he called Mr Trump's foreign policy successes, including the decision to move the US Embassy in Israel to Jerusalem and holding talks with North Korean leadership.
"The primary constitutional function of the national government is ensuring that your family – and mine – are safe and enjoy the freedom to live, to work, to learn and to worship as they choose," Mr Pompeo said.
Melania Trump brings compassion on pandemic, immigrants
US First Lady Melania Trump spoke compassionately about coronavirus victims and recalled her own immigrant story in an appeal for racial harmony.
Unlike often aggressive speeches by two of Mr Trump's children from previous marriages, Eric and Tiffany, the first lady brought a soft touch to her keynote address from the White House's Rose Garden.
The coronavirus, which has killed 178,000 Americans and wreaked economic chaos, was almost entirely ignored by other speakers - and the president himself.
Melania Trump began by offering prayers for the "ill and suffering".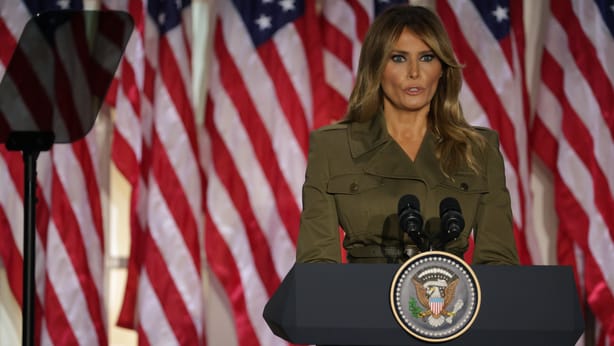 "My deepest sympathy goes out to everyone who has lost a loved one," she said.
The 26-minute speech was also remarkable for her defence of the immigrant experience and acknowledgement of soaring racial tensions - two combustible topics that her husband is often accused of stoking for political gain.
"I have reflected on the racial unrest in our country. It is a harsh reality that we are not proud of parts of our history," she said.
"I call on the citizens of this country to take a moment, pause, and look at things from all perspectives," she said. "We still have so much to learn from one another."
One person who didn't address the nation, however, was a so-called "angel mom", Mary Ann Mendoza. She had been due to tell the story of her son's death after he was hit by a drunk driver who was in the country illegally.
Ms Mendoza was pulled from the schedule at the last minute after it emerged that she had just retweeted an elaborate anti-Semitic conspiracy theory.
Her role had been meant to highlight Donald Trump's relentless, hardline focus on illegal immigration, a policy at the heart of his popularity with the Republican right.
However, Melania Trump was there to try to humanise a president seen by Democrats as cruelly exploiting anti-immigrant feelings.
She recounted her arrival in the United States from Slovenia as a 26-year-old fashion model, saying she had "always heard about an amazing place called America."
After 10 years in "the land of opportunity" she said she became a citizen, "still one of the proudest moments in my life."
Before she spoke, the president sprung a surprise with a video played to the convention of him attending a naturalisation ceremony for immigrants at the White House earlier that day.
The campaign is also hoping that Melania Trump's appearance will reach the women voters that opinion polls show are turning to Democratic challenger Joe Biden.
And after a torrent of speculation about the state of her marriage and biting criticism of his character from other family members, the First Lady mounted a strong defence.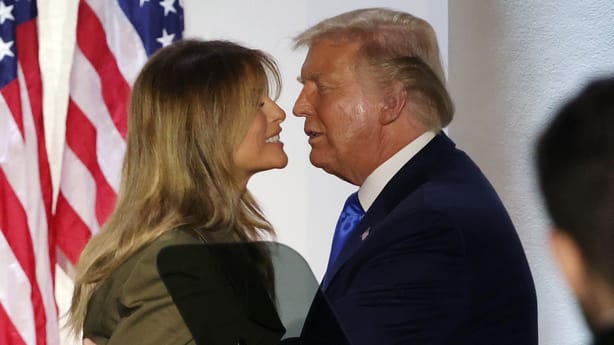 "We all know Donald Trump makes no secret about how he feels," she said.
"Total honesty is what US citizens deserve," she said. "Whether you like it or not, you always know what he's thinking and that is because he's an authentic person who loves this country."