A Limerick primary school will reopen this week with no social distancing measures in place for the majority of its pupils.
St Patrick's Girls National School in the city has written to parents advising them that due to the size of rooms in the school, which is over 100-years-old, it will not be possible to allow the advised space of 1m between pupils, apart from those in fifth class.
In the letter, the school states that the lack of social distancing "is a concern for school staff".
The school, which has 222 pupils, plans to open on Thursday.
Principal Donal O'Gorman told RTÉ News that he and the school's Board of Management were "very worried".
He said the advice from the Department of Education, when he contacted its school reopening helpline, was to "just do what you can".
Mr O'Gorman said the school had attempted to rent additional space locally, as Department of Education guidelines advise, but they faced charges of between €50,000-€60,000 annually which the school cannot afford.
"I have searched locally and there is nothing else available", he said.
St Patrick's biggest classroom is 41m² and there will be 27 fourth class pupils in that room from Thursday.
Classes of this size are classified as "small" according to the Department of Education guidelines.
The standard size for a new build classroom is 80m².
Department of Education guidelines for the reopening of primary schools advise that a distance of 1m should be maintained between desks or between individual pupils.
They state that because younger children are unlikely to maintain physical distancing indoors, achieving this level of distancing for children between Junior Infants to 2nd Class is not a prerequisite to reopening.
However, St Patrick's is unable to maintain this distance for any of its pupils apart from those in 5th year.
It has opened a partition between two classrooms to create one larger one for this year group.
"We want to go back. Everybody wants to go back", Mr O'Gorman said, "but we are worried".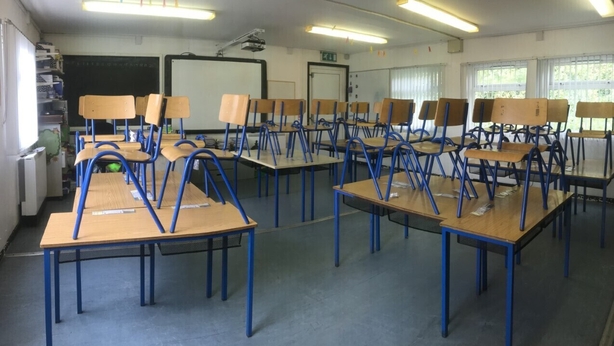 Parents at the school have also expressed concern about the lack of social distancing.
"The children are going to be on top of each other,"Savannah Mason, whose daughter is going into 6th Class told RTÉ news.
She said she did not feel reassured by the international evidence that children are less likely to catch, and transmit Covid-19. "My daughter is 11. She is as tall as I am," she said.
"She is a young adult."
RTÉ News contacted the Department of Education to ask about this school's situation.
This evening the department said it is confident that a solution can be found immediately.