The European Union's diplomatic chief Josep Borrell has called on the Russian authorities to launch an "independent and transparent investigation" into the apparent poisoning of Kremlin critic Alexei Navalny.
"The European Union strongly condemns what seems to be an attempt on Mr Navalny's life," said Borrell, speaking hours after the German hospital treating the Russian campaigner said their tests indicated he had been poisoned. An investigation is "imperative" Borrell added.
It comes after the German hospital where he is receiving treatment said tests carried out on Mr Navalny indicate poisoning, according to Berlin's Charite hospital where he was admitted for treatment at the weekend.
"The clinical findings indicate intoxication by a substance from the cholinesterase inhibitor group," Berlin's Charite hospital, where he was admitted for treatment at the weekend, said in a statement today.
The 44-year-old was brought to Berlin on Saturday from Siberia, where he fell ill on a flight with what Russian doctors have blamed on a metabolic disorder.
Mr Navalny is still in an artificial coma at the hospital's intensive care unit. "His health is serious, but there is currently no acute danger to his life," the statement said.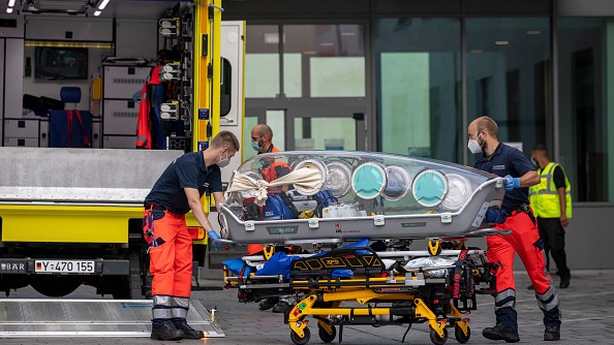 Doctors have started another broad analysis, adding that the effect of the toxic substance in the body had been proven several times by independent laboratories.
Mr Navalny is now being treated with the antidote atropine but the outcome remains uncertain as long-term effects, especially in the nervous system, cannot be ruled out at this point, the statement said.
However a senior Russian doctor in the team that treated Mr Navalny in Siberia said they had not detected that toxin in their tests.
"We are dealing with a patient who it is fairly likely was poisoned," Chancellor Angela Merkel's spokesman Steffen Seibert told reporters earlier today.
The Kremlin critic, Russia's best-known opposition figure, was rushed into intensive care last Thursday after his plane made an emergency landing in the Siberian city of Omsk.
Aides have said they believe Mr Navalny was poisoned with a cup of tea, pointing the blame at President Vladimir Putin.
The Omsk regional health ministry said on Saturday that caffeine and alcohol were found in Mr Navalny's urine, but "no convulsive or synthetic poisons were detected".
"The suspicion is ... that somebody poisoned Mr Navalny - that somebody seriously poisoned Mr Navalny - which, unfortunately, there are some examples of in recent Russian history, so the world takes this suspicion very seriously," Mr Seibert said.
---
Alexei Navalny: A constant thorn in the Kremlin's side
---
Mr Navalny was flown to Berlin on a plane chartered by the German NGO Cinema for Peace, an initiative financed by private donations.
The transfer came after Ms Merkel extended an offer of treatment in Germany, saying news of Mr Navalny's condition had "truly upset me".
Doctors treating him in Omsk initially refused to let Mr Navalny leave but had a change of heart after his family and staff demanded he be allowed to travel to Germany.
Mr Navalny's spokeswoman Kira Yarmysh claimed Russia's refusal to evacuate him was a ploy to "play for time" and make it impossible to trace poison.
At a press conference, doctors in Omsk denied they were pressured by officials while treating Mr Navalny.
"There was no influence on the treatment of the patient ... and there couldn't have been any," said Alexander Murakhovsky, the chief doctor at the Omsk emergency hospital No 1.