The Covid-19 restrictions have been extended in Co Kildare for another two weeks, while the Laois and Offaly restrictions have been lifted with immediate effect.
Speaking at a post-Cabinet meeting this afternoon, Minister for Health Stephen Donnelly said in recent days the number of cases has stabilised and is falling, however, he said they are still high.
Mr Donnelly said the 14-day incidence rate in Ireland is 27 per 100,000, while in Kildare it is nearly 200.
The minister said this is an unprecedented day for our country and we "are in this together".
Minister for Health Stephen Donnelly says Covid-19 restrictions in place for Laois and Offaly are lifted with immediate effect, however restrictions will remain in place for Kildare for another two weeks | Live updates: https://t.co/wxoaeleJ78 pic.twitter.com/9WaPjlJnSH

— RTÉ News (@rtenews) August 21, 2020
Kildare is now facing another two weeks without people being allowed into or out of the county except for stated work or medical reasons.
Most cafes and restaurants will be closed, except for takeaway and limited outdoor dining.
Cinemas are also shut, along with theatres, museums, betting shops, bingo halls, gyms, leisure centres, swimming pools and exercise studios.
The extension was widely expected, given the numbers of new Covid-19 cases have remained high since the restrictions were initially imposed two weeks ago.
In the past 14 days, there were 455 cases in Kildare, 81 in Offaly and 41 in Laois.
Mr Donnelly said schools will reopen as planned in Kildare next week.
Speaking at the post-Cabinet brieifing, Acting Chief Medical Officer Dr Ronan Glynn thanked the people of the three counties for complying with the health measures.
He said the country is safer now because they complied with the measures. 
Minister for Health Stephen Donnelly says schools in Kildare will reopen as planned. He adds that the county will also receive an extra package of supports for businesses | Live updates: https://t.co/wxoaeleJ78 pic.twitter.com/fEkVZAdnIe

— RTÉ News (@rtenews) August 21, 2020
Dr Glynn said there is cause for "cautious optimism" in the county as measures appear to be working, but he said more time was required. 
He said it has been a very difficult week across the country due to the rising number of cases.
Acting Chief Medical Officer Dr Ronan Glynn thanks the people of Kildare, Laois and Offaly for their compliance with measures to curtail the spread of Covid-19, saying the country is safer due to their efforts | Live updates: https://t.co/wxoaeleJ78 pic.twitter.com/fnu4094o0x

— RTÉ News (@rtenews) August 21, 2020
Minister Donnelly said he was aware that a huge amount of work was being done by the Department of Education to make sure schools adapt for the return to schooling next week. 
Dr Glynn said there is anxiety among teachers and students about returning to school. He said the evidence is that children do not commonly transmit the virus to each other in schools or to adults.
Following the decision made at today's Cabinet meeting, the Tánaiste announced a package of measures for businesses in Kildare.
Fine Gael TD for Kildare Martin Heydon told RTÉ News it is been a difficult number of weeks and months for the residents of Kildare.
Mr Heydon said: "The news today is really devastating for everybody, who have done nothing wrong and have followed all of the instructions since Covid first broke out here.
"But the fact of the matter is that prevalence of Covid across our county remains worryingly high.
"Enough so for NPHET to make these recommendations and we as a Government stand ready to support all the businesses and the residents of Kildare to do what needs to be done to keep Kildare people's lives safe and to protect us and the progress that's been made across the country in recent months."
He said: "The restrictions I believe are needed, on the basis of the figures and the concern expressed by NPHET. It is a huge concern that the prevalence of covid is so high.
"We all know somebody in the county who has it or has been affected and we need to suppress that now so we can get back to living our lives normally in a couple of weeks."
Mr Heydon added that he has "fought very hard" for a range of enhanced business supports for the area, which were announced today, "to take into account the significant impact particularly on our hospitality sector, and on small businesses".
Businesses who need support should contact the Local Enterprise Office for queries.
Asked if there have been tensions within the Government on the extension of the restrictions, he said: "Everybody would prefer if this wasn't happening, but you have to take on board the public health advice, the real and significant concerns there are with the prevalence of the virus within the county. 
"This is not something anybody entered lightly and what was most important was when that decision was taken and that supports that are necessary for our businesses and for our residents are put in place so we can get back to living our lives more normally in a few weeks time."
The President of County Kildare Chamber of Commerce said the news that the restrictions are being extended is "devastating" for the community.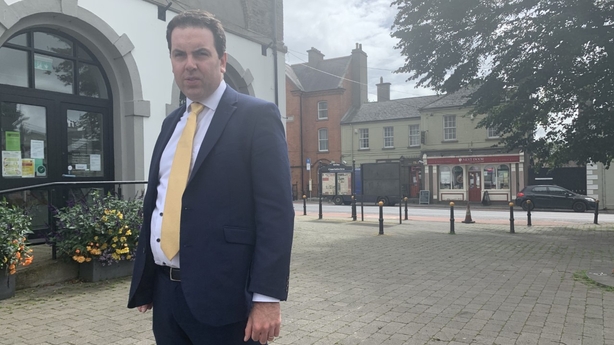 Luke Hanahoe said: "While public health has to be our main concern, the economy has to be a close second."
Mr Hanahoe said that "living with the virus" has to be a priority and "we have to learn how to live, and work, with this virus."
The last couple of weeks have been difficult in Kildare. He said: "The towns have been an awful lot more quiet because people haven't been coming in, having coffee, they aren't doing business while they're in the town, so it's had an awful effect on the economy."
Anne Sweeney of the Dónal na Gealaí gift shop said the last couple of weeks have been "really hard" for a lot of businesses in the area.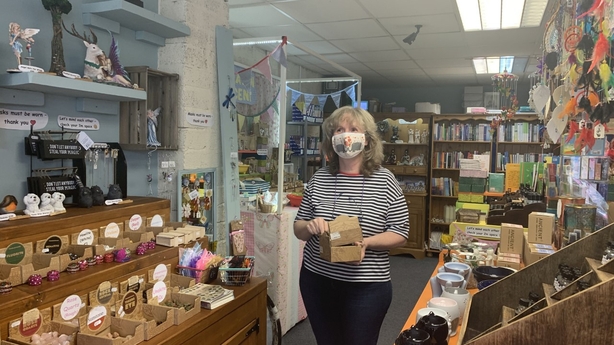 She said: "Suddenly you get this double whammy, it's more frustration. You feel it's a very blunt instrument. Treat the source, do mass testing where you know the bulk of the new cases are coming from.
"We're okay, we can stay open, but our hotels and our cafes have had to close again and that's a huge, huge hit for those businesses to take... The longer it goes on, the harder it is to recover."
Ms Sweeney added, however, that the local people have been "fantastic" in recent weeks. 
She said: "We're resilient and they'll turn out in droves to support everywhere once they reopen again, but another stretch of lockdown is not a great thing to be looking at, to be honest."
---
Read More:
17 confirmed cases of Covid-19 in hospitals
Foley 'confident' over measures for safe reopening of schools
Theatre shows in doubt over virus restrictions - group
---