An additional 54 cases of coronavirus and two further deaths have been reported to the Department of Health.
There has now been a total of 1,775 Covid-19 related deaths in Ireland and 27,547 cases.
Of the cases notified today, 27 are associated with outbreaks or are close contacts of a confirmed case, while eight are from community transmission.
There were 19 cases in Dublin, eight in Kildare, five in Tipperary and the rest of the cases are in Carlow, Clare, Donegal, Kerry, Kilkenny, Laois, Limerick, Longford, Louth, Meath, Offaly, Waterford and Wexford.
Acting Chief Medical Officer Dr Ronan Glynn said: "We need everyone to reduce the number of people they meet over the next three weeks to save lives and suppress this virus.
"A collective effort by households, employers and organisations can make a huge impact on community transmission, and help to protect our families and communities from Covid-19."
Dr Glynn added: "You can still play sport, go to a restaurant and meet friends, but we are asking you to do this in as safe a way as possible.
"Specifically focus on two numbers – six and 15. Do not have more than six people over to your house and garden, and outside, no more than 15 people should meet up, and even then you should remain socially distanced from one another."
The 54 new cases reported today include 24 men and 29 women, while 67% are under 45 years of age.
The number of #COVID19 cases that we have now in Ireland is substantially more than we were seeing even just a few weeks ago.

On average over the past 5 days we have reported 96 new cases. Our 14 day incidence now stands at over 23 per 100,000. 1/12 pic.twitter.com/480rLpJFGy

— Dr Ronan Glynn (@ronan_glynn) August 19, 2020
Dr Glynn gave a breakdown of where the cases were coming from over the past two weeks.
In a series of tweets, he said: "Workplace outbreaks have been well documented and the large ones in meat and other food businesses account for about 360 of the cases reported in recent weeks.
"Another 40 cases have been linked to the construction sector recently. As you may be aware, we also had six clusters linked to direct provision over recent weeks, with about 90 cases linked to these clusters.
"However, these outbreaks are just part of the story. For example, while they account for approximately 500 cases between them, we have had over 1,200 cases reported in the last 14 days alone.
"So where are the rest of the cases coming from? Well last week we had approximately 75 clusters in families or extended families.
"About 3% or 36 cases over the past 14 days have been travel related, over 200 have been confirmed as community transmission and a further 200 remain under investigation."
Dr Glynn said that it was a "collective problem that requires collective action".
He added: "We also need employers and organisations all across society to step up once again and ensure that they have the proper measures in place to create a safe environment for their workers, customers and members alike. 
"But they can only continue if every household plays its part, if every workplace creates a safe environment and if each of us individually adapts our behaviours to live safely with Covid-19."
34 more cases in Northern Ireland
In Northern Ireland, another 34 people have tested positive for Covid-19 and there have been no more fatalities.
This brings the total number of positive cases there to 6,505 with 559 deaths.
Stormont's Health Minister Robin Swann has said the Executive will discuss a range of potential restrictions when it meets tomorrow.
Earlier, Northern Ireland's Chief Medical Officer Dr Michael McBride said he would recommend a return to full lockdown if the region reaches the point of 80 cases per 100,000 head of population.
The infection rate per head of population in Northern Ireland is the highest in the UK or Ireland - 16 per 100,000 in the last seven days, or 24 per 100,000 in the last 14 days.
Earlier this afternoon, the European Centre for Disease Prevention and Control reported that Ireland's 14-day average of Covid-19 cases per 100,000 people had risen to 25.4.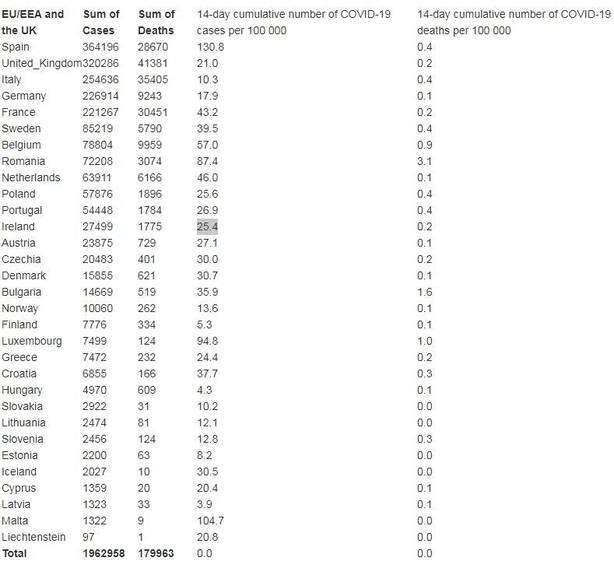 Speaking on RTÉ's Morning Ireland, Professor Philip Nolan said there has been "a slow but very particular rise" in the level of disease in the population and Covid-19 has spread from workplaces to households and into the community.
The Chair of the National Public Health Emergency Team (NPHET) Irish Epidemiological Modelling Advisory Group warned that unless action is taken, "we will see case numbers rise to a level that is unsustainable".
The latest Covid-19 figures follow a call from leaders across Ireland's four main Christian churches for worshippers to wear face coverings while attending religious services.
In a joint statement, they recommended use of face coverings at all services of worship from Sunday, 30 August "and earlier if practicable".
Meanwhile, a review of Covid-19's impact on nursing homes has issued 86 recommendations, including that staff should be precluded from working across multiple sites for the duration of the pandemic.
Nursing Homes Ireland said it wants visitor restrictions for nursing homes to be revisited because of increased Covid-19 community transmission numbers.
Also today, Britain said it plans to bring in regular, population-wide testing for Covid-19 so it can suppress the spread of the virus and ease restrictions that have crippled the economy of one of the worst-hit countries in the world.
UK Health Secretary Matt Hancock said his government was trialling a range of new, faster tests that can give instant results and hoped to roll them out towards the end of the year.