The Chair of the National Public Health Emergency Team (NPHET) Irish Epidemiological Modelling Advisory Group has warned that unless we move collectively and firmly to prevent further transmission of Covid-19 "we will see case numbers rise to a level that is unsustainable".
Speaking on RTÉ's Morning Ireland, Professor Philip Nolan said there has been "a slow but very particular rise" in the level of disease in the population and Covid-19 has spread from workplaces to households and into the community.
He said that community transmission has doubled over the last ten days.
Prof Nolan said that although the rate of growth is slower than at the previous critical juncture in late February and early March, it is still too fast and we must now limit our social contacts and stem the spread of the virus.
He said there was an understandable spread of Covid-19 at the beginning of July because '"largely through forgetfulness, not complacency" people were less careful with hand hygiene and social distancing.
Prof Nolan said the core message from Government and NHPET remains the same, we are at a critical juncture.
He said it was essential that we all abide by the public health messages of social distancing and hand hygiene.
---
NPHET letter to Minister for Health
Latest coronavirus stories
At a glance: What's new with Covid-19 restrictions
---
Prof Nolan said it is difficult to monitor the level of community transmission because every case requires detailed investigation by public health teams and it is only once this has been completed that it is known where somebody picked up the disease. 
He said that the local lockdown in Kildare, Laois and Offaly prevented a lot of community transmission, but  despite this, there has still been an increase in community transmission in other parts of the country.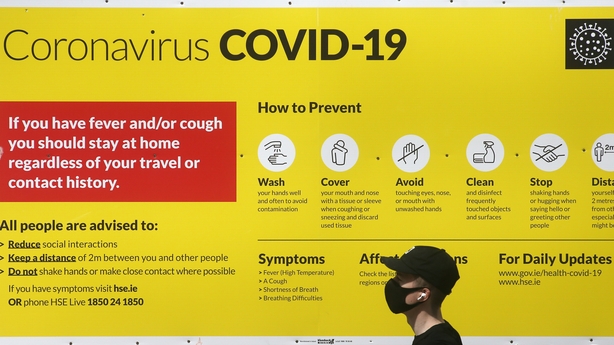 He explained that there have been several hundred cases reported in the last seven days and of those cases, some are known to be associated with outbreaks, but it is not yet clear if a significant proportion are linked to an outbreak or contact.
Prof Nolan said the more people together in a setting, the greater the chance of transmission. He said the decision to limit an indoor gathering to six people is simply a trade off in risk, saying we must establish a cut-off that allows people to have a reasonable level of social contact that allows people to stay human. but that also reduces the risk of transmission.
He said testing and tracing are very important but it is "simply not true" to say if this system is not up to scratch, that all other restrictions are useless and that the test and trace contribution to preventing transmission is modest.
Test and trace, he said, is not a magic wand to prevent infection but is a tool used to control outbreaks.
The most important ways to limit viral transmission, he said, are to limit social contacts and practice physical distancing and good hand hygiene.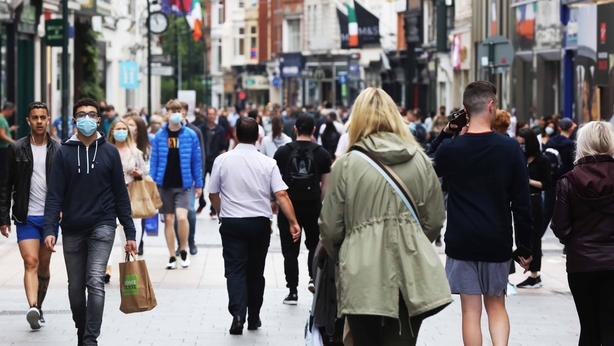 Prof Nolan said NHPET recommends that those involved with school transport have the proper protocols in place and that protocols used in public transport can also be used in school buses.
It comes as the Emeritus Professor of Public Health at the Royal College of Surgeons in Ireland said that we need to know where transmission of Covid-19 is happening in the community so that more targeted measures can be taken to reduce spread.
Professor Ruairí Brugha told RTÉ's Morning Ireland that the data being released to the public reports clusters but does not record where transmission happens. 
With over half the cases now due to community spread, he said, this needs to be reported.
Hospital cases of coronavirus 'relatively stable'
The number of confirmed cases of Covid-19 in hospital remains relatively stable, according to overnight figures from the Health Service Executive.
There are 20 confirmed cases of the virus in hospital, down two from earlier yesterday.
Seven of these patients are in intensive care. There are also 137 suspected cases being treated in hospital, a reduction from 212 earlier yesterday.
Four of these suspected cases are in intensive care. Overall, the hospital system has 31 vacant intensive care beds.
Last night, Acting Chief Medical Officer Dr Ronan Glynn said the situation of growing cases was of significant concern.
Yesterday, the Department of Health said there was one further death of a person who had previously been diagnosed with Covid-19. The overall death toll is 1,775.
The department also said there was an additional 190 confirmed cases of the coronavirus, bringing the overall total number of cases here to 27,503.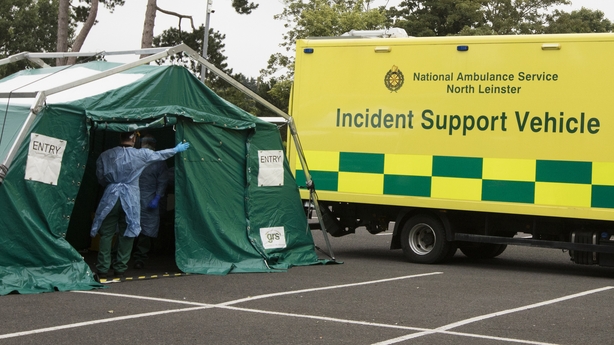 In Northern Ireland, another 34 people have tested positive for coronavirus, according to the Department of Health.
The total number of individuals who have tested positive for the virus stands at 6,505.
No further deaths from Covid-19 have been reported in Northern Ireland, according to the department.
The total number of deaths remains at 559.
The World Health Organization says data to date suggests 80% of Covid-19 infections are mild or asymptomatic, 15% are severe infection, requiring oxygen and 5% are critical, requiring ventilation. 
Generally, you need to be 15 minutes or more in the vicinity of an infected person and within two metres of them, to be considered at-risk, or a close contact.
Government messaging criticised
Co-leader of the Social Democrats Catherine Murphy has said confusion has surrounded the announcement of new restrictions and a much higher level of transparency is needed by Government rather than a "one size fits all" approach.
Ms Murphy said that the Government needs to go back to the drawing board advising "you have to bring the public with you" and the public need more information and also information that they can understand.
She told RTÉ's Morning Ireland that the public need to see that science backs up the decisions being made by Government and, she said, there was "quite a bit of confusion" at yesterday's Government press conference.
Green Party leader Eamon Ryan has acknowledged that there are contradictions in the advice given by the Government yesterday.
Speaking on RTÉ's Today with Sarah McInerney, Mr Ryan said he sees the contradiction in the advice that only six people can gather indoors but that schools can have indoor classes of 20-30 pupils.
He said the Government "is of the view that the return to school is essential".
Mr Ryan said the testing and tracing system was "caught off guard" and this is the fault of the "entire political and administration system".
"The system was not responsive quick enough in the rapid scaling up.
"What we are committing to do, is to say 'that's not good enough' we have to get our testing times down and each of us in our Government roles have to say, 'we will do this'."
Chairman of the Special Committee On Covid-19 Response Michael McNamara has said the overall objective of the Government's Covid-19 strategy needs to be explained, in particular in relation to reducing outdoor gatherings and limiting international travel.
The Independent TD said that it had been clear in March that the overall aim was to "flatten the curve" and limit spread so the health system would not be overrun.
Mr McNamara said that despite a rise in detected cases, there has not been a rise in hospital admissions, in ICU admissions or in deaths.
The Government has confirmed that cinemas, theatres and galleries can continue to open once social distancing measures are in place.
In a statement, the Department of Media, Tourism, Arts, Culture, Sport and the Gaeltacht said: "Businesses/services such as cinemas, galleries, theatres etc are deemed to be controlled environments, with appropriate protective measures in place such as physical distancing between people.
"These venues can continue to operate under existing limits where appropriate physical distancing can continue to be maintained.
"Individual groupings attending these venues must be limited to six people from no more than three households.
"Similarly outdoor arts events which take place in venues which allow for a controlled environment where social distancing can be ensured can also proceed on the basis of existing limits."
Additional reporting Fergal Bowers