Former Debenhams workers in Cork are protesting outside the offices of KPMG in the city.
They are calling on the joint provisional liquidators to the Irish arm of the company to help resolve their demands for a redundancy package.
Protesters chanted "2 + 2 = end" in reference to their demands for an additional two weeks redundancy payment on top of the statutory payment they are entitled to.
Madeline Whelan, who worked in the Patrick Street store for over 30 years, says they are now 131 days on the street striking.
"We are looking for KPMG to pay us what we are owed: 2 + 2.  It is not that much. We are one of the creditors in this liquidation and we want our rights."
An official Mandate picket has been in place on the company's 11 Irish stores since April.
" It is very hard on most people here because we are out 24 hours a day, sitting in cars at night, it is taking a strain on people.
"In all 11 stores they are all out today, protesting outside any KPMG that is in their locality.
"We are not backing down, we are not going to give up, this is not over by any means, we will fight this to the bitter end.
"We have been to Dublin three or four times with the rallies there, we have been to the Convention Centre.
"I was to see the Taoiseach Micheál Martin two weeks ago in the talks. He understood our plight, and he was going to work and try and help us sort this out with the Tánaiste's office."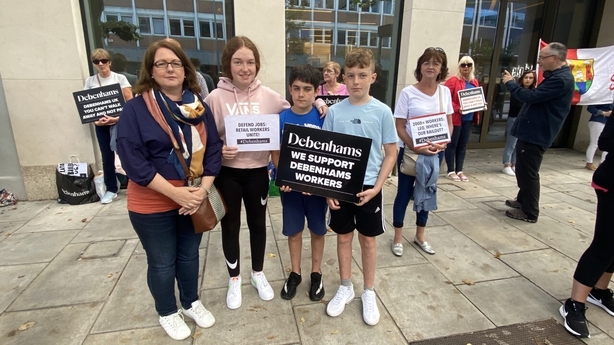 Former @DebenhamsIRE @MandateTU workers in #Cork protesting outside offices of KPMG on South Mall. #Day131 since Irish stores closed unexpectedly. @rtenews pic.twitter.com/KOVPcpyYRw

— JennïeØSullivân (@OSullivanJennie) August 18, 2020