The Government will begin work next week on a "medium-term plan" to take the country through the next six or nine months of living with the virus, Taoiseach Micheál Martin has said.
"As different events unfold there will be different types of responses," he said.
He also said that weekly testing for Covid-19 will be rolled out at all meat plants and direct provision centres across the country.
Mr Martin said the rate of community transmission of the virus is "stable" and the biggest concern now is around "vulnerable groups in congregated settings".
Asked if the Cabinet is planning for the re-introduction of more phases of reopening, he said: "No, we have opened up to a considerable degree our economy and our society.
"Like other countries, there has been an increase in numbers. We have got to look to and plan ahead in terms of potential scenarios that might emerge, but also how we might maintain that level of economic activity over the next six months, whilst protecting people and whilst keeping the level of community transmission low.
"That is the ongoing challenge now."
We need your consent to load this YouTube contentWe use YouTube to manage extra content that can set cookies on your device and collect data about your activity. Please review their details and accept them to load the content.Manage Preferences
The Cabinet sub-committee on Covid-19 met this morning and were briefed by Acting Chief Medical Officer Dr Ronan Glynn.
Speaking after this morning's meeting, Mr Martin said: "There will be a serial systemic programme of testing at all meat plans across the country, along with direct provision centres, that was particularly successful with nursing homes and that will continue with nursing homes on a regular basis as well.
"The overall capacity is strong in terms of the HSE's estimated testing and contact tracing capacity.
"At the moment we are concerned about the particular spike that occurred in the midlands. Overall numbers are up across the country although community transmission is remaining stable, according to the CMO this morning."
We need your consent to load this rte-player contentWe use rte-player to manage extra content that can set cookies on your device and collect data about your activity. Please review their details and accept them to load the content.Manage Preferences
Mr Martin said: "Our concern, to be frank, is around vulnerable groups in congregated settings.
"Whereas the initial response is the testing and contact tracing, we have to stand back and look at the wider risks in congregated settings - the risks that they present and there will be further discussions next week around that.
"We will look at meat plants in general, in terms of occupational health, in terms of making sure the workers are protected and that the conditions in those factories are assessed in terms of their capacity to be conducive to the spread of the virus.
"So this is a contact monitoring and overview of the situation.
"What has happened in the past two months has been heavily concentrated in vulnerable groups and congregated settings.
"Outside of that there have also been some clusters. What is reassuring is the degree to which our testing and contact tracing has responded so far."
Greg Ennis, the Divisional Organiser for SIPTU, welcomed the announcement of weekly testing, saying the trade union has "been calling for this testing regime to be put in place for some time."
He said a quick turnaround time for the test results is required.
"We need to ensure that we get rapid results to those tests, so as to ensure that we do everything possible to eradicate Covid-19 from the Irish meat processing industry," he added.
The Movement of Asylum Seekers in Ireland has also called for accommodation conditions in direct provision centres to be addressed alongside regular testing.
"You can conduct all the testing you want," said MASI spokesperson Bulelani Mfaco, "but as long as people continue to live in close proximity to one another, where they have to share intimate living spaces like bedrooms, kitchens and bathrooms, there will be outbreaks of coronavirus."
He also said MASI is concerned about informed consent when it comes to regular testing in direct provision centres.
---
Read more:
Carroll Cuisine says all coronavirus tests on 210 workers negative
Latest coronavirus stories
---
It is expected a suite of economic measures to help counties Laois, Offaly and Kilare - which are subjected to more severe restrictions that were put in place last Friday - will be announced later this week.
Tánaiste Leo Varadkar and Minister for Public Expenditure and Reform Michael McGrath are continuing discussions around those supports and have been hearing submissions made by the chambers of commerce, local authority representatives, and TDs who have been contacting the ministers and the Taoiseach.
Meanwhile, the Special Committee on Covid-19 Response is proposing to meet later this week to discuss the rapid spread of the coronavirus in meat plants.
We need your consent to load this rte-player contentWe use rte-player to manage extra content that can set cookies on your device and collect data about your activity. Please review their details and accept them to load the content.Manage Preferences
No new deaths from Covid-19 were reported in Ireland last night, with the number of infections reported as 57, down from 68 on Sunday.
There have now been a total of 26,768 confirmed cases, while the death toll stands at 1,772.
New figures from the Health Service Executive show that there are 14 confirmed cases of Covid-19 in hospitals, which represents an increase of two on the figures issued yesterday.
Seven of the patients are in intensive care units with two of these on ventilators.
There are 34 intensive care beds free in the public hospital system and 295 general beds vacant.
There are also 144 suspected cases of Covid-19 in hospitals.
Eleven of these cases are in intensive care with four of these are on ventilators.
Dr Glynn said last night it was intended that the schools in the three counties would be reopen as planned in the coming weeks.
He said if the transmission of the disease within the community could be stemmed, the measures would be eased on Sunday week.
---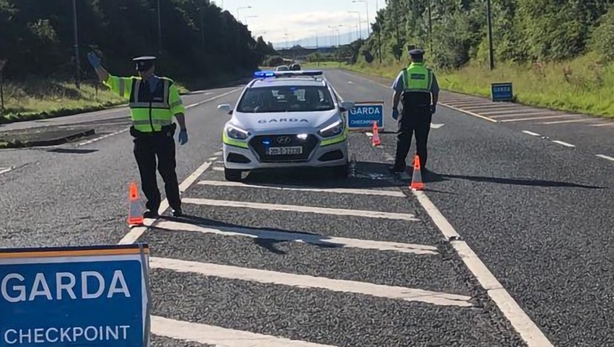 Elsewhere, the President of the Garda Representative Association said it will seek clarity about the enforcement powers available to gardaí as they police the restrictions in Kildare, Laois and Offaly.
Detective Garda Jim Mulligan said enforcement powers are not built into the legislation governing the restrictions, but it would seek to learn if enforcement powers given to gardaí earlier for the countrywide measures could be relied on if necessary.
However, he said the power of arrest had been used sparingly throughout the initial phase and gardaí have focused on encouraging and explaining measures to people.
Speaking on RTÉ's Today with Sarah McInerney, Det Mulligan said he thinks people realise the serious ramifications involved for the whole country and are in the main complying with the restrictions.
Overall Ireland's number of cases is fairly low
A biologist from the University of Nottingham said Covid-19 is incredibly consistent and "if you give it a chance it will come back" as he urged suppression as the best overall approach.
Professor James McInerney, head of the School of Life Sciences at the University of Nottingham, said while it is worrying that Ireland's current trajectory is up and not down, overall Ireland's number of cases is fairly low.
Speaking on RTÉ's Morning Ireland, he said it is unlikely Ireland is going to see a "really giant second wave" but that numbers of cases will probably "go up and down", adding "it's far better to suppress it than have local lockdowns".
Ibec has warned against a "disproportionate response" to local outbreaks of Covid-19.
Speaking on the same programme, CEO Danny McCoy said local decisions can have an adverse impact on business and "the world does not stop because we have a local outbreak".
He said that closures are an appropriate response when there is a large cluster, adding "we're going to have to learn to live with the risk and not to stop things when cases arise".
Children and school settings not the main driver of the pandemic
The European Centre for Disease Control said Ireland and other EU member states need to implement contact tracing more intensely and follow the transmission chain of Covid-19 closely to apply very select measures to best prevent a resurgence of the virus.
Dr Josep Jansa, group leader of Response Emergency Operations at the ECDC, said that the assumption that being outside is safe has "definitely contributed" to the resurgence in cases across some European countries.
He also said evidence, gathered in different countries, show that children and school settings are not the main driver of the pandemic and it may not be necessary to close schools if some cases of Covid-19 are identified.
Seven months into the pandemic, he said, we need to be selective and if there is one case or an outbreak, then that location needs to be targeted.
The World Health Organization says data to date suggests 80% of Covid-19 infections are mild or asymptomatic, 15% are severe infection, requiring oxygen and 5% are critical, requiring ventilation.
Generally, you need to be 15 minutes or more in the vicinity of an infected person and within two metres of them, to be considered at-risk, or a close contact.
Additional reporting Aisling Kenny, Fergal Bowers and Fergal O'Brien