Tributes have been paid to former SDLP leader and Nobel laureate John Hume who died this morning.
President Michael D Higgins said everyone who sought and worked for peace on the island of Ireland will be saddened to hear of Mr Hume's death.
"Through his words, his astute diplomacy and willingness to listen to what was often difficult to accept but was the view of the 'Other', transformed and remodelled politics in Ireland, and the search for peace, with a personal bravery and leadership, informed by a steadfast belief in the principles and values of genuine democracy.
"He and those others who helped usher in a discourse that enabled a new era of civil rights and responsive government that few would have thought possible, have placed generations in their debt, have been a source of hope."
Taoiseach Micheál Martin said: "John Hume was a great hero and a true peace maker.
"Throughout his long life he exhibited not just courage, but also fortitude, creativity and an utter conviction that democracy and human rights must define any modern society.
"During the darkest days of paramilitary terrorism and sectarian strife, he kept hope alive. And with patience, resilience and unswerving commitment, he triumphed and delivered a victory for peace," said Mr Martin.
"His whole life became a dedicated and powerful service to the idea of the equality of human beings. He had a wonderful belief in the capacity of people to change"

Former president Mary McAleese pays tribute to John Hume | More: https://t.co/MXoWHvesyW pic.twitter.com/JxQ4eBmcD9

— RTÉ News (@rtenews) August 3, 2020
SDLP leader Colum Eastwood said: "The death of John Hume represents the loss of 20th century Ireland's most significant and consequential political figure.
"It is no exaggeration to say that each and every one of us now lives in the Ireland Hume imagined - an island at peace and free to decide its own destiny.
"This is an historic moment on this island but most of all it is a moment of deep, deep sadness. In the days ahead, Ireland will be united in mourning his loss."
---
Read more:
John Hume: Blessed with all the gifts 
In pictures: John Hume, a life in politics 
From the archives: A profile of John Hume
---
Former Sinn Féin leader Gerry Adams expressed a "deep sense of personal loss" at Mr Hume's death.
"When others were stuck in the ritual politics of condemnation, John Hume had the courage to take real risks for peace. His decision to meet with me in September 1986, following an invitation from Fr Alex Reid, was a breakthrough moment in Irish politics.
"John's agreement to examine the potential of building an alternative to conflict was the mark of a political leader genuinely prepared to look at the bigger picture and to put the wider interests of society above narrow party politics," said Mr Adams.
Former Sinn Féin leader Gerry Adams says John Hume always continued to put his head down and work to find a way to pursue peace, and that his role in the peace process should not be underestimated | More: https://t.co/MXoWHvesyW pic.twitter.com/9IMy1omt5f

— RTÉ News (@rtenews) August 3, 2020
Former first minister of Northern Ireland, David Trimble, who was jointly awarded the Nobel Peace Prize with Mr Hume, said the Good Friday Agreement has been a success largely because they got the architecture and the process for making decisions right.
It was the bottom up approach that works, he said, and Mr Hume will be remembered for this.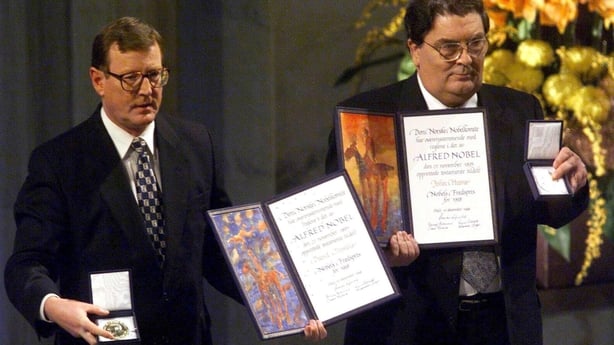 Mr Trimble added that the Good Friday agreement continues to work and show the capacity to deal with the issues of the day.
He said Mr Hume made it clear time and time again that people had to achieve their objectives by a peaceful and democratic means.
He remembered that when they returned to their hotel after receiving the Nobel Peace Prize, two rooms had been set up for celebrations but they asked for the rooms to be combined so they, and their parties, could celebrate together. 
We need your consent to load this rte-player contentWe use rte-player to manage extra content that can set cookies on your device and collect data about your activity. Please review their details and accept them to load the content.Manage Preferences
Although he has known for some time that Mr Hume was in poor health, he said that today still comes "with a bit of a shock" and he has lost a friend.
Former US president Bill Clinton said it was easy for him to be friends with Mr Hume "because I shared his goals, we wanted to get to a peace agreement".
Speaking on RTÉ's Drivetime, he said Mr Hume was a man you could "not help befriending", and he "exuded goodness and conviction, but for all his good nature he was as persistent as could be".
Mr Clinton recalled how he was persuaded to give Gerry Adams a visa to the United States. "Hume said to me, 'I think you ought to do it, I think it is worth the risk.' That had a real impact on me.
"At the time, the British government was going crazy, my own State department was against it. I took all the heat for giving Gerry Adams a visa but John Hume said it was time to take a leap of faith."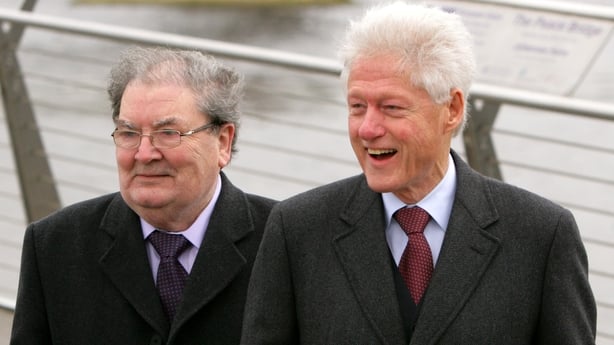 In a statement earlier, Mr Clinton and his wife Hillary expressed their condolences to the Hume family.
"Through his faith in principled compromise, and his ability to see his adversaries as human beings, John helped forge the peace that has held to this day," said Mr Clinton.
"I'll never forget our night in Derry in 1995, with the town square and blocks around full of hopeful faces, walking with him across the Peace Bridge nearly 20 years later, and all of the moments we shared in between."
Mr Clinton added: "His legacy will live on in every generation of Northern Ireland's young people who make John's choice, to live free of the hatred and horror of sectarian violence. 
"And it will endure in the hearts of those of us who loved him and will be shaped by his example to the end of our days."
Sinn Féin leader Mary Lou McDonald said Mr Hume was a "towering figure and a national icon".
John Hume was a towering figure, a national icon. I am so sorry to learn of his death. Deepest condolences to his wife Pat, to his children and wider family, friends and colleagues in @SDLPlive

"Ní bheidh a leithéid ann arís.

"Ar dheis Dé go raibh a anam dílis."

— Mary Lou McDonald (@MaryLouMcDonald) August 3, 2020
"John was a towering figure in Irish politics, who took decisions that were not popular in his own ranks in the pursuit of peace.
"His actions helped to shape the peace process and he was central to the negotiation of the Good Friday Agreement."
The current First and Deputy First Ministers of Northern Ireland, Arlene Foster and Michelle O'Neil, also paid tribute to Mr Hume, describing him as a "giant of Irish nationalism", and a leader who took risks to bring about peace.
Sincere condolences to Pat & the wider Hume family. A giant in Irish nationalism, John left his unique mark in the House of Commons, Brussels & Washington. In our darkest days he recognised that violence was the wrong path & worked steadfastly to promote democratic politics. pic.twitter.com/Ctkdfxa4Au

— Arlene Foster #We'llMeetAgain (@DUPleader) August 3, 2020
Saddened to hear of the death of John Hume. A huge political figure in our society for many decades. A leader who took risks that ultimately helped bring about peace. He will be sadly missed. My thoughts are with Pat and his family circle and with his @SDLPlive family.

— Michelle O'Neill (@moneillsf) August 3, 2020
British Prime Minister Boris Johnson said Mr Hume was a "political giant" who did so much to help bring an end to the Troubles in Northern Ireland."
He said: "John Hume was quite simply a political giant. He stood proudly in the tradition that was totally opposed to violence and committed to pursuing his objectives by exclusively peaceful and democratic means."
Tánaiste Leo Varadkar said Mr Hume was a "once in a generation leader whose vision for peace was only surpassed by his hard work in making that vision a reality."
"His unique ability to bring people together, to embrace and respect each other's differences without being consumed by them, made him one of the most transformational figures to ever live north or south of the border.
Former Taoiseach Bertie Ahern said Mr Hume was "a great Irishman".
"John was a champion of peace and his passing will be mourned in all communities in Ireland and beyond our seas by people everywhere who value democracy, freedom and human rights."
Speaking on RTÉ's News at One, he said Mr Hume is the most important figure that "we have had over the last 40-50 years" and his role from the late 1960s onwards was inspirational.
We need your consent to load this rte-player contentWe use rte-player to manage extra content that can set cookies on your device and collect data about your activity. Please review their details and accept them to load the content.Manage Preferences
Former taoiseach John Bruton said: "John Hume was the pivotal figure of the 20th century in the development of thinking about Ireland's future.
"He reframed the problem from being one about who held sovereignty over land, to being one about people, and how they related to one another.
"Thus reframed, the issue became one to which violence and coercion became completely irrelevant. This was the intellectual basis of the peace process.
"The issue was no longer one about winning or losing, but about sharing or choosing not to share. In practical terms, he won the argument. That is why we have peace today."
Catholic Primate of all Ireland and Archbishop of Armagh Eamon Martin remembered Mr Hume as a "paragon of peace" and a "giant of a statesman".
"Every so often we come across a person of vision, who lifts us up to see and think beyond the confines of our own, much narrower, perspectives," he said. "John Hume was such a man."
The Church of Ireland archbishop, John McDowell, said Mr Hume will be remembered for his "unambiguous dedication to making political change happen by purely peaceful means".

Presbyterian moderator David Bruce said Mr Hume "selflessly committed himself to challenging the deep-seated problems of our society. He demonstrated a genuine desire to bring people together for the common good and to build a just and peaceful society".
President of the Methodist Church in Ireland Tom McKnight described Mr Hume as a "model of community spirit and a belief in the innate goodness of people".
Dublin Lord Mayor Hazel Chu said "we would not have the Ireland we have today without John Hume". As a mark of respect, the flag on top of the Mansion House will fly at half-mast from tomorrow and a book of condolence will also open online.
John Hume civil rights campaigner, Nobel winner, husband, father & Irishman who wanted us not to be trapped in the past but have a future of peace. I will be opening an online Book of Condolences (due to #Covid_19) & flag at @MansionHouseDub will fly at half mast. #RIPJohnHume pic.twitter.com/bIxACNQ04d

— Lord Mayor of Dublin (@LordMayorDublin) August 3, 2020
US Congressman Richard Neal, Chairman of the Friends of Ireland Caucus in the United States Congress, said: "The lasting peace that the people of Ireland now enjoy is due largely to his remarkable work.
"John Hume dedicated his life to bringing an end to one of the longest and most contentious conflicts in history, and it was fitting that he was awarded the Nobel Peace Prize for his extraordinary efforts."
Rock group U2 posted a message on social media stating: "There goes the greatest servant leader of them all. RIP John Hume."
There goes the greatest servant leader of them all… RIP John Hume pic.twitter.com/x5IGyAxdRK

— U2 (@U2) August 3, 2020
Fine Gael MEPs Seán Kelly, Mairead McGuinness, Deidre Clune, Frances Fitzgerald and Maria Walsh have expressed their sadness at the passing of John Hume, who they described as a "visionary". 
In a statement, they said: "John Hume served as a Member of the European Parliament for 25 years and was proudly pro-European, often citing the EU peace project as a source of inspiration, an example, for Northern Ireland and beyond in terms of peace and reconciliation.
"His legacy will live on and we will always be grateful to him for his courage, vision and determination in securing peace for Northern Ireland."