Live music performances came to a sudden halt in the middle of March as restrictions and closures were quickly introduced globally to combat the spread of Covid-19.
This has had a huge impact on performers, venues, and booking agents, whose livelihoods were turned upside down overnight with all their income streams drying up almost immediately.
Over four months later, with venues remaining closed and no clear plan for the resumption of live performances, those working in the industry say the outlook is bleak unless urgent supports are put in place.
Things had been going well in recent years for Kildare-based Irish folk group, The Druids, including securing a number of US tours.
But that was before Covid-19 came on the radar.
---
Listen to Aengus Cox's report on Morning Ireland
We need your consent to load this rte-player contentWe use rte-player to manage extra content that can set cookies on your device and collect data about your activity. Please review their details and accept them to load the content.Manage Preferences
---
Druids frontman Mick O'Brien explained: "13 March we played our last gig in New Jersey and we got word we had to leg it, so since then we've been unemployed.
"Solely we're a live band so 95% of our income comes from that. Even at shows, you sell a little bit of merchandise, a CD here or a t-shirt there, but we even don't have an avenue for that now, because the live shows are gone.
"We still have our bills, we still have our mortgages, we still have all of those things to pay."
On experimenting with moving some of the group's business online in order to try and generate income Mick said: "We've done live performances on Facebook but the income from them has been nothing really, to be honest.
"It's kind of like on Facebook you feel like you're begging for money, that you're looking for charity - that's not what we're about and it shouldn't be like that."
He also said the impact on performers' mental health is something "most people don't consider" in all this.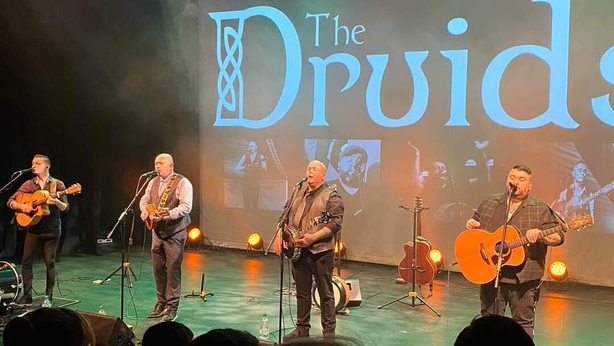 The Druids started in 2008 but "a lifestyle we've been part of for 12 years is no longer there," Mick said.
A recent survey of 1,000 members of the Music and Entertainment Association of Ireland found over three-quarters of them have experienced mental health issues due to the impact of the Covid-19 pandemic on their livelihoods, with a small portion (around 3%) having either considered or attempted self harm as a result.
Musician and booking agent Lesley Kane said live performers in Ireland "really don't know where we stand at the moment".
Ms Kane works with the Central Entertainment Bureau (CEB) in Dunboyne, Co Meath, and represents a range of live performers across the country.
She said: "We have to plan but as each week goes by those plans are being deferred."
The CEB works predominantly with hotels, bars, and nightclubs and represents some of the bigger artists in Ireland.
However, Ms Kane saaid that "the core business is solos, two-piece bands, ordinary working musicians in the bar at the weekend".
Musicians are eligible to receive the Pandemic Unemployment Payment (PUP) but are uncertain where they stand if a one-off gig comes up.
Musician Ciarán Cooney lost his pandemic unemployment payment after travelling to Glasglow to see his partner. pic.twitter.com/4flLxwLVCA

— RTÉ News (@rtenews) July 29, 2020
She said: "We don't know if we can take the odd gig because if you take the odd gig you lose whatever income support you do have." 
Ms Kane added that many musicians are finding it really difficult financially at the moment.
"I had a guy on to me in tears because he couldn't buy nappies for his babies."
She said he is "a well-known busy, busy musician. He had to sell some of his equipment because of it. When you have to provide for your family you do whatever you have to."
While live performers are undoubtedly struggling in the current crisis, the outlook is similarly bleak for the music venues that would normally be booking them.
Zach Douglas is head of live music bookings for the Button Factory in Dublin's Temple Bar.
Mr Douglas said: "We've been rescheduling a lot of stuff ... we've had four months of gigs that are no longer taking place so what we're trying to do is make sure as few as possible are cancelled and are found new dates - most likely in 2021."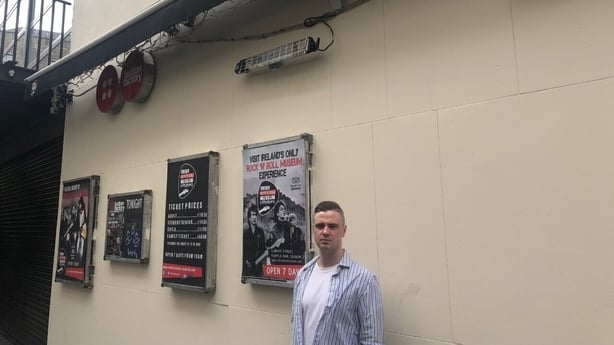 From a reopening roadmap perspective he believes "we've been kind of lumped in to the pub side of things but we're very, very different. There's no specific roadmap or detail in terms of what we can and can't do.
He said: "I don't know if there are any other industries that have as little a back-to-work programme as the live music industry."
Mr Douglas said that even if there is a return to live music in the near future, its success is uncertain.
He said: "We don't know if people will want to come to gigs - whether there's social distancing or not. 
"Some people won't want to come because of social distancing, and some people won't feel comfortable coming if there's no social distancing."
The Button Factory has a capacity of 550 but Mr Douglas suggested if they have to stage gigs with below around 300 people it would not be viable from a commercial standpoint.
Mick O'Brien said musicians, particularly folk bands, see themselves as the "carriers of culture" and that culture is threatened now.
He added: "In terms of recording history (the events of the day), the people in power write the history, those who suffer write the songs.
"We tend to be the ones who write the songs."