Hundreds of holidaymakers arrived back in Northern Ireland from Spain today to find they now have to quarantine for 14 days.
The new policy came into effect at midnight and brings the situation north of the border into line with the rest of the UK.
It also aligns the North with the situation south of the border, where anyone returning from Spain - and any other country not on the Government's green list - must restrict their movements for 14 days.
The Stormont Executive exempted more than 50 countries, including Spain, from Covid-19 travel restrictions just over two weeks ago.
Taoiseach Micheál Martin expressed concern about the move, which he said could have a negative impact on the transmission of the virus.
Announcing the list of exempted countries, the Northern Ireland Executive advised against non-essential travel and warned that restrictions could be re-imposed at short notice.
Holidaymakers arriving back in Northern Ireland from Spain now have to quarantine for 14 days. Regulations introduced across the UK bring the north into line with the Republic, where anyone returning from a country not on the green travel list must restrict movements for 14 days. pic.twitter.com/rRJS4Woztr

— RTÉ News (@rtenews) July 26, 2020
But travel agents were immediately inundated with enquiries and took a significant number of bookings for destinations in Spain.
The quarantine requirement has now been reimposed across Scotland, England and Wales as well as Northern Ireland.
2 flights already away from Belfast International Airport to Barcelona and Alicante this morning just hours after it was announced that when they come back the passengers will have to quarantine for 14 days @rtenews @RTENewsNow pic.twitter.com/xqFI2P7HbN

— Vincent Kearney (@vincekearney) July 26, 2020
Stormont's health minister said the decision had not been taken lightly and was based on scientific and medical advice.
Robin Swann said a recent spike in coronavirus cases in Spain was a cause for concern.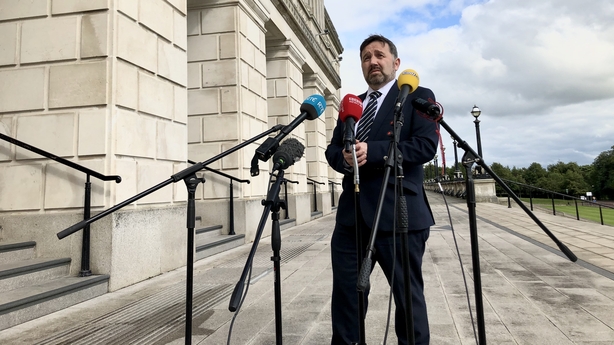 Four planes departed to, and arrived from, Spain at Belfast International Airport today. The flights from Barcelona, Alicante, Ibiza and Malaga were operated by EasyJet, Ryanair and Jet 2.
"It came as a bit of a shock," said one man who just arrived in from Malaga. "I'm not happy about it because I now have to take two weeks' unpaid leave, but it's just one of those things."
Another passenger who arrived home with her husband and two daughters said she feared this might happen.
"We knew there was a risk, they had said restrictions might be brought back, but the speed of it was a surprise," she said.
"It's not too much of a problem for me because I work from home, but my husband is probably going to have to take some unpaid leave."
Each passenger arriving from Spain had to fill in an online contact tracing form. They had to provide their name, home address, passport number, flight and seat number, and contact details.
But that does not apply to the huge numbers of people from Northern Ireland who travel through Dublin.
There were 13 flights to and from Spain at Dublin Airport today, operated by Ryanair and Aer Lingus. Many of those onboard were holidaymakers from north of the border.
People in Northern Ireland make around one million journeys through Dublin Airport each year.
Back to a new reality. First arrivals ftom Spain at Belfast International Airport with holidaymakers returning from Malaga now having to quarantine for 14 days @rtenews @RTENewsNow @dohertypj pic.twitter.com/Y3FdMHrVpw

— Vincent Kearney (@vincekearney) July 26, 2020
There was also clear evidence today that many travellers from south of the border are using Belfast International Airport as their gateway to foreign climes.
A quick glance around just one section of the car park identified number plates from Cork, Donegal, Dublin, Galway, Limerick, Longford, Mayo, Roscommon, Sligo, Tipperary, Wexford and Wicklow.
How best to monitor international travellers who cross the border is likely to be high on the agenda when the North-South Ministerial Council meets in Dublin on Friday.
The quarantining of arrivals from Spain followed a spike in cases of Covid-19 there, with more than 900 new daily infections for the last two days.
The Spanish government has insisted, however, that the country remains safe to visit.
Foreign Minister Arancha Gonzalez Laya told reporters: "Spain is a safe country. Like other European countries, Spain has new outbreaks. It's not unusual."
As well as killing more than 28,000 people, the coronavirus has dealt a major blow to Spain's tourism industry, which normally accounts for 12% of GDP.
Statistically, Spain is the second most popular tourism destination in the world, with 83.7 million visitors last year. Only France attracts greater numbers, with 91 million visitors annually.