The Department of Justice has confirmed that an extradition treaty with Hong Kong - which came into force in January 2009 - is under consideration, in light of the recent adoption of the Hong Kong National Security law by China.
It is understood that the Department of Foreign Affairs is considering Ireland's engagement with Hong Kong, whilst having regard to discussions that are taking place at an EU level.
In a statement, the Department of Justice said: "More generally, it may be of interest to note that no person has to date been returned to Hong Kong under the terms of the Agreement." It said the agreement also includes a number of grounds on which a request may be refused in individual cases.
Earlier, the Department of Foreign Affairs has said that Ireland and the European Union remain "deeply concerned about the credible reports of the treatment of ethnic Uighurs and other minorities in the Xinjiang region" of China.
"This includes widespread surveillance, arbitrary detention, restrictions on freedom of religious belief, and recent media reports on forced sterilisation in the region," the department said in a statement.
"We have raised our concerns with China in both bilateral and multilateral contexts, and, along with other EU partners, we will continue to do so."
Earlier today, the Chinese Ambassador to Ireland claimed that reports of concentration camps for the Uighur Muslim population were "exaggerated" and "fabricated".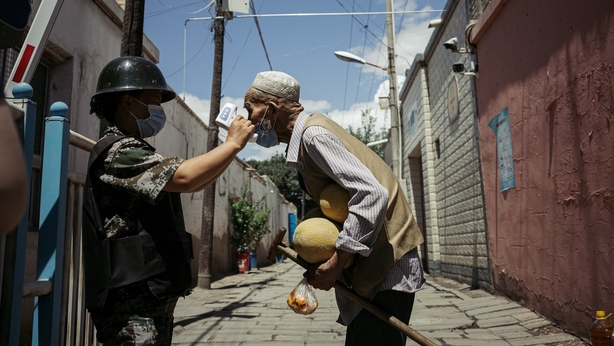 China has been widely condemned for setting up complexes in the remote Xinjiang area of northwest China that it describes as "vocational training centres" to stamp out extremism and give people new skills.
Speaking on RTÉ's Today with Sarah McInerney, Ambassador He Xiangdong was asked about recent video footage that emerged which claims to show Uighurs being bound and blindfolded as they are led onto trains.
He replied: "A lot of those video clips are fabricated, edited for political purposes, too absurd, it is very unfortunate that people are basing their perceptions or judgments on those reports."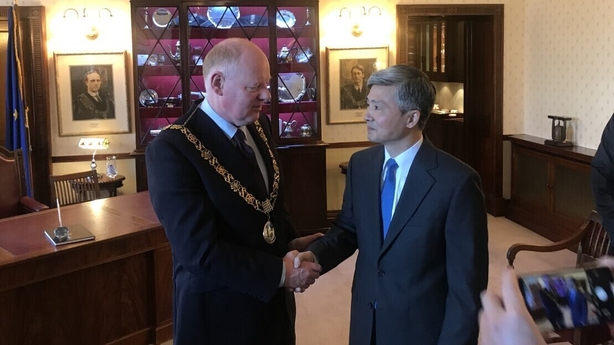 He Xiangdong also claimed that most Irish people would not like to see the suspension of an extradition treaty between Ireland and Hong Kong that was brought in last year.
Opposition parties as well as Fianna Fáil Senator Malcolm Byrne have called for the treaty to be suspended indefinitely, amid fears about how the Chinese government will implement new draconian National Security laws in Hong Kong.
Senator Byrne said he does not believe those extradited under the treaty would be treated fairly:
"No, I don't believe they would get a fair trial and under those circumstances I don't believe that Ireland should allow extradition to Hong Kong and that we should suspend indefinitely our extradition treaty with the territory."
He said that he hoped the new Irish government would take a stronger line on standing up to Chinese human rights abuses.
Ambassador Xiangdong insisted that China was doing the right thing in Hong Kong to protect its sovereignty as well as the freedom and stability of the territory.
Asked about escalating tensions between China and the UK and US over Hong Kong, he said these were "an issue of concern".
But the Chinese Ambassador added: "I'm not so worried about it because I think we're doing the right thing... to protect the sovereignty of China and to protect the freedom, stability and prosperity that is in Hong Kong."
He said there had been a lot of violence in Hong Kong in the past few years: "That situation cannot be there for too long because that will have a huge effect on the welfare of the people there."
Minister for Foreign Affairs Simon Coveney earlier this month expressed his concern about the new security law, warning that it would undermine the high degree of autonomy under the 'One Country, Two Systems' principle in which the territory was handed back to China by Britain.
The new law punishes what China broadly defines as secession, subversion, terrorism and collusion with foreign forces and China claims it is needed to bring stability to the territory which has been rocked by recent pro-democracy protests.
But the United States, who has lambasted the law, urged other countries to take stronger action against China.
Speaking on an official visit to London, US Secretary of State Mike Pompeo encouraged other nations to follow the US and the UK and to push back against the actions of the Chinese Communist Party.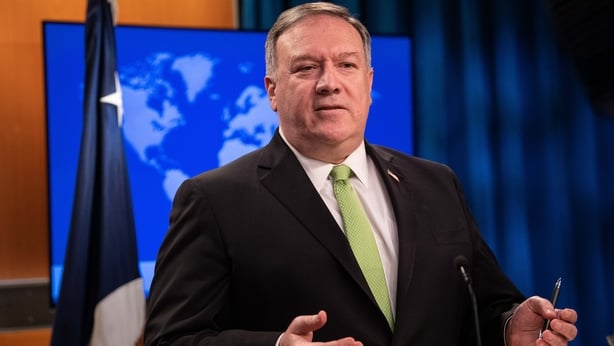 The United States this month hit senior Chinese officials with sanctions over alleged rights abuses against the Uighurs, and Britain and France have recently condemned their treatment.
He Xiangdong said that a lot of information about internment camps for Chinese Muslims was "fabricated" and "totally false" and he denied that they were concentration camps.
He said people were basing reports of this on what he called "questionable sources".
When asked if women in the camps are undergoing forced sterilisation, he said that is a fabricated, sensationalised story and this practice would not be allowed in China.
"If there is any individual case, if you can show us the proof, we will have an investigation, we will have it investigated," he said.
The former Attorney General and Minister for Justice, Senator Michael McDowell said he found the Ambassador's remarks "deeply misleading and troubling".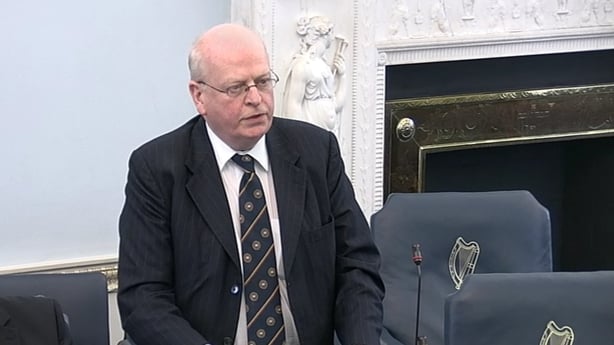 Also speaking to the Today programme he said: "I believe that some of the statements that he's made that things are concoctions and invented stories are just blatantly untrue:
"We've seen the footage of the Uighur men being put into trains to be transported. Many people have seen the evidence from Uighur women that they have been subjected to massive pressure to have themselves sterilised.
"The very fact that the Chinese government representative in Ireland refers to the much higher birth rate among Muslim Uighurs than among Chinese generally actually indicates what is happening in Xinjiang province."
Mr McDowell said: "The Chinese government has been attempting to dilute the Uighur population there by bringing Han Chinese from the rest of China to settle there and they have run these concentration camps- we've seen footage on BBC of what happens there.
"They pretend to be re-education camps but families are broken up, spread amongst different camps and parents are separated from their children."
"There is no such concentration camp in Xinjiang"

China's ambassador to the UK Liu Xiaoming challenged over drone footage that appears to show Uighur Muslims being blindfolded and led to trainshttps://t.co/4ckTDqIpNe pic.twitter.com/SbLRCwuo55

— BBC News (UK) (@BBCNews) July 19, 2020
He said there was also evidence that people had been very badly treated there and he said the Irish government had consistently failed to speak up for the Uighur people.
Fianna Fáil Senator Malcolm Byrne said that whilst it was important to build trade and cultural relations with China: "It's essential that the Irish government, in conjunction with our European partners, that we stand up to the Chinese authorities."