The pedestrianisation of towns and cities has long been a subject of dispute in this country.
The fallout of Covid-19 has led to several local authorities taking initiative and widening streets where they deem it necessary.
Killarney is just one example of how street architecture has been influenced by the constraints of the coronavirus.
In recent weeks, there have been developments by Kerry County Council to encourage street safety as part of its Covid-19 Mobility Plan.
As part of its 'Safe Streets' initiative, the local authority has prioritised pedestrians to allow them to walk safely, while still maintaining social distancing.
Several footpaths in the town have been widened using black bollards on the streets, which has led to a mixed reaction from locals.
On the corner of College Street, just off the main N71 Cork to Killarney road, is the Dungeon Bookshop.
Its address would suggest it is in a prime location, but manager Geraldine Casey said her business is operating at a fraction of what it once was.
"It's like a Sunday in January here since the bollards went up," she said. "What they're doing really is keeping the locals out of town."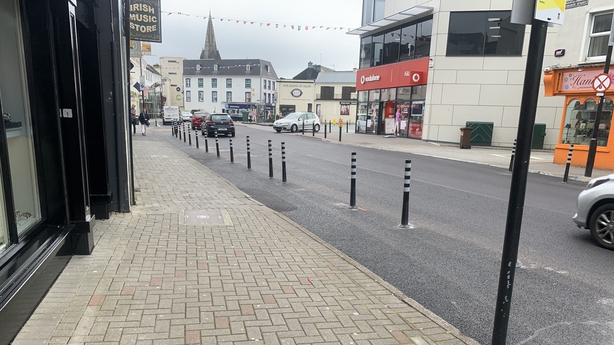 Down the street from the Dungeon Bookshop is Cronin's Restaurant.
Manager John Cronin, however, is of a different opinion to his neighbour. Most of his patrons are tourists who, according to him, rarely prioritise on-street parking.
"They'd either leave the car in the hotel or park in the car park and wander the town. From a personal perspective it's very good; we're hoping to put out some chairs and some decking," he said.
There has been mixed reaction to idea of onstreet furniture. The general consensus among locals is that it Is welcome, but the question was raised as to whether it will defeat the purpose of widening streets for social distancing.
"It brings a good vibe as long as it doesn't overcrowd and defeat the purpose of putting all these bollards down," said local man Kevin Cronin.
"Overall the concept is good for public safety," he added.
Speaking to more locals, it is clear that the bollards have caused some conversation. Apart from suggesting a way to "brighten them up", Johnny McGuire said it is a great initiative.
"The bollards are all about safety and I'm all in favour of widening our streets to make them safe for visitors.
"Cars are well accommodated in this town in the public car parks. There are 3,500 parking spaces in this town and no other town in Ireland has as many car spaces.
"This is a great safety issue for all of us in this current crisis," he said.
Kerry County Council is not the only local authority to try out the extension of footpaths with the aim of creating more space for social distancing.
However, with large car parks in towns and cities across the country, it is the small retailers who are taking the hit, according to butcher Denis Cronin.
He operates out of High Street where roadworks are under way to extend the curbing outside of his shop resulting in the removal of 15 spaces within 100m of his shop.
"As a retailer, we obviously want safe streets but we were very disappointed to lose such a large volume of on-street parking. Traditionally, a lot of customers would pull up outside the door, pop in and hop into the car again. We need short term parking to survive," he said.
In a statement, Kerry County Council said the initiative is merely a temporary measure and that the bollards and extra kerbing will be lifted when they are no longer needed to accommodate social distancing.
However, Ms Casey suggested there may be an alternate agenda to permanently pedestrianise the town.
"They say it's in the name of Covid but they've had an agenda for a long time to pedestrianise Plunkett Street and stop cars coming into the town.
"They're spending money on widening streets and everything, they're surely not going to go lifting them all up again in September."
Time will tell whether they will be lifted along with social distancing measures or if the initiative proves successful, these measures may be seen as a more permanent feature in our towns.